Jaclyn Hester, one of my Foundry Group partners, recently asked if there was an online definition of #GiveFirst. I spent some time looking around, and, while it's embedded in numerous podcasts and video interviews, I couldn't find a clear definition on the web. The closest I found was from January 1, 2013, in a post titled Give Before You Get.
#GiveFirst first appeared as "Give Before You Get" in my book Startup Communities published in 2012. It was turned into the #GiveFirst hashtag by someone at Techstars around 2014. I updated it in the 2nd Edition of Startup Communities (2e) which was published in 2020. I also defined it in The Startup Community Way, also published in 2020.
The definition, from The Startup Community Way, follows:
#GiveFirst means you are willing to put energy into a relationship or a system without defining the transactional parameters. However, it's not altruism because you expect to get something. But you don't know when, from whom, in what form, in what consideration, or over what time frame. 
While I generally use #GiveFirst to refer to the idea, it often shows up at "Give First." It's become the official mantra of Techstars, and there's even a podcast called Give First.
It's a deeply held personal philosophy of mine. However, it's not a static idea, and I've been thinking a lot about both the positives and negatives of it lately. But, for now, if you are looking for a definitive definition circa 2020, here it is.
---
Larry Nelson, a very close friend, passed away on Friday.
If you don't know Larry, he was a super positive participant in the Boulder and the Denver startup communities for many years. He and his wife Pat produced w3w3.com well before podcasts were trendy (Larry and Pat referred to it as "Internet Talk Radio.") I always thought of Larry and Pat as the encouraging storytellers of the Boulder and the Denver startup communities.
Going back to some time in the late 1990s, Larry and Pat started showing up at every event I can remember participating in, which were a lot. I'd be doing a thing and there was Larry and Pat, with their cameras and their microphones. They took it all in, took tons of photos, and always wrote up interesting stuff about what was going on.
Larry was a master interviewer before everyone in tech started being a podcast host or a podcast guest. "This is Larry Nelson of w3w3.com" sticks in my mind. I enjoyed my interviews with Larry – he always made me laugh, made me feel loved, and brought out good stories. He was relentless and tireless in a way that made me say yes to everything he asked.
At some point, I started spending some social time with Larry and Pat. I introduced them to my parents, who became good friends with them. Everyone I knew liked them and welcomed them wherever they went. Over time, I (and many others) started calling Larry "Lord Nelson." I can't remember where the nickname came from, but my greeting to him went as follows.
Brad: Hey Lord Nelson, how are you today?

Larry: Magnificent!
I never, ever got tired of that greeting.
Larry became ill recently and ended up in the hospital. I talked to him several times a week for the past few weeks, checking in on him, laughing, and hearing him respond to my greeting with "Magnificent!" even though I knew he was suffering.
Larry – I love you. I will miss you. But I will think of you often. You were a magnificent human.
---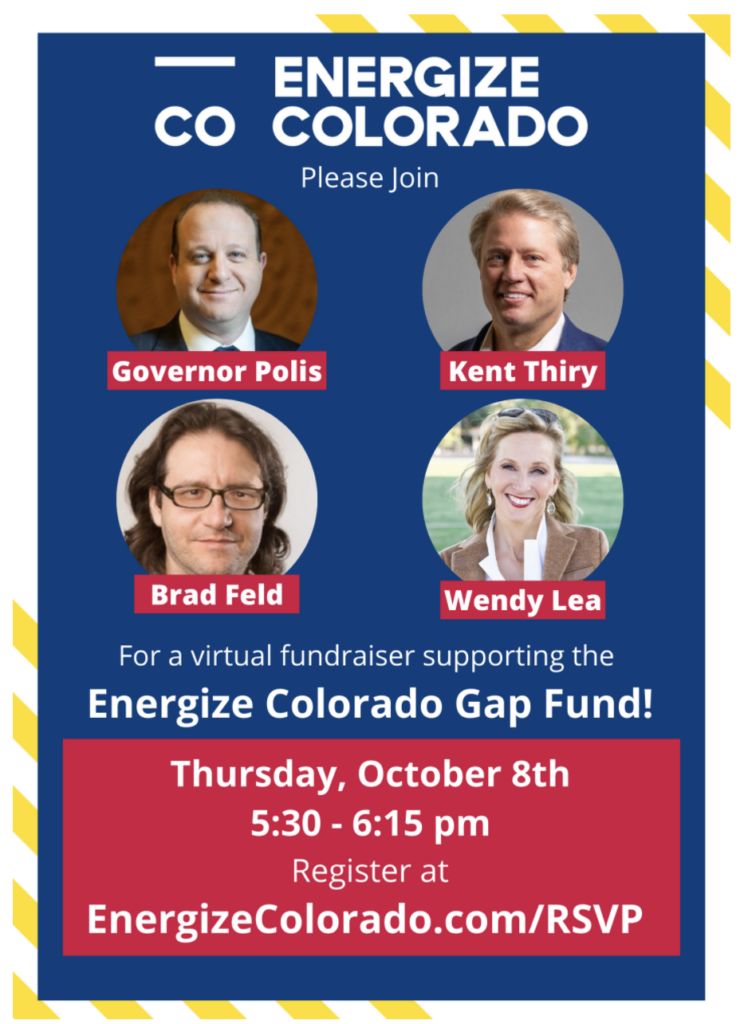 $135 million.
That is the amount that over 5,600 Colorado small businesses requested from the Energize Colorado Gap Fund in our first three weeks of open applications.
According to the SBA, small businesses in Colorado employ more than 1.1 million Coloradans, almost half of the state's private workforce. 90% of the applicant pool came from one or more of the Gap Fund's priority groups: BIPOC, women, veteran-owned, or companies in rural Colorado.
We anticipated that the demand for the Gap Fund would be massive and that we needed to provide a model that could offer a sustainable path through the post-Covid economic recovery. To that end, the Gap Fund provides a combination of grant and loan funds to recipients. We are using a Program Related Investment (PRI) model to offer ultra low-interest loans and guarantee repayment to our loan partners. We pair the PRI with philanthropic donations to cover the overhead and expected losses from running the ultra low-interest loan program. As a result, our financial model creates a 5x multiplier on grant dollars.
We need your help to meet the need and to maintain our commitment to rebuilding a statewide economy that is more inclusive and more resilient. On October 8th at 5:30 pm MST, I'm co-hosting a virtual fundraiser with my good friends Governor Jared Polis, Gap Fund Chair Kent Thiry, and Energize Colorado's CEO, Wendy Lea. While we've raised over $25 million to date, we are looking to raise another $25 million. While we have a PRI contribution minimum of $50K, we accept donations at any level to help fuel our ability to provide loans to small businesses in need.  
If you're available, please register here to join us as part of the effort to help small businesses in Colorado navigate and emerge stronger from the Covid crisis.
---