Category:
Venture Capital
Kauffman Fellows and Techstars are once again running the Venture Deals online course.
https://youtu.be/RWUx5qm-xrg
This time it runs from May 6th to June 26th. We've now had over 10,000 people take the online course and have been delighted to meet or email with a bunch of them over the past few years.
If you want to learn how to be smarter than your lawyer and your venture capitalist, sign up for Venture Deals now. Yup – it's free!
---
I regularly get asked by other VCs about how we do our offsites.
When we started Foundry Group in 2006, we had a very deliberate quarterly process in an effort to learn all about each other and become highly effective at working together. For the first three years, we were disciplined about the timing and process, used an outside facilitator, and always spent one night away together as a group. This was intense and rocky for the first few years, as we had to work through a lot of stuff as individuals and as a team, even though we had all been working together since the early 2000s at our prior firm.
Around 2010, as we started to feel like we had hit our stride working together as a team, we shifted from a facilitator driven model but maintained our quarterly rhythm. Recently, after adding Lindel, Moody, and Jamey to the team, we've shifted back to a facilitator driven model in an acknowledgment of the value of really learning each other and now becoming a highly effective team of seven, instead of four.
I think a regular offsite rhythm is critical for every VC firm of any size (including solo GPs, where the offsite can include either the whole team or a few of your key LPs and advisors.) While I'm sure there are different approaches that can work, when I reflect on almost a dozen years of our offsites, I think the approach, combined with the simplicity, has served us extremely well.
So, in case it's useful, following is our approach to offsites.
Facilitator: For stretches of time, especially early on in our working relationships, or during any rough patches, we've used an outside facilitator. If you want a referral to anyone, just email me.
Close to Home: We try to avoid the offsite becoming a boondoggle. We keep it close to home and relatively modest. Many of them are either at Jason's house, my house, or a hotel in Denver. Occasionally we'll go to a resort in Colorado Springs (a two hour drive). Once every few years we'll combine it with a trip somewhere (New York, Chicago) just to change the atmosphere a little, but even then, other than a fancy dinner somewhere, it's on the modest side. But we never do offsites at the office (I mean, it's an offsite after all.)
At least a full day: We start first thing in the morning and finish with dinner. We often spend the night together (for many years Seth, Ryan, and I had assigned bedrooms in Jason's house.) We schedule a second day – if we end early, we have time to catch up on things, including stuff that came out of our discussion.
Rotating leadership: When there were four of us, each of us led the offsite once a year. During the stretch we are in through the end of 2018, which is using a facilitator to help us wire up the next level team of the seven of us, I've been the leader so there is some consistency of approach. The leader is a lightweight leader, just making sure the offsite happens with an agenda, as you'll see in a second.
Crowdsourced agenda around two topics: Like many things in our world, we develop the agenda collaboratively and continuously. A month before the offsite, the leader shares a Google Doc with logistics and a skeleton agenda. We then fill it out, rarely exceeding a page. There are two primary segments: (1) our portfolio and (2) our relationship. By using these as the driver, we can go deep on a number of different issues, including our overall strategy. We try to keep the agenda high level and have a section called "Other Things to Discuss" which allows us to put up anything tactical on anyone's mind. The leader curates the agenda and we finalize it the week before the offsite.
Portfolio: We have lots of different approaches to this, but it's essentially a deep dive on a portion of the portfolio. The leader chooses the approach, which is often a brand new one, so we don't get into stale rhythms. My historical favorite is the use of index cards with company logos on them. The leader shuffles the cards (our entire active portfolio, which is now a lot of cards) and turns them over one at a time. Whoever is on the board is not allowed to speak – they have to listen as the other partners reviews the portfolio company. Once the non-board member partners have talked about what they think is going on at the company and what we need to focus on, the board member gets to weigh in. Since our model is that everyone works on everything together, this is an incredibly insightful approach at two levels: (1) the company info and (2) our level of internal communication about the company. It also reinforces the value of being vulnerable to your partners – it's often really hard to sit quietly and listen to the details without jumping in and trying to steer the conversation or inject your point of view into the mix. A more recent approach that I loved (that Seth came up with) is to start with a portfolio value assessment by company. We put an X-Y graph up on the wall with the Y-axis being amount of work (high to low) and the X-axis being the value to the fund of our ownership in the particular company ranging from $0 to $225m (where a company returned the fund.) We each put the index card for the company we were responsible for up on the wall in the place we think it belongs. We then discussed the entire portfolio for each fund, which generates a lot of discussion and calibration (including moving a lot of index cards around, since if we did the exercise blind, we'd all have different views.)
Ourselves: We either address the question "How Are You Doing?" (which is personal and professional, internal or with regard to others in the partnership) or do a set of facilitated exercises. We often start with a Red/Yellow/Green check-in. We orient the discussion around each person and take our time, rather than rush through updates. If there are conflicts between people, they surface quickly since we are all tuned to talk about struggles we are having, rather than focus on the awesomeness of how great our universe is. Each of us approaches this with our soul wide open – the starting point is trust, vulnerability, authenticity, and other words like that. While "How Are You Doing?" is a simple question, it opens the door wide for a variety of things, and the conversations that have ensued around one person have often generated a richness of discussion that lasts hours and often involves tears and other surprising emotions.
Obvious but important meeting rules: No phone. No email. If you have to go to the bathroom, go. We always make sure there are snacks in the room. Don't interrupt. Listen with both ears; talk with one mouth. We build 30-minute breaks into the agenda so we can catch up, and, more importantly, breathe and stretch during the day. There's usually a chance to exercise before dinner.
Dinner is a critical part of things: On some occasions, we have a meaty topic to discuss that we save for dinner. On others, we use it to heal our relationships and remind ourselves that even though we have plenty of conflicts and struggles, we are best friends. We usually do this in a private room somewhere so we can take the conversation wherever we want to go.
We try not to rush. We are gentle with each other, reminding ourselves that a key value of Foundry Group is brutal honesty delivered kindly. And we always remember that one's individual truth may not be "the truth" and it's important to be willing and able to explore what happened, or is happening, in a particular situation, instead of simply what you think happened.
Finally, we are always trying new things, so if you have stuff you do in offsites that are different, or additive, to our approach, toss them up in the comments.
---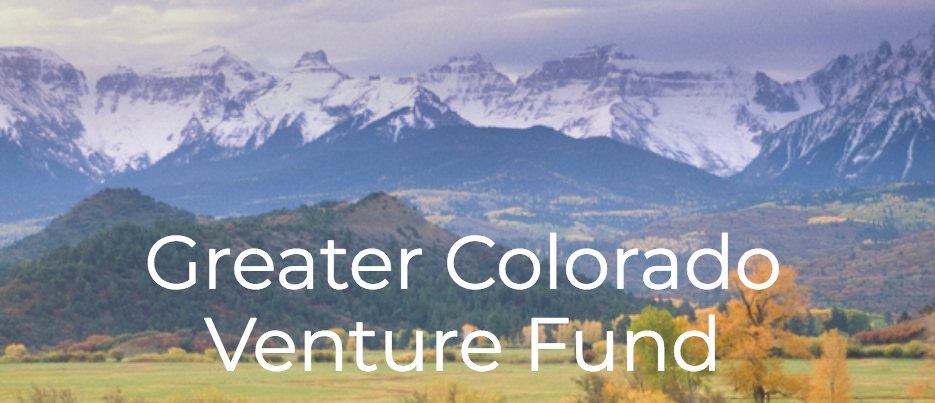 Announcing the Greater Colorado Venture Fund!
I am proud to share that the Colorado Venture Capital Authority (VCA), in conjunction with the Office of Economic Growth and International Trade (OEDIT), has selected the Greater Colorado Venture Fund to steward the state's rural venture capital allocation.
Following a competitive application process, the state will be funding an initial $9.1 million of a target $15 million venture fund to be invested in startups across 54 eligible Colorado counties. This fund will be a cornerstone in the state's larger initiative to support entrepreneurs in smaller communities in Colorado, an effort I have been heavily involved in.
Led by Marc Nager, former CEO of Startup Weekend and UP Global (where I was on the board, now part of Techstars), the GCVF team members are already leaders in Colorado's Rural Startup Community. Since joining the Telluride Venture Accelerator in 2016, Marc has already led many initiatives for entrepreneurs outside of the Front Range. Marc is joined by Cory Finney, the fund's full-time Fund Director, and Jamie Finney, Venture Partner. The Finney brothers, originally from Durango, are sixth-generation Coloradans and partners at Kokopelli Capital. Together, this team is already at the center of Rural Colorado's rising startup.
Having worked with the team throughout the application process, the GCVF's application embraces this fund's national spotlight, while remaining grounded in rural Colorado communities. They have earned endorsements from local leaders across the state, as well as national players such as the Kauffman Foundation, the Economic Innovation Group, Village Capital, Seth Levine and myself.
As I first documented in 2012 in my book Startup Communities, Colorado has become a leader in building entrepreneurial ecosystems. In selecting the GCVF to invest its funds, the state is showing its commitment to building healthy communities by empowering entrepreneurs first. I look forward to collaborating with the GCVF team to redefine venture capital in small and rural communities.
---
In my post recently titled Does VC Fund Differentiation Matter? several people commented on some variation of "people" as the key to everything.
I don't view people as differentiation. I view them as the price of admission. Amy just walked by, read this over my shoulder, and said: "I don't know what that means." Hopefully, by the end of this post, it'll be clearer …
Yesterday I talked to several VCs or entrepreneurs considering becoming a VC. I didn't know any of them – these were random intros from different people that I knew. I didn't have an agenda for each call. I was just curious and felt like meeting a few new people yesterday.
In each call, the person gave me their background and what they were exploring. Then they asked me a few questions. These questions were different versions of "what is your investment strategy" and "how do you decide what to fund?"
I went through my usual riff on this, which I should probably just put up on Youtube so I can point people at it rather than spend five minutes saying it over and over again. While I was doing this, a background process in my mind linked me back to the post I wrote on VC Fund Differentiation (or lack thereof). If you've heard this riff before, the next bit will be redundant to you.
<riff>
We have a set of filters. For an early stage investment, we only invest in our themes. We only invest in the US. We don't have to be the first money in a company, but if the company has raised more than $5m, it's too late for us. Our goal with this filter is to say no to almost everything within 60 seconds.
Assuming something passes through this filter, we then focus on three things.
Do we have an affinity for the product? We don't have to be daily users of the product, but we have to care about it in some way.
Are the founders obsessed (not passionate, but obsessed) about what they are building? Passion is easy to fake. Obsession is not.
Do the founders want us to be investors in their company as much as we want to be investors in their company? If it's not bi-directional, that's fine, but it's not for us.
</riff>Ok – riff over.
Underlying item two and three is obviously the people. But it's a characteristic of the people. It's a characteristic that, at least for us, that has worked over a long period of investing.
When I was a kid, my dad used to say to me "people are the price of admission." He meant that if I was interested in getting involved in something, I should evaluate the people first.
If we did this before applying our filter, we'd never get anything done because we'd spend too little time looking at too many things. But, by applying the filter first, we can put most of our energy into evaluating the people involved and whether they want us to be involved.
---
I was on the phone with an old friend last week. We were talking about a few things around a negotiation, and he said something profound.
"I just want things to be fair and reasonable."
I loved this phrase. I learned this value from Len Fassler and Jerry Poch in 1993 when they acquired my first company. I had never bought, sold, or invested in anything up to that point. My partner Dave and I were clueless about selling our company, so it would have been easy to take advantage of us. When I reflect on the deal that Len and Jerry offered us, it was fair and reasonable. There wasn't much of a negotiation as they knew what they were willing to pay for a business like ours. Instinctively, we knew their offer was fair and reasonable.
At the time, I struggled mightily with the offer, wanting to sell the company on Monday, Wednesday, and Friday. I didn't want to sell on Tuesday, Thursday, or Saturday. On Sunday, I rested. Dave got very frustrated with me but hung in there. Len and Jerry didn't change their price or the terms but said the offer was available for however long we wanted as long as our business performance didn't change. Six months after they made the offer we accepted it.
When I reflect on this 25 years later, they were fair and reasonable. And it set the tone for all of my future deal activity, whether I an investor, a buyer, or a seller. While I've dealt with all styles of negotiators, complex multi-party negotiations, and circumstances around all aspects of deals, I've always tried to bring the concept of fair and reasonable to the table.
I don't like the cliche "always leave some money on the table." I don't like approaching things as a win-lose or win-win, where the concept of win dominates. I don't like the statement "that's what the legal docs say" as that's a similar cop-out to the phrase "that's market." I'm not a fan of histrionics, table pounding, demands, head fakes, lies, and hiding behind – well – anything.
But it doesn't matter that I don't like these things or am not a fan of people who lead with them in negotiations. I've accepted that everyone has their own style and approach, independent of how I'd like them to behave. Instead, I'd rather approach everything from a perspective of being fair and reasonable. If we can't get to a deal, so be it. If the other party doesn't think I'm being fair and reasonable, I'm happy to listen to their explanation why and reconsider my position.
One of the benefits of this approach, at least for me, is that I can make decisions very quickly. I don't have to do a bunch of analysis. I don't have to check with lawyers. I don't have to worry about whether I'm making the right call. While I'll obviously make some decisions that are wrong and end up with deals that don't happen, I'll always feel that I've been fair and reasonable.
I think that's a fair and reasonable approach.
---
Over the years, I've been in many multi-party negotiations. I don't know the maximum number of participants in a single negotiation, but I'm sure it's greater than ten active negotiating parties in a transaction.
I don't mean the number of entities participating in the transaction, but the actual number of active negotiating entities. The best way to figure this out is to count the number of different law firms involved in the transaction.
We shifted our behavior some years ago. Often, we lead deals. When we lead, we negotiate the terms. We work collaboratively with any other co-investors, but we'll take the lead.
But, if we don't lead, we follow. This can be tricky, as our instincts (or ego) can often get in the way since we are used to leading deals. Or, the lawyers can get confused about what our real goals and intentions are in the negotiation. We always have a few key things that we need, but these are almost always non-controversial. But they can get mixed up in the fog of a transaction, making the unimportant seem important, and the unemotional seem emotional.
I've grown to like the phrases "term setters" and "term accepters." Simply put, if we lead we negotiate the terms. If we follow we accept the terms. The lawyer fees are much lower when you behave this way.
---
I don't believe that one starts an apology with the sentence "The past 24 hours have been the darkest of my life." In my world, the apology is to another person. It's not a tone setting exercise, or a plea for sympathy, for the one making the apology.
I was fuming after seeing the public apology on Axios from Justin Caldbeck. I could be wrong, but it felt like it was written by a crisis management PR firm. I spent most of Friday evening angry and upset. Embarrassed by the behavior of some men. Proud of the women who broke their silence about the abuse they had been on the receiving end of. But mostly just ashamed of myself for not doing more about the issue of sexual harassment in our industry.
I read Reid Hoffman's The Human Rights of Women Entrepreneurs and Joanne Wilson's The Gig Is Up. My partners and I had an extensive conversation over the weekend. Amy and I talked about it over dinner Friday and Saturday night.
And then I read Brenden Mulligan's Everything I hate about Justin Caldbeck's statement. I nodded my head all the way through. I knew what I was feeling, which was what Brenden was articulating. His post is an angry one, which he acknowledges, and the fierceness of it makes the point even more powerful.
It takes a lot to get me angry. I continued to stew all day Saturday. I thought about this during my entire run. I tried to process what I wanted to do and how I wanted to respond. Every time I thought about my anger, I reminded myself that this wasn't about me. I knew that a quick response, driven by my own anger, wasn't healthy. So I kept talking to my partners and to Amy.
Clarity of thought for me finally came together on my run Sunday. After lunch and a shower, my partners and I co-wrote the post Our Zero Tolerance Policy On Sexual Harassment which appears on our Foundry Group website.
I hope I, and my partners at Foundry Group, am viewed as a safe place for anyone in our industry. Specifically, if anyone ever feels sexual harassed in any context, I offer myself up as a resource for them to try to be a source of good in the universe.
And, a hint for anyone who wants to apologize for anything. The way to do it, as I learned from my mother, is to say, simply, "Joan, I'm sorry."
---
I've met and emailed with many pre-seed and seed GPs in the past year. Over sushi last night with two of them, who are also long-time friends, one of them asked me "Brad, how do you think we are differentiated?" This generated a rant from me that went something like this.
There are over 500 seed funds in the market right now. Maybe there's a thousand. Many of them are angels raising a VC fund. Others are entrepreneurs / operators raising a VC fund. A few are existing VCs who are starting a new firm. I don't even know what differentiation means anymore as it all blurs together. The operators say we know how to run businesses and help the CEOs that way. The angels say look at the deals we've done and the networks we have. Everyone describes the expertise they have around whatever the current hot new technologies are. Regional funds are trendy again. Differentiation is bullshit at this point – the only thing that matters is strategy and returns. And many of these funds / GPs have no realized returns, so all that really matters is strategy.
It wasn't an angry rant, but it resulted in 15 seconds of awkward silence as we each reached for a piece of sushi.
There are words that get overused to the point of not meaning anything. Differentiation is one of them. It's now part of a cliche, as in "how are you differentiated?" I no longer care about this. I expect you can create a set of slides or a story about your differentiation, but if I dig in and try to understand what you mean, I expect I'll feel pretty hollow at the end of it.
I suggested to my friends that we talk about the fund strategy. I know what they are investing in (stage, types of companies) and I know what they do (seed, one or two checks, no board seat but available to the founders for anything at any time, not concerned about ball control on the deal), but this is just the surface strategy.
I realized they were looking at me funny, not because they didn't understand, but because I probably had some wasabi on my chin. So I went on another rant.
Your fund size is X. How many investments are you going to make? Over what time period? At what pace? How are you going to decide what not to invest in? How are you going to respond to the range of paths a seed deal goes down? Are you going to do your pro-rata or are you one check and done? Are you going to try to have any impact on the VCs who lead the next round? How do you want downstream VCs to think about you, or do you even care? At what point do you flip from being a buyer of equity to a seller of equity? If I give you $1, are you going to invest $0.85, $1 (meaning you recycle), or $1.10 (meaning you recycle 110%)? Are you going to only invest from the fund, or are you going to create SPVs on deals in later stages?
I paused to eat another piece of sushi. We then had a healthy conversation that extended the strategy into ways they worked with CEOs and founders, how they wanted these founders to talk about them to other founders and VCs, and how they thought of themselves in the context of the other 500 seed funds floating around.
As I walked back to my car after saying goodnight to my friends, I felt unsatisfied with my answer to the question of "how are we differentiated?" I thought if I slept on it, my subconscious might do something magical and help me out. But as I sit here in the light of a new day, I'm still feeling the same way I did last night about the complete lack of differentiation among the landscape of seed funds. And, as a result, the relative unimportance of differentiation when compared to other things.
---
At 18 minutes into this awesome talk that Fred Wilson did at MIT a few weeks ago, he finishes the statement "The best time to invest in something is ..."
"… when nobody wants to invest in it but you." He adds "And – you have to believe in it and know why."
Truer words have never been spoken about investing as, or in, VC. Just don't forget the phrase "and – you have to believe in it and know why."
Fred is one of my closest friends in the VC business and someone I've learned an amazing amount from him since first meeting him in 1996 when he was just starting to work with one of my male soulmates Jerry Colonna.
Watch the video. Listen carefully. Learn from his experience.
Fred – thank you for everything you've done for and with me over the years.
---