Matt Blumberg has a new book out titled Startup CXO: A Field Guide to Scaling Up Your Company's Critical Functions and Teams. It's a follow-up to his previous book, Startup CEO: A Field Guide to Scaling Up Your Business.
I've been working with Matt since 2000. That year, we merged two companies: Return Path and Veripost. Matt was the co-founder/CEO of Return Path. Fred Wilson was his lead investor. I was the lead investor for Veripost. The two companies did the same thing and were the only two competitors in a nascent category called "email change of address" (Veripost's original name was IECOA which stood for "Internet Email Change of Address"). They were bashing each other over the head in a non-existent market as the Internet bubble began collapsing.
The founders of each company talked and, in between efforts to decimate the other, agreed it might be worth merging to survive. This guy named Greg Sands at a firm called Sutter Hill had met with both and was interested in the category and encouraged them to merge, at which point he'd fund the combined company. Fred called me and said, "Let's figure out a deal." I said, "They are both worthless right now – how about 50/50?" Fred responded with, "I have more money invested in Return Path than you do in Veripost – how about 55/45." I answered, "Deal." So for the deal, investors on both sides converted to common, we split the combined company 55/45, Matt became CEO, and Greg led a new Series A financing into the combined company. Twenty years later, we sold the business, a $100 million, profitable company, to Validity. Matt was still CEO. Fred, Greg, and I were still on the board.
Last year, Matt started a new company called Bolster. He co-founded it in partnership with High Alpha (we are LPs) and SVB. Soon thereafter, USV (Fred's firm – we are LPs) and Costanoa (Greg's firm – we are LPs) invested. It's off to a great start. If you are looking to expand your leadership team or board, are looking for a part-time executive role or board role, or are an investor looking for fractional executives to join your portfolio companies, you should become part of the Bolster network right now.
I've worked with Matt for over 20 years and have experienced many ups and downs. His hard-won lessons from Return Path show up in Startup CEO: A Field Guide to Scaling Up Your Business.
For lessons from Matt and his Return Path management team, many of who are now execs at Bolster, you want to read Startup CXO: A Field Guide to Scaling Up Your Company's Critical Functions and Teams. When I saw the outline for Startup CXO, I grinned a wry smile. The book is 132 chapters broken into 11 sections. After the intro, the following sections are written by each exec.
Finance – Chief Financial Officer – Jack Sinclair
People – Chief People Officer – Cathy Hawley
Marketing – Chief Marketing Officer – Nick Badgett and Holly Ennerking
Sales – Chief Revenue Officer – Anita Absey
Business Development – Chief Business Development Officer – Ken Takahashi
Customers – Chief Customer Officer – George Bilbrey
Product – Chief Technology Officer and Chief Product Officer – Shawn Nussbaum
Privacy – Chief Privacy Officer – Dennis Dayman
Operations – Chief Operating Officer – Jack Sinclair
There's a final part on The Future of Fractional Executive Work with a chapter by a different leader for each area above. Matt's writing shows up regularly throughout, including an ending chapter for each section titled CEO-to-CEO Advice.
Each chapter is two to five pages long. It's tons of information, organized well, in tight, bite-sized chunks. For example, here are the chapters in Part Five: Sales by Anita Absey (p. 247-302)
Ch 54: In the Beginning: From Prospect to Customer
Ch 55: Hiring the Right People
Ch 56: Profile of Successful Salespeople
Ch 57: Some Myth Busting
Ch 58: Compensating Sales Team Members
Ch 59: Pipeline
Ch 60: Scaling the Sales Organization
Ch 61: Scaling Your Team Through Culture
Ch 62: Scaling Sales Process and Methodologies
Ch 63: Scaling the Operating System
Ch 64: Marketing Alignment
Ch 65: Market Assessment and Alignment
Ch 66: Expanding Distribution Channels
Ch 67: Geographic Expansion
Ch 68: Pricing and Packaging
Ch 69: CEO-to-CEO Advice
The brilliance of this book is that everyone on your leadership team, including the CEO, should read it and then discuss it. Pick one section each week. At the end of a quarter, the entire team will have discussed all the functional roles, have a deeper understanding of expectations and responsibilities, use a common language for talking about what people are doing, and be able to adapt things to your own company. Also, if you aspire to be a CXO – you can figure out your career path by understanding the whole functioning of the relevant and adjacent departments.
I'm going to encourage every leadership team I work with to take this approach with Startup CXO: A Field Guide to Scaling Up Your Company's Critical Functions and Teams.
Matt and team, thanks for writing this!
---
I reread Enough.: True Measures of Money, Business, and Life by John C. Bogle over the weekend. I'd read it in 2012 and it had a huge impact on me.
If you aren't familiar with John C. Bogle, he founded The Vanguard Group, is credited with inventing the index fund and is a spectacular writer (every one of his books is worth reading.) He passed away in 2019 at the age of 89, but I expect his legacy will last a very long time.
I was pondering some things that were bothering me, specifically about crypto, but more generally about current themes around investing. I thought I'd revisit Enough. to see if it helped me work them out. I found my answer in Chapter 2: "Too Much Speculation, Not Enough Investment."
Let's start with Bogle's definition of Investing and Speculating.
Investing is all about the long-term ownership of businesses. Business focuses on the gradual accumulation of intrinsic value, derived from the ability of our publicly owned corporations to produce the goods and services that our consumers and savers demand, to compete effectively, to thrive on entrepreneurship, and to capitalize on change. Business adds value to our society, and to the wealth of our investors.
Speculating is precisely the opposite. It is all about the short-term trading, not long-term holding, of financial instruments — pieces of paper, not businesses — largely focused on the belief that their prices, as distinct from their intrinsic value, will rise; indeed, an expectation that prices of the stocks that are selected will rise more than other stocks, as the expectations of other investors rise to match one's own.
What was bothering me was simple: the narrative around many things has shifted to the far end of speculating. I don't participate in this particular type of narrative, but I'm surrounded by it. I don't behave as a speculator. While I invest in many things, I rarely sell anything until there is a "defined exit," where I have a very explicit internal definition of "defined exit."
As someone who has held private company stock in companies for longer than 20 years, been in many situations where there were no exit opportunities until suddenly there was an exit, I understand and am completely comfortable will illiquidity. And the idea of an investment.
I'm completely uninterested in speculating. In the mid-1990s, when I had a bunch of money after the sale of my first company, I bought and sold some public company stocks. I got sucked into giving some of my money to a money manager at Goldman Sachs and one at Lehman. They happily traded equities for me, which mostly just cost me fees in the end, although I covered it all with a crazy transaction into a weird Exchange Fund that GS created in 2000. I put a bunch of Exodus stock I'd gotten from the sale of a company into the fund. Exodus went bankrupt, so my contribution to the exchange fund was $0, but when the exchange fund paid out seven years later, I got 1.5x my investment. The only reason I got to play in the exchange fund was I had the GS account where they were trading stocks, and the guy I worked with offered up access to it. Totally random and completely dumb luck as I would have likely held the remaining Exodus stock I had all the way to $0. In hindsight, even writing this paragraph is more reinforcement to me of my ultimate lack of interest in this stuff.
As I watch crypto speculation expand into retail stock speculation, which then gets amplified broadly by zero-fee trading apps that aren't really zero-fee and watch the SEC tangle itself up trying to figure out how to monitor Twitter and Reddit accounts of high profile people who clearly are playing age-old promotion games, regardless of whether or not there are actual pump and dump schemes behind their actions, I become extremely bored. This boredom has a layer of annoyance coating it, especially given the extraordinary 15 months of Covid we've just gone through.
Maybe as sports come back, some of this energy will shift back to sports. Now that proxy betting online has become essentially real cash betting online, even though the laws around this (at least in the US) haven't really resolved, and everyone online has figured out how to get around all the rules, the speculating can become called "betting" again. Or maybe "betting" will just become speculating. It doesn't really matter since they are fundamentally the same thing.
Let's go back to Bogle. "Investing … adds value to our society, and to the wealth of our investors" and "Speculating is precisely the opposite."
Ask yourself, "Is what I am doing adding value to our society?"
Enough has three sections: Money, Business, and Life. While I found the answer to what was bugging me in Chapter 2, the section on Life is awesome. The three chapters are:
Too Much Focus on Things, Not Enough Focus on Commitment
Too Many Twenty-First-Century Values, Not Enough Eighteenth-Century Values
Too Much "Success," Not Enough Character
Bogle completely nails this topic without being preachy, annoying, arrogant, or directive. As writing goes, it's as beautiful and powerful as it gets. I strongly recommend Enough.: True Measures of Money, Business, and Life, especially if you have enough but don't realize it.
---
Last week I was scheduled to do a live interview with Eliot Peper about The Entrepreneur's Weekly Nietzsche. He opted to use Twitter Spaces and diligently tested it out a couple of days beforehand to confirm that it would work. Nevertheless, we immediately ran into difficulties, and after ten minutes, we decided to bail on the interview and reschedule.
This reminded both me and Dave about our chapter in the book, "Play to the Audience." Nietzsche says:
It is not sufficient to know how to play well; one must also know how to secure a good hearing. A violin in the hand of the greatest master gives only a little squeak when the place where it is heard is too large; the master may then be mistaken for any bungler.
Our translation to contemporary English is:
In other words: Performing well is not enough; the audience must experience the performance well. If the venue has bad acoustics, even a great violinist sounds terrible. A virtuoso can be mistaken for a novice.
Our essay in the book discusses the importance of a speaker having empathy for the audience, not just in terms of the content but also in the communication medium. For example, is the phone connection clear? If you have an accent, are you speaking slowly enough for your audience to understand? Ben Casnocha's excellent narrative emphasizes audience engagement and interaction, which is crucial in our era of short attention spans.
This was one of the first chapters we wrote, so it was before the pandemic and the enormous shift toward videoconference and online interviews. In keeping with our view that Nietzsche's observations are mostly independent of time and technology, it can be applied here.
For example, if you are communicating, selling, interviewing for a job, or promoting a message, you need to make sure you will be heard. Your own preferences for technology platforms can get in the way of a successful meeting if the customer prefers a different system or is not set up on it. If you are getting a message out, using the newest or trendiest technology may draw listeners, but they will not hear the message if the system doesn't work. Make sure your lighting, Internet connection, and camera angle are appropriately professional. Don't walk around with your phone while you are on a videoconference unless the call is explicitly casual. 
Feel free to disagree with these particulars, but think through your own version of "securing a good hearing."
It turns out that Eliot and I are good friends, and I'm pretty patient with new technology, though those who tried to attend our interview may not have been. Eliot decided to try again, but with an upcoming interview posted on his website.
---
CU's Silicon Flatirons Center Startup Summer is back!
Startup Summer provides a fantastic experience for college-age students and interns interested in entrepreneurship and the Front Range emerging company scene.
Startup Summer is a free offering that enhances your company's internship program. Your company hires and pays your intern(s). You can hire an intern out of your own pool of candidates or, alternatively, let us know and we will get you student resumes from individuals who have reached out to us.
This program is free – there is no charge for companies or interns. Now in Year 10, Startup Summer is one of CU Boulder Silicon Flatirons' most popular programs.
Startup Summer pulls college-age students together on Tuesday nights from 5:30 – 7:30 pm during the summer. Startup Summer students and interns get to (1) meet leaders in the Front Range emerging company community, and (2) build their own startups on the side. More info is available at our website Startup Summer page.
If your company is interested in Startup Summer, please reach out directly to Sara Schnittgrund (Sara.Schnittgrund@Colorado.EDU) and Brad Bernthal (Brad.Bernthal@colorado.edu) at Silicon Flatirons by Thursday, June 3.
---
"Turn off the TV and go outside and play."
I expect these are words that have been said in almost every household in America.
Amy and I hit the bottom of the TV barrel last week while watching Army of the Dead. It was so awful it was good. But it was awful.
And … It's June 1 and I'm done for the summer. No TV until Labor Day weekend. And then, maybe no TV after that.
TV is a weird construct since I can watch videos on my laptop or my iPad. But, that's a different thing, since they are generally short and a deliberate thing that I'm watching on video, vs. just vegging out in front of the TV watching whatever we found on Netflix, Amazon, Apple TV, or whatever we eventually found surfing around on DirecTV (last night's movie was Drive.)
While I was totally fried this weekend from the cumulative working and running I had done the preceding few weeks, I would have been better off napping or reading during the movie time. And, while I know there is a new wave of stuff coming out this summer, I'm going to assume that Army of the Dead sets the tone so I'll wait until the fall in case anything good makes it through and then watch it then.
For now, I'm spending my TV time running, reading, writing, or just enjoying being outside with Amy and Cooper.
Welcome to summertime.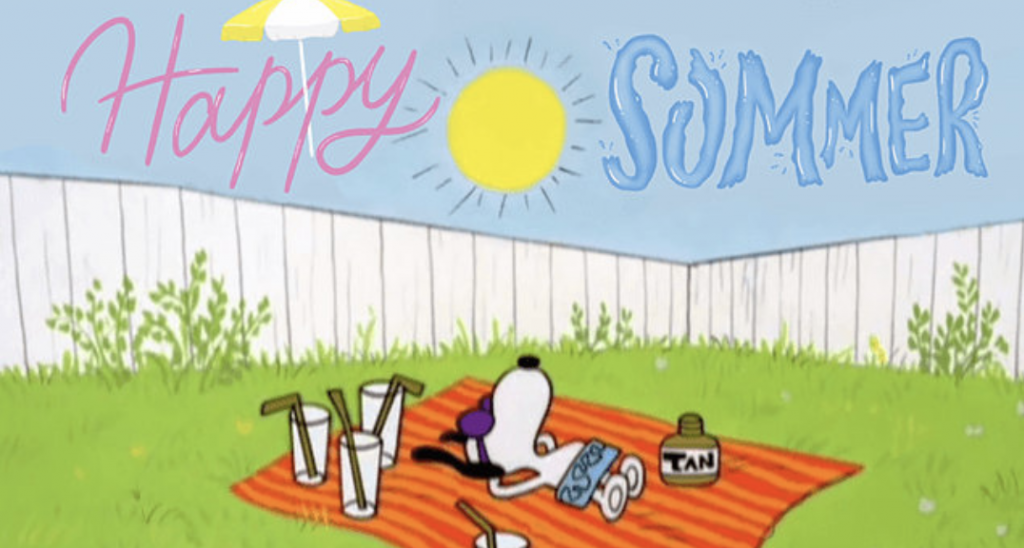 ---
Most of the quotes we discuss in The Entrepreneur's Weekly Nietzsche we found by reading his work, but a few are well-known lines that you may have heard before. This is one, used in our chapter "Monsters":
He who fights with monsters should be careful lest he thereby become a monster. And if thou gaze long into an abyss, the abyss will also gaze into thee.
The quote leads quickly to questions of ethics. In the chapter, we discuss the fact that we each have our own views of what constitutes ethical or unethical behavior in business. It is a line-drawing game – there is no reference that everyone agrees on. The choices have both short- and long-term consequences for both the success of your business and for your own reputation. Further, once you choose an ethical approach, it becomes entrenched in your organization and is difficult to change.
These questions arise pretty much every day in business. It came up for us today with our own book promotion. Our publisher was excited that we had achieved "#1 Amazon Best Seller" status in a couple of categories and produced the graphic below for promotion. The thing is, the categories were things like "Existentialism" and "Philosophy Reference" where overall sales are lower – they are applicable to the book as categories, but not really our target market (for the record, the book is selling nicely in "Entrepreneurial Management", where it was briefly #2.)
The question is, should we use it, or is it misleading and dishonest?
We expect that most of you will say that of course we should use it, because strictly speaking it is true, and it will help sell the book. A few might agree that it is a little uncomfortable, perhaps preferring that the language be changed a little. Others will say that the question is overthinking a simple thing, and why should one even worry about it?
This is indeed a simple example, and in isolation this is overthinking. It's not going to show up as a scandal on the front page of the New York Times. But if you never examine such questions, the pressure of competition and the temptation of promotion can be an abyss that gazes into you. Eventually you may find yourself, or people in your organization, saying things like "A lot of people are telling me…" (where have you heard that before?) Such statements are strictly true, depending on one's interpretation of "a lot." How is this marketing image different?
Our book asks you to think harder about questions like this, and many others that may not have such an explicitly ethical component.
As another example, Dave wrote this post after a quick back and forth this morning about the issue on email while I was on another call. I read it, make a few light edits, and posted it. One approach would be to just post this. Instead, I asked Dave how he wanted it posted since he was the primary author. As we went back and forth in email (his answer: "Either say we both wrote it or credit me, either is fine. I'd lean toward the first.") just reinforced our own alignment, while being a nice self-referential example.
And … we both just looked and the book is currently selling at #1 in both "Business Management Science" and "Business Technology Innovation." Ahhh, that feels better.
---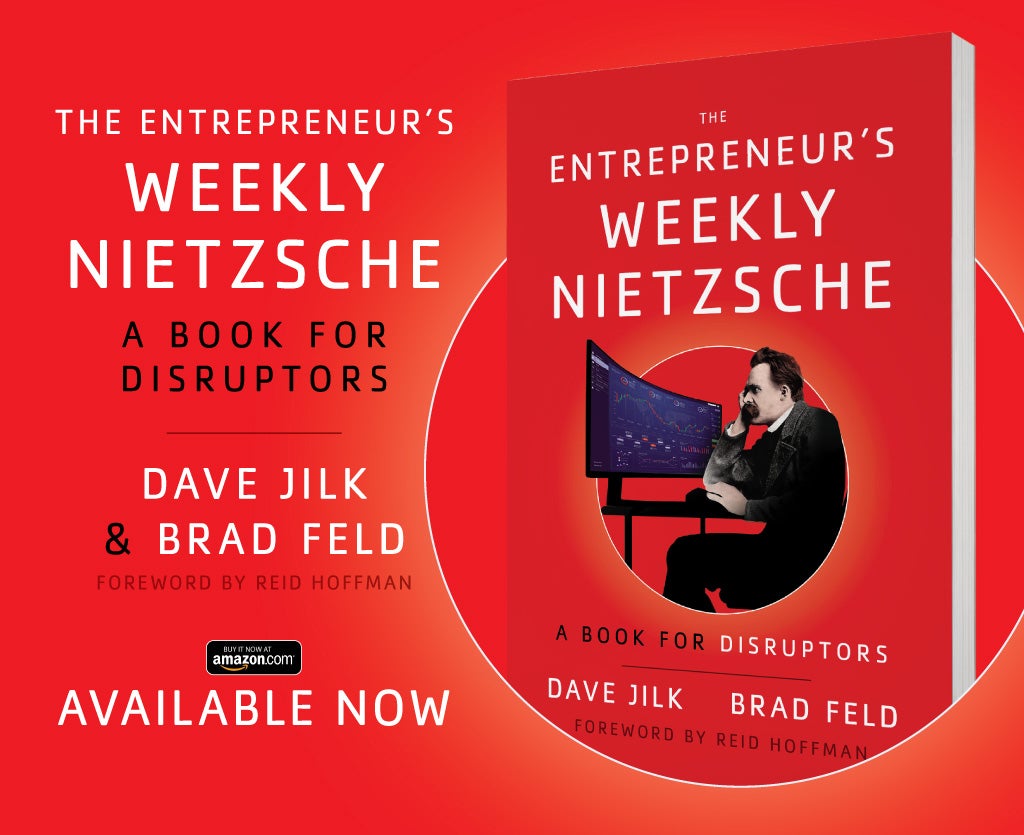 My newest book, The Entrepreneur's Weekly Nietzsche: A Book for Disruptors, shipped today. It's available on Amazon in Kindle, Paperback, and Hardcover. If you are so inclined, go buy a copy today!
I'm particularly proud of this book, as it is a more philosophical approach to entrepreneurship than my other books. I wrote it with Dave Jilk, the co-founder of our first company (Feld Technologies, 1987) and one of my closest friends for 38 years.
The book contains 52 individual chapters (hence the "Weekly" in the title) and is divided into five major sections (Strategy, Culture, Free Spirits, Leadership, and Tactics). Each chapter begins with a quote from one of Nietzsche's works, using a public domain translation, followed by our own adaptation of the quote to 21st-century English. Next is a brief essay applying the quote to entrepreneurship. About two-thirds of the chapters include a narrative by or about an entrepreneur we know (or know of), telling a concrete story from their personal experience as it applies to the quote, the essay, or both.
Our goal with this book is to make you think, rather than try to tell you the answers. For example, here's the Nietzsche quote from a chapter titled "Obsession" from the section on "Free Spirits".
"The passion which seizes the noble man is a peculiarity, without his knowing that it is so: the use of a rare and singular measuring-rod, almost a frenzy: the feeling of heat in things that feel cold to all other persons: a divining of values for which scales have not yet been invented: a sacrificing on altars which are consecrated to an unknown God: a bravery without the desire for honor: a self-sufficiency which has superabundance: and imparts to men and things."

Our interpretation is:
In other words: A noble man has exceptional passion, but does not realize just how unusual it is: he has high standards for success, enthusiasm for things that others find dull, a sense of what will be valuable in the future, intense but unexplained motivations, courage without the need for praise, and the ability to sustain and revel in this intensity without support from others.
And the chapter begins with:
You may have noticed that this chapter is titled Obsession, but Nietzsche seems to be talking about passion. For several years, Brad has written and spoken about the pitfalls of "passion" in entrepreneurs, distinguishing it from "obsession," which is a quality he looks for. Dictionaries generally speak of passion as a strong emotion, while obsession is a preoccupation of the mind. We have a hunch that Nietzsche is trying to make a similar distinction here. The word "obsession" did not come into common use until later. Earlier in the text, he says, "What then makes a person 'noble'?…Certainly not that he generally follows his passions; there are contemptible passions." It is worth asking yourself whether you are obsessed with your business and the problem it solves for customers or merely passionate about it.

If you intend to disrupt an industry or change the world, you must expect people to see you as crazy, intransigent, and possibly sociopathic. Maybe you are. To sustain yourself and your efforts in such a climate, you must find your drive within. You must know your vision and why it matters to you. Importantly, you cannot feel that its correctness depends on your ability to explain it to others. You must be obsessed.
Each essay from us is two to three pages long, so they are easy to quickly consume and then reflect on. The narratives from entrepreneurs telling their story as it applies to the quote are also a few pages long.
For one more taste, here's the Nietzsche quote and our interpretation chapter called "Attracting Followers" from the chapter on "Leadership".
"Men press forward to the light not in order to see better but to shine better.—The person before whom we shine we gladly allow to be called a light."

In other words: People are drawn to light because it shines on them, not because it shows them the way. A person who makes us shine is someone we gladly call a light."
I hope this inspires you to get a copy of The Entrepreneur's Weekly Nietzsche: A Book for Disruptors. I'd love to hear what you think about it.
---
Six months ago I wrote When The Big Companies Show Up about Sony releasing their first holographic display and what I thought about that development, given my role as an investor via Foundry and board member in the 40-person purveyor of fine holographic interfaces in Brooklyn called Looking Glass. In that post, I wrote:
"When I ponder my life in 2040, I am confident that I will not be spending 12 hours a day in videoconferences on a 2D display. I'm also not going to have a headset encapsulating my face. I'm ready for my holographic future, and I'm having fun being an investor in a company that helps create it."
That future is coming fast, and last week I was involved in several discussions about holograms.
The first was with Shawn Frayne, the CEO of Looking Glass, reporting that by the summer they will have shipped a personal holographic display to 10,000 people around the world.
I've resisted saying this for so long. But…holo there. 👋 @LKGGlass pic.twitter.com/Wm69IiGBqS

— Shawn Frayne (@haddockinvent) April 30, 2021
The second was a chat about Google announcing a holographic system of their own at Google I/O. Following is a brief excerpt from one of the articles floating around about that announcement:
"Pichai said "We have developed a breakthrough light field display," probably with the help of the people and IP it scooped up from Lytro, the light field camera company that didn't manage to get its own tech off the ground and dissolved in 2018.

Light field cameras and displays create and show 3D imagery using a variety of techniques that are very difficult to explain or show in 2D. The startup Looking Glass has made several that are extremely arresting to view in person, showing 3D models and photographic scenes that truly look like tiny holograms.

Whether Google's approach is similar or different, the effect appears to be equally impressive, as the participants indicate."
Needless to say, the Looking Glass community has some strong opinions about this new development.
Knowing Google, there is little chance that #ProjectStarline will ever turn into a real product that people can buy.

On the other hand, @LKGGlass has been selling volumetric displays since at least 2018.

Go check them out. https://t.co/LvxnPNZwyM

— Jan Kaiser 🛡️ (@jankais3r) May 18, 2021
Will Google or Sony or Looking Glass or some other contender deliver on the full potential of the holographic future we've all been waiting for? While my bet is on Looking Glass, this future now feels more inevitable than ever.
If you're interested in building out this future with the band of misfits at Looking Glass, drop me an email and I'll connect you.
---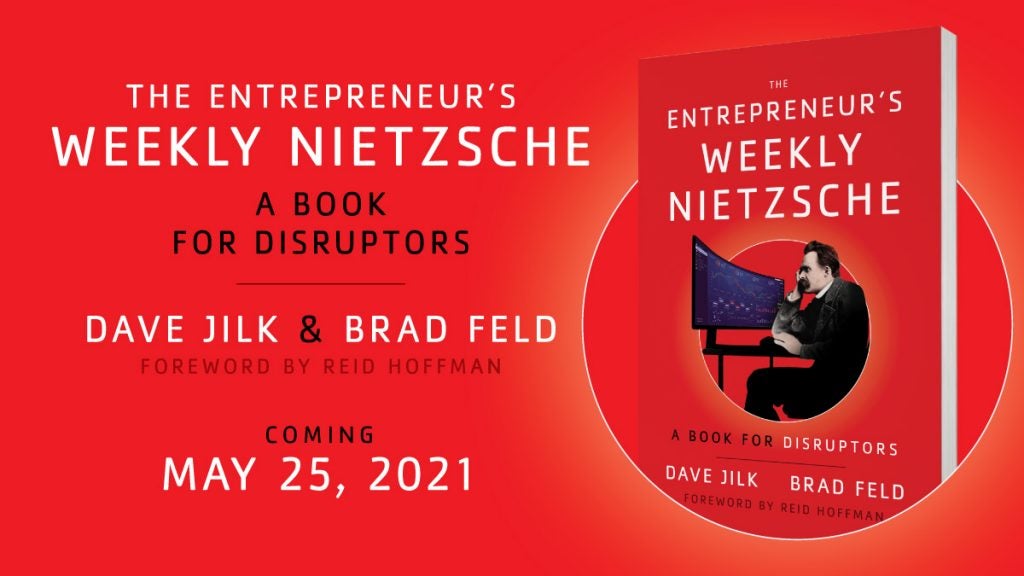 My newest book, The Entrepreneur's Weekly Nietzsche: A Book for Disruptors, comes out next Tuesday, May 25th.
This has been an on-again, off-again project with Dave Jilk that began in 2013. We were spending the weekend in Keystone with our wives (Amy and Maureen), which generally involved a lot of sitting around reading. Dave was reading On Nietzsche by Eric Steinhart. He read a quote to me and asked if I thought it sounded like an entrepreneur. Dave remembers me saying, "Hmmm, it sure does." Then we both went back to our books.
At the time, I knew nothing about Nietzsche. Actually, I knew less than nothing since everything I knew about him was wrong.
Dave is one of my best friends. We met over 38 years ago, on my first day at MIT, right after the freshman picnic, when I ended up in a van that took me to ADP, the fraternity I ended up joining and living at for four years. Dave was a senior, and we became best friends. We started a company that year with Sameer Gandhi and Andy Mina called Martingale Software that failed pretty quickly. Several years later, we started Feld Technologies, which we ran together from 1987 to 1993 when we sold it to Sage Alerting Systems, which later renamed itself to AmeriData Technologies. We kept working together – him as an entrepreneur, me as an investor.
But "business" is only a small part of our relationship. For any close friendship that lasts 38 years, he has a better understanding of me than almost anyone else on this planet (Amy has him beat.) So, theoretically, he knew what he was getting into when we decided to start writing a book together. I expect there was a moment, though, where he shouted at the top of his lungs, "Brad, enough with the fucking commas."
We made progress in fits and starts. Most of the fits were a result of me getting distracted by something else. Sometimes it was work. Sometimes it was another book that got in the way. Sometimes it was burnout – writing, work, or just general lassitude. Dave hung in there each time, giving me space, moving things forward without me, and then when I resurfaced, quickly kicking back into gear on his end to respond to whatever I was doing.
I'll write plenty more about the book, Nietzsche, and why we think Nietzsche is so relevant to entrepreneurs, but I want to end with two paragraphs of appreciate for people.
The first is Ryan Holiday, who was an inspiration for me with his book The Daily Stoic. I read a page almost every day. Ryan inspires me at so many levels, but his ability to make stoicism accessible to entrepreneurs has been magical and transformative for many people I know, including me. I'm hopeful Dave and I can emulate even a tiny bit of what Ryan has accomplished, but this time with Nietzsche.
The second is Reid Hoffman. He agreed to write the foreword several years ago when I first told him about this project. He waited patiently, and he produced a brilliant foreword that captures the essence of what we've tried to do with the book. In addition, as a bonus, he used Nietzsche's writing style for some of it. Reid is a great human, and I deeply appreciate his involvement in this project.
---