I'm lazy blogging this week as I get ready to go on vacation for the July 4th holiday. So, here's another set of videos to watch, which is the entire Street Level Startups series from Colorado Public Television. I've watched them all now and they are a great history of how the entrepreneurship scene in Colorado has evolved recently, along with a bunch of fun highlights of people and companies.
Street Level Startups: The New Gold Rush
Street Level Startups: When an Idea Strikes – Stories of Inspiration
Street Level Startups: Three Phases of a Startup
Street Level Startups: Mentorship & Integration
Street Level Startups: Startups to Watch
---
Colorado Public Television takes an in-depth look at Colorado's thriving startup scene in its new 5-part season called Street Level Startups.
The first episode, which is above, includes me and Jared Polis reflecting on some fun Techstars founding history, Dan Caruso talking about Zayo and the bridge between Boulder / Denver, and a great segment at the end with Brad Bernthal talking about fundraising and #GiveFirst. And, plenty of other stuff.
It was fun to watch a bunch of the old video from the last dozen years in one place. I love living and working here.
---
From June 5 to June 8, Techstars Startup Week West Slope will be happening on the western slope in Colorado, with the main event in Grand Junction.
I'm doing a Keynote at on Thursday, June 6 from 11:30am – 1:00pm at Colorado Mesa University. I'll be talking about building startup communities outside Colorado's front range in a fireside chat / AMA format.
Startup communities in Colorado that are outside the front range (Boulder, Denver, Colorado Springs, and Fort Collins) have become something that my partner Seth Levine and I have been very involved in the past few years. Seth's providing a lot of on the ground leadership, through his work with Startup Colorado and the Greater Colorado Venture Fund. I try to show up or help remotely whenever I can and Amy and I have been writing plenty of checks from our Anchor Point Foundation to support various initiatives.
We have family in Hotchkiss, a house in Aspen, and have spent a lot of time in Summit County over the past decade when we had a house in Keystone. There are magical things going on all over Colorado, especially on the western slope. I have a strong belief that startup communities should exist everywhere and can have a meaningful impact on cities outside the large urban concentrations that we have in many parts of the U.S.
What's happening in Colorado's Western Slope is powerful and an example that can be used through the U.S. and the world. If you are interested, come join us at Techstars Startup Week West Slope to learn more.
---
In December, Amy and I (through our Anchor Point Foundation) committed a matching gift to fund All Colorado First Time DonorsChoose.org Projects.
At the time there were 108 projects that fit the profile. Our hope was that our match would fund these projects, encourage more teachers to put their projects up on DonorsChoose.org, and get more new donors involved.

We ended up funding 394 projects, helping 40,404 students, 246 schools, and 380 teachers in Colorado.
At the time, we didn't announce the size of our matching gift, but it was $100,000. So, through Donorschoose.org we've helped fund $200,000 of direct purchases for classrooms in Colorado.
Thank you to everyone who supported these teachers. We love supporting Donorschoose.org because the projects are initiated by teachers who know what they need in their classroom to best serve their students' educational needs.
---
Amy and I decided to match all of the funding for first-time projects in Colorado on DonorsChoosee.org. We are doing this through a gift from the Anchor Point Foundation and will be running it through the end of 2018. We believe deeply in the value of education and particularly like the DonorsChoose.org model of teacher-initiated projects.
There are currently 108 projects that fit this profile. We launched yesterday and nine have already been fully funded (and 330 students have been helped.) The criteria for our match is that these are projects put up by new teachers on the DonorsChoose.org platform.
Our hope is that two things will happen before the end of the year.
First, if you want to support a teacher and students in Colorado, go make a contribution of any amount on DonorsChoose.org from this link and we'll automatically match it. Or, you can also click this link if you want to do a search on the active projects that Anchor Point Foundation is matching. You'll notice a mention of the Anchor Point Foundation next to the projects we match – it'll look like the following.
Clicking through will show a page like the following where you actually make the contribution.
Second, we hope any teacher in Colorado who has never had a fully funded project on DonorsChoose.org before, submits a project before the end of the year. We'll match those projects as well, so getting more online is an awesome thing.
We believe DonorsChoose.org is an outstanding platform for getting additional funding into classrooms. Please help us support education in Colorado.
---
I've been in San Diego with Amy for a while but we are returning to Boulder in a week. San Diego has been great, but I miss my dogs, my friends, and the Colorado vibe.
When people ask me about the Colorado vibe, I often talk about GiveFirst. Soon there will be a book (by me) on this, but for now there's an increasing amount of content on the web building up to explain it. This article in the Colorado Sun – How Techstars' "GiveFirst" mantra became a road map for the startup community in Colorado and beyond – was excellent and had numerous short examples of how GiveFirst works and influences a startup community.
Next up is a fun article by my co-author of Startup Communities Way (my new Startup Communities book – coming up mid-year 2019) Ian Hathaway. A few days ago he cranked out a post titled Colorado is for Founders. I love that phrase and he led off the post with this great tweet from Phil Weiser.
Excited to work with our new Governor and my client to be, @jaredpolis. pic.twitter.com/5jOv1K0gDL

— Phil Weiser (@pweiser) December 5, 2018
He goes on to explain Jared and Phil's huge accomplishments and impacts around startups and the startup community. The punch line in the post is:
"By many measures, Colorado is the most entrepreneurial state in the country, a fact that I discovered in 2013 when studying high-technology business formation around the United States. I was struck by just how many places across the state had a high proportion of startup activity occurring—a finding that has been extended to looking across other types of high-growth entrepreneurship as well. Something special is happening there, and it has been for many years."
I'll end with the Holiday Gift Guide from Techstars. If you want to give someone you know the gift of something from a Techstars company this holiday season, here are the choices all in one place.
Happy Friday Colorado. See you in a week.
---
Did you know that 28.5714% of the partners at Foundry Group are Texans?
Recently, I was asked if I consider myself a Texan. I answered that I grew up in Texas, live in Colorado, was born in Arkansas, and went to school in Massachusetts. While I have a house in Alaska, I never lived there (that's where Amy grew up.)
I hadn't really thought about this before I answered the question. While Massachusetts was very good to me, I never felt at home living in Boston or Cambridge. I left Dallas 35 years ago (although my parents still live there.) I only lived in Blytheville for a year, although I just visited it with my dad a few months ago.
I've now lived in Colorado longer than anywhere else (22.5 years). But, I'm occasionally told by people who have lived in Boulder for over 25 years that I'm still a newbie. So, maybe I'm a Texas for a few more years, although Amy says definitively, "You are not."
---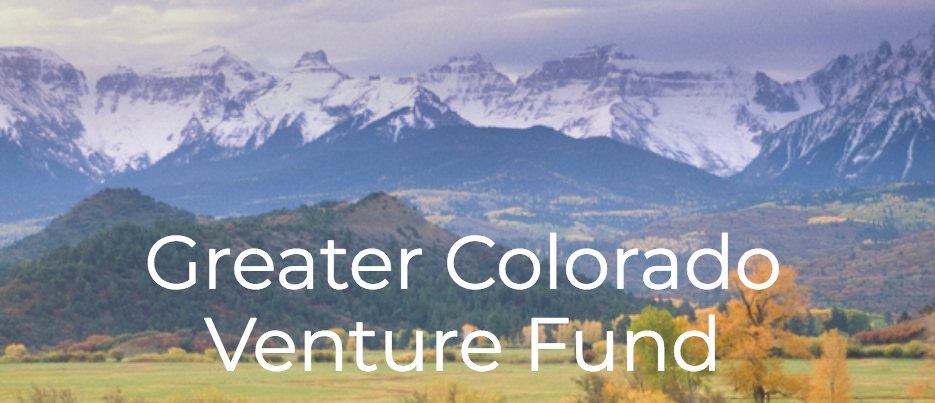 Announcing the Greater Colorado Venture Fund!
I am proud to share that the Colorado Venture Capital Authority (VCA), in conjunction with the Office of Economic Growth and International Trade (OEDIT), has selected the Greater Colorado Venture Fund to steward the state's rural venture capital allocation.
Following a competitive application process, the state will be funding an initial $9.1 million of a target $15 million venture fund to be invested in startups across 54 eligible Colorado counties. This fund will be a cornerstone in the state's larger initiative to support entrepreneurs in smaller communities in Colorado, an effort I have been heavily involved in.
Led by Marc Nager, former CEO of Startup Weekend and UP Global (where I was on the board, now part of Techstars), the GCVF team members are already leaders in Colorado's Rural Startup Community. Since joining the Telluride Venture Accelerator in 2016, Marc has already led many initiatives for entrepreneurs outside of the Front Range. Marc is joined by Cory Finney, the fund's full-time Fund Director, and Jamie Finney, Venture Partner. The Finney brothers, originally from Durango, are sixth-generation Coloradans and partners at Kokopelli Capital. Together, this team is already at the center of Rural Colorado's rising startup.
Having worked with the team throughout the application process, the GCVF's application embraces this fund's national spotlight, while remaining grounded in rural Colorado communities. They have earned endorsements from local leaders across the state, as well as national players such as the Kauffman Foundation, the Economic Innovation Group, Village Capital, Seth Levine and myself.
As I first documented in 2012 in my book Startup Communities, Colorado has become a leader in building entrepreneurial ecosystems. In selecting the GCVF to invest its funds, the state is showing its commitment to building healthy communities by empowering entrepreneurs first. I look forward to collaborating with the GCVF team to redefine venture capital in small and rural communities.
---
Ian Hathaway, my co-author for my next book – Startup Communities 2: The Next Generation – has a great blog post up titled The Amazon Bounce Back.
Colorado, specifically Denver, is in the final 20 cities bidding on Amazon's HQ2. This open bid process is an absolutely brilliant move by Amazon for a variety of reasons.
Enormous branding: Everyone, everywhere, is talking about Amazon. Amazon Amazon Amazon. We love Amazon.
Absurd market information: The amount of data about each city that Amazon is getting out of this is incredible.
Visibility into what cities are willing to offer: Amazon knows where its future leverage points are when negotiating with individual cities.
While I'm glad Denver approached it the way they did, focusing on strength and resources of the community rather than by throwing dollars at Amazon, our state government still provided plenty of financial incentives.
Amazon HQ2 could qualify for huge Colorado tax incentives. From the article:
"Colorado's main tax incentive used to lure "Amazon HQ2" could add up to at least $458.9 million rebated back to the Seattle-based retail giant over several years and could top $860 million if the company's HQ2 campus were to grow fast enough. The figures are based on the pay scale Amazon predicts at HQ2 and the formula for Colorado's "Job Growth Incentive Tax Credit" program."
Since I think the chance of Amazon actually choosing Denver is 0.0001%, I have a suggestion for the Colorado state government for when Amazon chooses someplace else.
Give 100% of the benefit (economic and otherwise) you are offering to the Denver-based business community, with special focus on high growth scaleup companies.
Steve Case has a brilliant Memo to the Cities Amazon Passed Over. Julie Lenzer explains how everyone can have a trophy, or how to make the most of NOT getting Amazon HQ2.
In the context of be careful of what you wish for some economists are now weighing in: Amazon HQ2 finalists should refuse tax breaks, say nearly 100 economists, professors. There is only going to be one city that ends up with Amazon's HQ2. For everyone else, especially Denver, use what you were willing to do to drive real long-term economic growth and health for your city, rather than retreat in defeat.
---
A few years ago, David Cohen and I started a Colorado CEO Jobs list in response to the regular stream of inbound email we got from folks looking to move to Colorado and interested in tech-related jobs. We seeded this list with CEOs from companies Foundry Group and Techstars had invested in. As other CEOs requested access to the list, we added them.
The list was managed in Yahoo Groups and had about 100 CEOs on it. It was simple – emails from people looking for jobs came to me or David and we forwarded them to the list. The hit rate was very high – I regularly get feedback from people that they've ended up with multiple interviews and a job from the introduction.
Both David and I felt like the list was pretty tedious to manage in Yahoo Group so about three months ago we restarted it and made it a Google Private Community. We culled the list a little and re-invited everyone, ending up with 56 active CEOs. We've been using the Google Private Community for a while and are comfortable that it's a significant improvement over the Yahoo Group.
We are still keeping it private for now but are looking for any CEOs of tech companies in Colorado who want to join the list as we expand it from Foundry / Techstars related companies. Our goal is to have a wide audience of CEOs for anyone coming to Colorado who is looking for a tech related job.
We are keeping the list ONLY to CEOs for now as we plan to expand some of the things we are doing with the list.
So, if you are a CEO of a tech company in Colorado and want to be on our Colorado CEO Jobs List, just email me (brad@feld.com).
And – if you are looking for a job in a Colorado tech company, email me also and I'll forward your info to the list.
---