I'm a fan of David Walton and his near-term sci-fi books. In 2015, I read a few of his books, wrote a post titled Awesome Near Term Sci-Fi – David Walton, and promptly forgot about him.
Eleven days ago, I got the following email from David.
Mr. Feld:

Since you've enjoyed my books in the past (e.g. Superposition), I'm letting you know I have a new one out. No worries if you're not interested; just letting you know. Hope all is well with you and yours.

When paleontologists Samira and Kit uncover dinosaur skeletons in northern Thailand, they find the remains of an ancient genetic technology that nations will kill to control. Catapulted into a web of murder and intrigue involving the Chinese Ministry of State Security, a powerful Asian crime syndicate, the CIA, and a beautiful Thai princess, Samira and Kit don't know who they can trust. Torn apart by competing factions and stranded on opposite sides of the world, they race to discover the truth before the world goes to war. Can they bring the past to life before it kills them all?

"Walton has brought hard sci-fi roaring back to life." –Wall Street Journal
I went and looked up the books he'd written and realized I'd missed the last two: The Genius Plague and Three Laws Lethal.
I started the The Genius Plague on Saturday morning and finished Three Laws Lethal last night. They were both spectacular.
It's easy to relate to The Genius Plague since we just experienced a pandemic that is trying to shift from epidemic to endemic and failing (according to some) while being a non-issue (according to others). But what if the first order impact of the disease was something other than death and the second order impact could go in multiple directions, depending on … Ok, I won't spoil it for you.
Three Laws Lethal was even more delicious. I expect many readers of this blog know Asimov's Three Laws of Robotics. But do you know the Three Laws of Warfighting AIs? Mikes played a central role and I kept waiting for a Mike and Ike reference, but it never appeared. Maybe there will be a sequel.
David – well done. Your newest book Living Memory is on my Kindle and I'm starting it tonight after Life Dinner with Amy.
---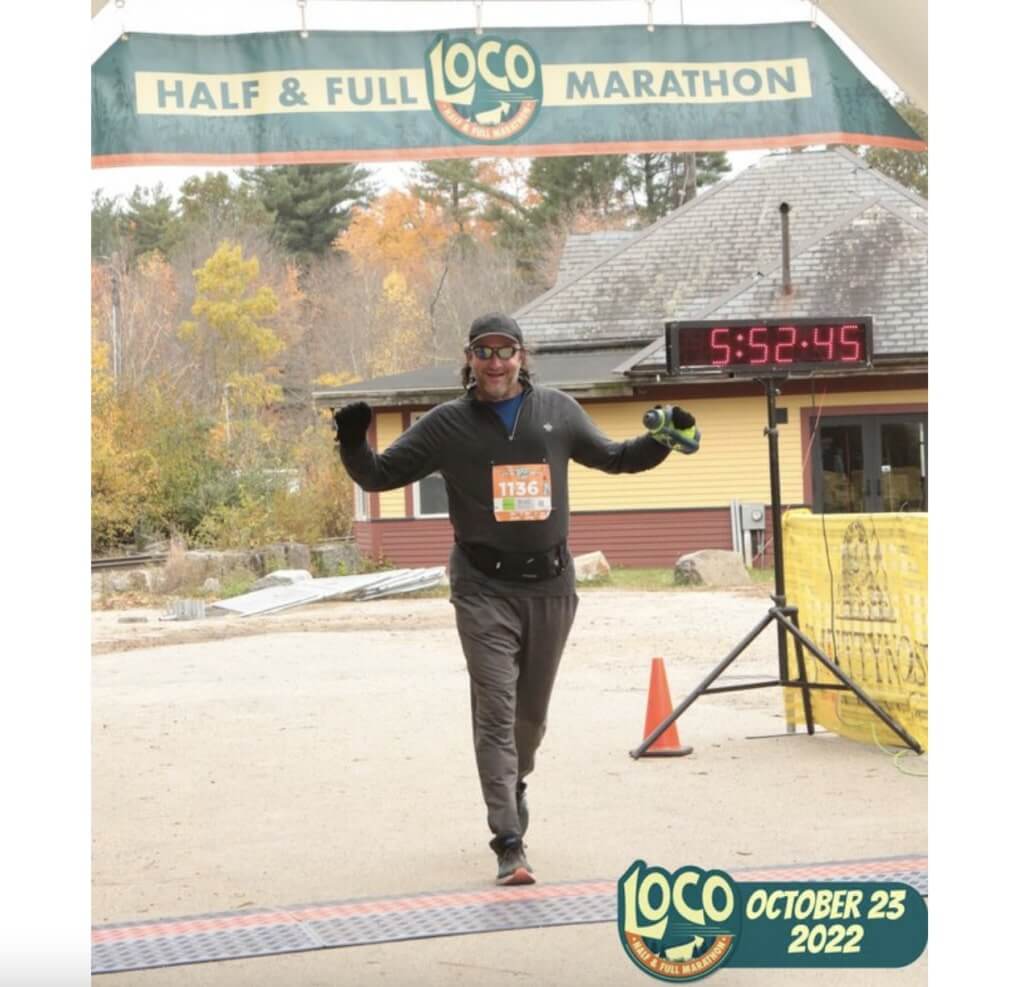 I made my move at mile 22.
I'd been trailing my nemesis for a dozen miles. The half-mile cutoff was 2:50, and I rolled through at 2:43, so I had plenty of room to spare, although, by this point, I'd given up on my goal of 5:30.
My nemesis was wearing a red shirt. I could see them a quarter to a half-mile ahead of me for several hours. I'd get a little closer, and then they'd pull away.
At mile 14.5, a timing device was set up, presumably to ensure the marathoners were on the second loop. I noticed the guy monitoring it (who later I learned was named Nate) picking up the cones after I went through.
I asked, "Am I in last place?"

"Yes"

"That's a new experience for me. I guess I have a goal besides finishing."

"What's that?"

"Not coming in last."
I knew I had several hours to catch the person in the red shirt. There was no rush. I took it easy and just cruised through miles 14 to 22. My new friend Nate the Great was at each water stop, packing things into his U-Haul after I passed. Since Red Shirt wasn't really pulling away much, I'd stop, fill up my water bottle, and chat with Nate.
At mile 22, I picked up the pace. The last three miles of the course were on the Rail Trail. The nice people in New Hampshire considerately paint all the rocks and tree roots on the trail white, so it was a particularly delightful place to pass Red Shirt. As I went by, Red Shirt kind of groaned, and I said, "You got this," which seemed to be the mantra for this race.
Nate was waiting for me at mile 23, ensuring I was still on the trail.
He said, "Looks like you did it."

"Yup. Second to last place is more fun than last, but I've still got a few miles to go."

"You got this."
Yup. I sure did. New Hampshire is State #26 on my quest to run a marathon in every state. I haven't done many in the past few years, and I'm getting slower as I get older. But I know how to get 26.2 miles done, no matter what the pace (I haven't had a single DNF in all my efforts.)

The small marathons are my favorites. Other than looking at Red Shirt's back for a long time, I was alone for most of the marathon, which is one of my favorite ways to exist on your planet.
---
Since Matt Levine is so effectively covering anything interesting in the world of the Twitter deal (and all kinds of bizarre, random, and complicated crypto, fraud, debt, and other financial stuff), I think I'll stick with book reviews for the time being.
Andy Dunn, who I only know indirectly, wrote an important book titled Burn Rate: Launching a Startup and Losing My Mind. While it covers the story of Andy's company, Bonobos, it's really about mental health and entrepreneurship.
While there might be other entrepreneur autobiographies like Burn Rate, I can't think of any. The closest is Tracy Kidder's awesome book titled A Truck Full of Money about Paul English, an entrepreneur I do happen to know.
Tracy's book is a mix of Paul's entrepreneurial story combined with his experience being bipolar. Andy's book is his entrepreneurial story combined with his experience of being bipolar. Both are remarkably brave books. Andy's autobiography is particularly powerful since he is extremely detailed about several of the manic experiences that he had while running Bonobos.
While I don't know Andy, I know several of his investors. His description of how they handled the situation of discovering Andy's mental health diagnosis made me proud to know them. Andy decided to proactively hold a board meeting to describe what had happened that resulted in him ending up in the hospital and jail. One of his board members, Joel Peterson (who I don't know), is remarkable.
"When I got out of the hospital, I walked straight into handcuffs. The City of New York charged me with misdemeanor assault and felony assault of a senior citizen."

"Has there been a diagnosis?" Joel Peterson asked.

"The diagnosis is bipolar disorder type I. I was originally diagnosed when I was twenty, and I've been in denial about it for sixteen years." A brief silence.

"I know a few folks who have dealt with what you're dealing with, Andy," Joel said calmly, holding true to his role as my professional father figure, "including more than a couple of entrepreneurs. It's entirely manageable. I have full faith in you to take care of yourself, and I have full confidence in you as our CEO."
Andy covers the rest of the board meeting discussion, including questions from board members about whether he was getting appropriate treatment, his legal situation, and the game plan for addressing any publicity around the situation.
A while ago, I was at a dinner with a bunch of VCs and entrepreneurs, including several very famous ones. One of the entrepreneurs stated clearly that if he ever talked openly about his struggle with depression, his board would immediately fire him. Fortunately, this was not the response of Andy's board, as they took in the situation, asked questions about it, and made rational and deliberate decisions about what to do going forward. It's worth noting that Andy was still the CEO of Bonobos when Walmart acquired it several years later.
I'm hopeful that Andy's book will continue to help destigmatize mental health in entrepreneurship. Thanks, Andy, for being willing to write such an intimate story about your experience.
---
Steve Case's new book, The Rise of the Rest: How Entrepreneurs in Surprising Places are Building the New American Dream, is out. I read it on Sunday, and it is outstanding. If you are interested in understanding how high-tech entrepreneurship has evolved from a primarily coastal phenomenon to one that covers the entire US in the past decade, grab this book now.
Steve is a great storyteller. While he tells the entrepreneurs' stories, he has been part of helping create them. He created Rise of Rest and did the first of many bus tours in 2014. I was part of the one in Denver, and my partner Chris Moody was part of the one in Birmingham. They were each awesome experiences.
This is the story of what happened on those bus tours, people who were connected, companies that were amplified, financings that happened, and cities that were energized around entrepreneurship.
For the past dozen years, I've spent plenty of energy on democratizing entrepreneurship. I've worked with Steve and his team on multiple initiatives, including Startup America and Up Global. Steve's supported me on several things I've done, including writing the foreword to Startup Communities: Building an Entrepreneurial Ecosystem in Your City.
When I was a young entrepreneur in my 20s, Steve was a hero of mine. My AOL username was bfeld, which was where my Twitter handle (and everything else I signed up for on the web came from.) Now that I'm a middle-aged something or other at 56, Steve's still a hero of mine. I expect this is true for many other entrepreneurs.
---
David Cohen and I have co-hosted the Give First podcast for 71 episodes. I think our host ratio is 80/20 David/Brad, and he's covered everything in 2021 because I was burned out on all things public-facing and needed a break.
He figured a good way to get me back in the mix would be to interview me about entrepreneurship and mental health, so that's what Episode 71 is about.
Listen & subscribe to the Give First podcast on Apple Podcasts, Spotify, and more.
---
I got the following email from Barry Schuler this morning. We've known each other for many years, and he's one of my favorite VCs to work with.
He described exactly how I feel this morning. The fall is my favorite season of the year. By labor day, I'm ready for summer to end. The stretch until Thanksgiving is my most productive time of year.
I finally feel like writing again after a summer off (most of my books come out in the late spring / early summer, so I'm fried and uninterested in writing during the summer.)
My running is almost always great in the fall. I end the summer in solid shape and usually ramp up a lot in the fall. I like shorter days, later sunrises, and early sunsets. I like the colors of the leaves. The cool, crisp Colorado mornings.
Amy and I had a good summer, but I'm ready for cooler weather and a different pace.
---
There have been many different approaches to ranking VC Firms over the years I've been an entrepreneur and a VC. Each approach I've seen has issues. Most are easily gamed or have statistical bias issues.
I got the following note from Roy Bahat at Bloomberg Beta a while ago about a new approach called Founder's Choice.
We and a few other firms sponsored a "founders choice" version of the Midas List, with a legit (IMHO) rating methodology, built by two Penn students. No vitriol possible (unlike The Funded, etc.). We've wanted this to exist for a long time — NPS of us as a firm is too forgiving a metric, everyone scores well.
My first question was:
How are they dealing with sampling bias on this one? For example, we send to all our founders and say "please fill this out and give us high scores." Mostly just curious on methodology.
Roy had a thoughtful answer that made me a believer after a few more questions.
You are literally the only one (and I'm relieved someone did) to ask on sampling bias. For context, the general way it works is founders auth with LinkedIn and then the product tosses away their identity (or, more accurately, only keeps a hash and disconnects it from their ratings). Then the founders get asked for pairwise comparisons of only the VC firms who have backed them (so this is about who founders like as investors, not who has sour grapes from a pitch). How this addresses, to a degree, sampling bias:

1. Dampens outliers: because it only asks for pairwise comparisons between firms (like an ELO rating in chess, if you're familiar), one very un/happy respondent can only affect so much, and same for a sample. (As opposed to giving one firm a 10 and everyone else 2's or something.)

2. At the same time, it forces comparisons. A firm can ask founders to rate them highly, but ultimately founders have to choose who gave them more value. Can't rate everyone a 10.

3. This is why we're looking for as broad participation as possible, because the sampling bias will actually probably most show up in which firms even have enough ratings to count. (Like ELO in chess, more ratings doesn't necessarily help you — you get more "points" if a founder rates you as better than a highly-rated firm. More ratings can just as easily hurt as help.)
If you are a founder, go spend five minutes and anonymously rank your VCs on Founder's Choice.
---
---

Registration is open for the 2022 Q4 Leadership Bootcamp, which is happening in Boulder, Colorado, on Nov 10-13, 2022.
Regular readers of this blog know about my long-time (back to 1996) friendship with Reboot co-founder and CEO Jerry Colonna. What you may not know is that several years ago, Jerry and his partner Ali Schultz moved exactly 0.8 miles away from me (there is one 40-acre parcel of land between us.) In the evening, when we are both in Boulder (well, Longmont), he sits under his Cottonwood Tree, I sit 0.8 miles away on my couch next to my pool, and we text and wave at each other.
I've been to several Reboot Leadership Bootcamps as a special guest. They are unique and powerful experiences for entrepreneurs. As a bonus, the Reboot Retreat Center is actually on my property in a building called "The Carriage House." Amy and I don't charge Reboot for the use of The Carriage House – it's our gift to entrepreneurs and Reboot for this amazing experience.
If you're looking to reboot and refresh your leadership, join Team Reboot this November 10-13, 2022, in Boulder, CO, for their fall Leadership Bootcamp.
---