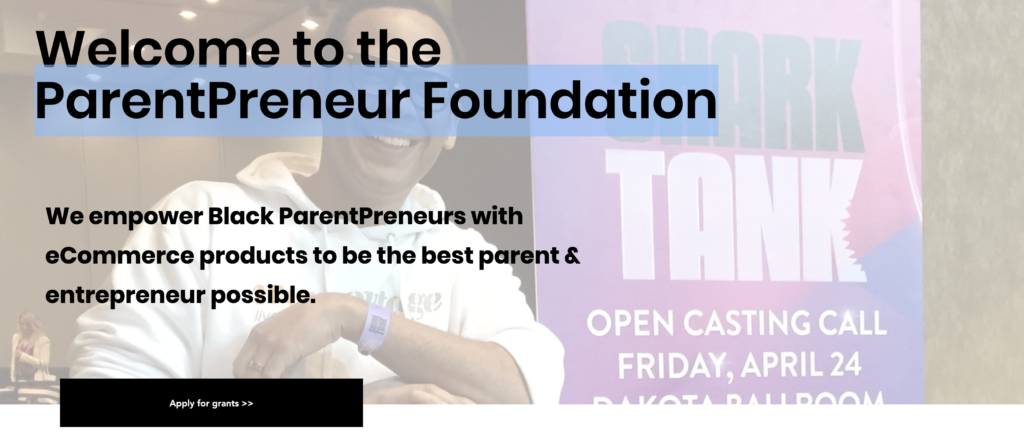 Amy and I, through our Anchor Point Foundation, recently provided the seed grant to the ParentPreneur Foundation.
Founded by James Oliver, the ParentPreneur Foundation empowers Black people to be the best parents and entrepreneurs possible providing them money, tools, resources, and social capital.
I've known James for several years. After George Floyd was murdered, James was one of my Black friends who I called up and asked, "What are two things you are involved in that I can support with time, money, and influence?"
We talked about a couple of things, but when he started speaking about his dream to start a non-profit to help Black entrepreneurs who were also parents, I knew what I'd be supporting.
James is the perfect person to undertake this endeavor because he is acutely aware of the pain of parents who are entrepreneurs. James participated in the gener8tor accelerator and founded his startup, WeMontage.com when his now seven-year-old twins were born prematurely and weighed only two pounds each. During that difficult time, he was living 1,000 miles from family and friends, so he didn't have much support.
Amy and I don't have kids, so I listen to my friends who are entrepreneurs with kids about their experiences. Rather than assume their challenges are the same as mine, I recognize I have it easier in many ways, and enjoyed and learned from James' book The More You Hustle, The Luckier You Get.
In our conversation about this new foundation, James told me that being a parent and an entrepreneur is hard, but being a Black ParentPreneur is even harder.
"Black people don't have the same resources as many of our White ParentPreneur counterparts. Many of us are first-generation college graduates, and we don't have a relative we can call to give us money to hold us over until we can get enough traction with our business. Further, we generally don't have the social capital to execute our good ideas or even imagine what is possible."
Hence, the ParentPreneur Foundation, which James started a month ago. The inaugural cohort was recently announced and had ten Black ParentPreneurs who each received $1,000. The foundation also provides access to resources to improve beneficiary businesses and parenting lifestyles.
I'm excited about supporting James in the work he's doing to help address issues of economic inequality in the Black entrepreneur community while helping strengthen families.
Please consider making a tax-deductible donation or connect with James to offer resources for the foundation's beneficiaries.
And if you're a Black ParentPreneur, join the foundation's online private community.
---
I recently was in an email thread where a Black founder had a powerful and clear response to the question from one of her corporate partners. The question was:
How can our (the corporate partner's) team better support diversity in our work, particularly in our sourcing, diligence, and onboarding efforts?
The entrepreneur responded with a long explanation that was a brilliant and extremely helpful perspective for me. It follows.
---
I think one of my core experiences, and a truth that we all have to grapple with, is that programs like yours should be thought of like higher education in 1960, or getting into a NYC Specialized High School today.
Were there no Black students at Harvard because Black people aren't brilliant? No.
There were no Black students at Harvard because you have to get a certain score on the SAT to get in.
People who score well on the SAT either:
Come from amazing school districts with a plethora of funding and the ability to prepare students adequately for the test.
Come from families that can afford expensive SAT prep.
Come from communities that have an infrastructure that supports robust SAT prep.
Because of institutional racism in our society, Black people:
Have school systems with a lower tax basis and insufficient resources.
Make less than half what whites do in many cities and don't have the resources to sign up for SAT prep.
Have had our communities and families decimated through mass incarceration and other racist policies.
If we juxtapose that analogy with startups, your team will need to ask itself what criteria you're using for startups.
Black entrepreneurs have to find a way/make a way/invent a way to launch businesses with two arms tied behind our backs because we don't get the same funding as our white counterparts.
So I have raised $2.5MM and have to compete with companies who have raised $25m and $70m respectively.
And yet, I'm constantly asked, "What's your traction?" which is similar to "What's your SAT score?"
We know that as a society, we are starving Black businesses for capital, and yet we expect them to hit the same milestone markers as businesses that have a plethora of capital. It's like not feeding a cow yet expecting them to produce milk. It's literally madness and maddening.
Thinking about your sourcing of Black companies is going to be a far more complex question than "Who do we call to find the amazing Black companies?" It's going to be "How do we change our lens so we can see the amazing Black companies?" followed by "Once we bring them into our ecosystem, how do we support their journey in meaningful ways that can help to level the playing field = e.g. get them capital or get them revenue?"
Maybe we should stop asking "What's your SAT score?" and instead ask, "Wow. How on earth did you maintain a 3.7 GPA, and cook for your little brother and sister every night because your mom had 2 jobs, and get an A in calculus without a high-paid tutor, and work a full-time summer job at Key Food while taking a class to teach you how to code at night? That's a lot of grit!"
Maybe we're measuring the wrong things in our entrepreneurial society, just as we've measured the wrong things in our larger society. Maybe we all need to start talking about grit instead of metrics that can only be achieved with money, and then make sure all entrepreneurs get the funding required to achieve equivalent metrics.
---
In response to my post, Contemporary Mentors, a female reader of this blog who often sends me notes when I fall into a pattern of highlighting cis-het-white men, responded directly to the post with:
I hope that you add more women and more diversity to your contemporary mentors. Otherwise you are in the same fucking echo chamber.
I responded with:
I have many women mentors. Here's some: Lucy Sanders, Heidi Roizen, Madeleine Albright, Amy Batchelor, Wendy Lea, Nicole Glaros, Arlan Hamilton, Freada Kapor Klein, Lesa Mitchell, Jean Case … And many women who I learn a ton from that I wish I had a mentee relationship (or contemporary mentor relationship with) – (e.g. Melinda Gates, Susan Cain, Brené Brown). 
I forgot a few in my quick response, including Joanne Wilson, Robin Hauser, and my mom (Cecelia Feld.) And even as I write this, the list continues to unfold in my brain, which makes me smile. But I also realize that most of these women are white, so I have work to do to find some non-white female mentors.
The reader is not a fan of Tim's and went after my affection for him with the following:
I can't listen to Tim's podcasts because it's the white bro-show…the very thing that led me to start my podcast in 2017.  After he released the episode a few years ago on bitcoin and blockchain (which was brilliant) I tried to listen to him but his world is truly a distorted echo chamber. I don't understand people's fascination with him. Then again I don't understand folks' fascination with Gary V or Jack Dorsey…the list goes on and on.  

I struggled with her view on Tim, but I don't want to try to convince her otherwise. Instead, I'm more interested in listening and learning, which led to this comment of her's.
True allies  / accomplices see these things and call them out.  It's exhausting when we have to call it out for you cis-het-white bros.  And yes, I have this convo with my husband on a regular basis.
Embedded earlier was the comment:
If you really are into helping out with diversity, calling this stuff out would be really helpful.  Otherwise you perpetuate it. 
I've been learning about how to be an ally / accomplish since 2005 when I was first introduced to the concept by Lucy Sanders at NCWIT. I've learned a lot about this from Robin Hauser through her film Bias (Amy and I are executive directors of Bias, Code, and Robin's upcoming film $avvy) and have been going even deeper with some of my work recently around racial inequity.
But there's almost more to learn.
---
If you are a venture capitalist, I strongly encourage you to join the Valence Funding Network to provide Black founders with direct access to VCs. I've joined along with a number of my peers.
Kobie Fuller at Upfront Ventures started Valence in the fall of 2019. Valence launched our beta platform to provide a digital home for Black talent to connect, access opportunities, and aggregate their power. Valence exists to change the dynamic where Black founders receive a disproportionately low amount of venture funding (today – just 1 percent).
Kobe's quote in the press release kind of says it all:
"For years, Black entrepreneurs have been told that Silicon Valley is a meritocracy, but at the same time most haven't had access to the top networks, the warm introductions, and the mentorship that underpin lasting success in tech. Valence is upending this completely by bringing the top VCs to Valence to compete for the best Black founders." said Valence CoFounder and General Partner at Upfront Ventures, Kobie Fuller. "We want to even the playing field with the goal of exponentially growing the number of Black-owned startups that get funded."
The 27 VC firms who are inaugural members of the Funding Network have a cumulative $60 Billion+ under management and now have direct access to Valence's membership base of ~8,000 and growing Black professionals.
One of thing I've committed to is the "Boost feature" which allows any member on the network to request a 30 minute meeting with me to pitch what they are doing. I'll honor all the Boost requests and, at the minimum, provide constructive feedback and any introductions to my network that I think would be helpful.
If you are a Black professional, I encourage you to join the Valence community. And, if you are a VC, please join also and engage as part fo the Valence Funding Network.
---
Today, I participated in the Juneteeneth 4.0 Celebration that was hosted by OHUB, ThePlug, and Living Cities and led by Rodney Sampson. In addition to being part of a panel, I made several commitments as part of the #RacialEquityEcosystemPledge. Here's the fact sheet released by OHUB today.
I've agreed to:
Do a monthly podcast called Equity.District with Rodney on racial equity in entrepreneurial ecosystems and other issues around racial equity in entrepreneurship.
Help organize and co-host a Racial Equity conference inclusive of Rodney's network, my network, and anyone else who wants to participate.
Make a meaningful financial contribution to the OHUB Foundation from the Anchor Point Foundation. If you are able, I encourage you to donate as well.
Make a meaningful financial contribution to at least two more Black-led ecosystem building organizations recommended by OHUB.
Work with Rodney and the OHUB team on an ongoing campaign to raise money for Black ecosystem builders, funds, and founders.
The entire event is below. There's a lot of awesome stuff in it.
In addition to the awesomeness, I made a mistake. Right after I spoke, I got a text from a White friend who is an entrepreneur I've invested in who watched the event live.
I immediately sent Rodney an email under the heading "I apologize for the microaggression."
Apparently in my closing comments I said that you were "articulate" (I wasn't aware that I used the word.) While I hadn't seen this NY Times article I know that "articulate" is viewed as a microaggression.

So, regardless of whether it was intended, or you heard it, or anything else, I want to simply apologize.

You are incredible. You inspire me.
Rodney quickly responded:
Thanks for this. Tell your friend they are right. Apology accepted. However, in this case, I know that you meant "vocal in my leadership". 🙂

We've got a lot of work to do. I'm up for it.
When I make a mistake, I try to own it, apologize, and learn from it. I'm far from perfect here, but Rodney's response, by acknowledging my mistaking, quickly accepting my apology, and getting back to work with me motivates me even more to work with him!
---
I'm going to participate in the Juneteeneth 4.0 Celebration tomorrow from 1pm – 4pm ET. It's being hosted by OHUB, ThePlug, and Living Cities.
I'll be part of a fireside chat with Rodney Sampson (CEO, OHUB) and Ben Hecht (CEO, Living Cities) where, among other things, we'll discuss the introduction of Racial Equity Pledge.
Rodney is one of the dozen or so Black colleagues that I reached out to and talked to over the last two weeks to learn more about what I could get involved in and immediately support with time and money. Ohub is one of those organizations and I've already learned a lot from Rodney, such as several different ways to think about changing the equation around racial inequity in tech. A framework I got from him that I immediately related to is his Economic Development Pyramid.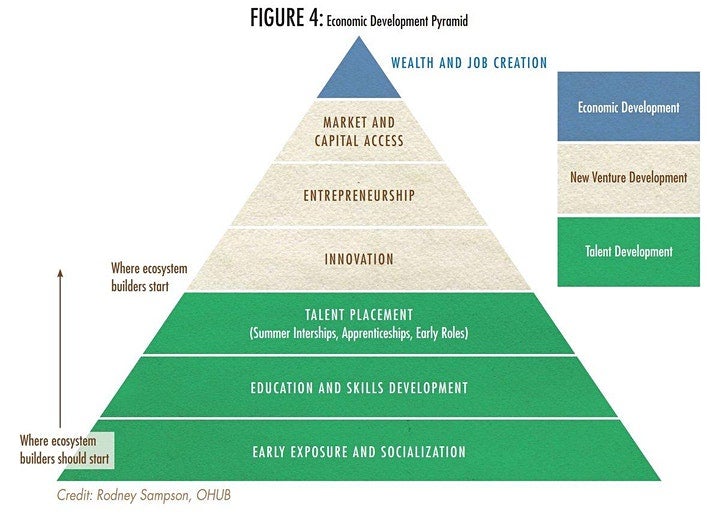 Rodney did an interview with CNBC several weeks ago that lit me up with enthusiasm for working with him.
Foundry Group is closed on Friday in celebration of Juneteenth. We had an email thread go around yesterday among the entire team discussing what we are doing tomorrow, which includes attending a number of Juneteenth events, along with reading and reflecting on racial injustice.
If you are available and interested, please join us for the Juneteeneth 4.0 Celebration.
---
Shortly after George Floyd was murdered, I started calling Black VC and entrepreneur friends asking them "what are two things you are involved in that I can immediately support with time and money."
Arlan Hamilton was my first call. In addition to asking me to spend more time with Backstage Capital portfolio companies and founders, she told me about a non-profit called Cover that she created in 2016 with Bryan Landers and Dianne Cherrez.
Arlan decided to give away copies of startup and investing books to help more people gain access to content that could change their career path.
Venture Deals was one of the books that Arlan gave away and she has occasionally talked about how impactful the book was to her own journey to learn about and become a VC.
I love to read. Arlan loves to read. And Arlan appreciates the power of books to help people learn. And, it's even fun to see how people get Arlan's attention using Backstage Capital and Venture Deals together.
Cover 1.0 was giving away books. Cover 2.0 started with the following tweet and shifted to gifting $500 to recipients to help them reach their goals.
With this new approach, Cover allowed access to knowledge (books, courses…), networks (introductions, memberships…), and opportunities (events, job applications…) to those who are working hard to achieve great things.
For Cover 3.0, Arlan is including the Covid crisis in the mix to include Covid-related help. For example, PPE–especially for high-risk, low-resourced places like prisons and other non-profits, higher education and experiences for Black women, and resources for displaced Black students.
In addition to financially supporting Cover 3.0 at a level to support 100 gifts, I'm going to donate 100 copies of Venture Deals to Cover 3.0 to give away to each recipient.
If you want to support Cover 3.0, please Donate any amount. I'm confident that Arlan and team will put it to good use.
Arlan – you inspire me and so many others. Thank you.
---
On Monday, June 1st, I told Amy that I wanted to engage deeply in helping eliminate racism in the United States.
I've been involved in gender inequity issues since I joined the National Center for Women & Information Technology board in 2005 shortly after it was formed. 15 years later, I've learned an enormous amount about gender, especially in tech, and while I am nowhere near finished on that particular journey, I feel that I understand and can be helpful in my role as a male advocate (or "male ally") in eliminating gender inequity in tech and entrepreneurship.
While Amy and I have been philanthropically supporting social justice issues for over 20 years through our foundation, I don't feel like I've engaged in a meaningful way. I have an enormous amount to learn about racial inequality in our country and my network for and advocacy of Black entrepreneurs and investors is woefully inadequate.
In my discussion with Amy, we decided to personally fund and get involved in at least 10 initiatives right away, which I defined as "by the end of June." I've spent several hours a day each day since last Monday reaching out to Black friends I know with one question.
"What are two initiatives you are involved in right now that I could put time and/or money into in support of you and your activities?"
In each case, I offered money along with a desire to actively engage in support of them and their activities. This is not "I'll do a mentor call with you" or "Email me anytime you have a question" but an open-ended "tell me what I can do to help you execute a particular initiative."
The conversations have been excellent and extremely enlightening. Given that almost all of them were with people I already knew, I don't need to do any diligence on the organizations they are asking me to get involved in as their reference credibility is enough for me. In a few cases, I had inbound from people I didn't know and I also chose several of them to engage with.
Right now, these are philanthropic contributions to non-profit organizations or sponsorships for people going through some kind of program (non-profit and for-profit). This is a completely separate initiative from investment activity with my partners at Foundry Group, which we'll be talking about more soon once we've made clear decisions about what we are going to do over the next few years.
My first of these commitments is to the Zane Access Inaugural Pre-Capital Program Cohort. I got an email from Shila Nieves Burney asking if I would donate 20 copies of Venture Deals. I responded yes and asked if there was anything else I could do to help their first cohort. Shila responded that they'd love to do an AMA and asked if I would be willing to underwrite the tuition for one of the founders, as there were eight in the program who were accepted but would have to forgo the opportunity to join the program due to the financial investment obligation.
I told Shila that I'd do the AMA and underwrite all eight founders who were not in a position to make the investment. I wanted to ensure that no founder who reached the high barrier to be accepted into the program would have to turn it down due to financial concerns.
I'll be doing the AMA early in the program, so my hope is that I'll get to know some of the founders, can help them throughout the program, and then connect them into some of my networks proactively where appropriate.
---
In my previous post, I said that for a while I'll include one powerful thing each day that I read about racial injustice and Black Lives Matter. Today's is from Donna Harris, a long time friend who I met through our work on the Startup America Partnership. She's the co-founder of 1776 and now runs Builders and Backers. When I read her post The Hurt is Everywhere I cried (a "Jerry Colonna induced type of cry.")
The hurt is everywhere. In every community. If you don't see it, it just means you're not talking to the people who are experiencing it.

That's where we must start. We cannot create a society where all men are truly equal and every community flourishes if we don't understand how badly the deck is stacked against so many of us and listen to and acknowledge the deep anguish that causes. Then, all of us must commit to repairing the broken places. In our nation. But also in our families, in our schools, and on the streets of our own neighborhoods. To that end, the next time you see a black man walking down your street, stay on the same side of the road and say hello.
Please go read The Hurt is Everywhere.
---
While reading Kim Scott's book Radical Candor: Fully Revised & Updated Edition: Be a Kick-Ass Boss Without Losing Your Humanity, I came across an anecdote from a discussion she had with Dick Costolo.
One of my favorite stories about Dick and diversity was his effort to eliminate the phrase "you guys" from his vocabulary. I told him a story about my twins—one a boy and one a girl—who were in kindergarten. Both of their teachers were speculating why boys raise their hands more often than girls. Then I attended a class and heard the questions: "OK, you guys, who knows what four plus one is?" No wonder the girls weren't raising their hands! Children are literal, and girls are not guys. I told Dick that story, and confessed that I'm literal too and feel annoyed whenever somebody addresses a mixed group as "guys," or "you guys." Most people look crossways at me when I launch into my "you guys" diatribe, but Dick smacked his forehead. "Of course! There's nothing worse than being invisible. I can't believe I never thought of that! There's no worse way to make a group of people feel excluded than to use language that pretends they are simply not in the room."

"Yes, like Invisible Man," I said. Dick and I had recently discussed Ralph Ellison's novel about an African-American man whose color renders him invisible.

"Yes, exactly! OK, you've convinced me. I'm going to start saying you all!" Dick said.
I'm from Texas, so I generally try to say "y'all" instead of "you all", but I realize that periodically I'll slip and say "you guys." Going forward, I'm going to try to reprogram my brain to get rid of "you guys" from my vocabulary. If you catch me saying it, call me on it.
---
At the Authors and Innovators event, the last panel included a discussion about diversity, with a particular focus on gender diversity. The actual segment was titled Success through Strategic Innovation but it was awesome to watch it evolve into a gender diversity conversation.
One of the panelists was Jules Pieri, who is the founder/CEO of The Grommet. I've known Jules for a while and loved her book How We Make Stuff Now: Turn Ideas into Products That Build Successful Businesses. As she usually is, she was great on the panel and when it shifted to Q&A, I asked the second question.
"Lots of men in the audience, like me, try to be helpful around gender diversity, especially now that there is a good understanding of the value of being a 'male ally' and how to do it. Can you give us one actional thing we can do right now?"
Jules responded immediately with something close to:
"While I feel a little uncomfortable referring to something I wrote, go read my post For Fathers of Daughters. It has easy, medium, and hard level of efforts of things you can do."
I took a note to read the post and just read it. Jules is 100% right – go read the post For Fathers of Daughters right now. If you have a daughter, go read it. But also go read it if you don't have a daughter.
There are some real gems in it including several things I'm going to add to my personal list of things to do, even though I don't have kids.
---