Xiao Wang, the founder, and CEO of Boundless, recently gave a speech at the 2019 convocation of UW's Information School. It was 15 minutes long and I thought it was extraordinary.
Xiao – nice job weaving in a Mary Oliver quote at the end.
"Tell me, what is it you plan to do with your one wild and precious life?"
I'm honored that I get to work with you.
---
Over the past few years, you've seen me write about Glowforge, the 3D laser printer that made history with their crowdfunding campaign back in 2015.
Glowforge launched that very campaign at a jam-packed World New York Maker Faire, where folks lined up for hours to get a glimpse at the shiny new machine. Over the next 30 days, they sold $28 million worth of pre-orders to an insatiable crowd of makers.
More recently, Glowforge was named Make magazine's 2019 Editor's Choice for a laser cutter. Their thousands of makers have already printed more than 3,000,000 amazing creations. And as a company, they have seen sales triple in just the last year.
So it was sobering when, last week, Maker Faire / Make Media closed their doors for good. In interviews, Make founder Dale Dougherty explains that the company wasn't interesting to investors anymore, and that, frustratingly, it was failing as a business, but thriving as a mission.
As an investor in many businesses whose founders and customers count themselves among this maker movement, this gives me pause. I see the demise of Maker Faire and I know that an astounding 97% of seed or crowdfunded consumer hardware companies meet the same fate.
But I'm compelled now more than ever to invest in the maker movement, and I hope you'll join me.
And in fact, now is a perfect time. This week is the kick-off to the National Week of Making, June 21-28. In 2014, the White House launched the Nation of Makers to "empower students and adults to create, innovate, tinker and make their ideas and solutions into reality."
This is exactly why we continue to invest in new technologies that are leading the maker movement and making it accessible to schools, homes, small businesses, and many enterprises that embrace new innovation and experimentation. Companies like Glowforge, Formlabs, Sphero, littleBits, Modular Robotics, and others in our portfolio are the companies who are helping to drive this movement forward.
The team at Glowforge created an offer this week so that you could celebrate the Week of Making with us. This discount code is good for a $500 discount off a Glowforge Pro, $250 off a Glowforge Plus, and $100 off a Glowforge Basic.
---
In February 2017 I met Shawn Frayne, one of the founders of Looking Glass Factory, a Brooklyn-based company with ambitions to make holographic interfaces a reality. Their team was scrappy and had sold an impressive variety of volumetric display kits to fuel their R&D efforts, and since our human-computer interface investment theme is one of my favorites, we led their Series A round.
Last summer they launched their flagship product, a dev kit called the Looking Glass. It was the first desktop holographic display to come to market for, well, extreme nerds (like yours truly) that have been hoping for holographic displays their/our whole lives.
The Looking Glass dev kits and the adjoining Unity and three.js SDKs sparked a wave of holographic app creation over the past few months, with thousands of hologram hackers creating new and wonderfully weird apps in their Looking Glasses every day. Looking Glass clubs are even springing up, like this one that meets in Tokyo with a few hundred members and growing.
But these systems are strictly dev kits, meaning they require the user to have a powerful computer to connect to and run the holographic display. I have several Looking Glasses of my own and I love them, but most of the time they sit idle because they can't run standalone. The multitude of holographic apps being created by developers around the world, like holographic CT scan viewers and interactive software robots and volumetric video players for the Looking Glass, haven't really been deployable outside of a highly technical crowd that already owns powerful computers.
That changes today with the launch of the Looking Glass Pro, an all-in-one holographic workstation. The Looking Glass Pro is a turnkey holographic solution for any enterprise that needs to display genuine 3D content to groups of people without subjecting them to the indignity of donning a fleet of VR headsets.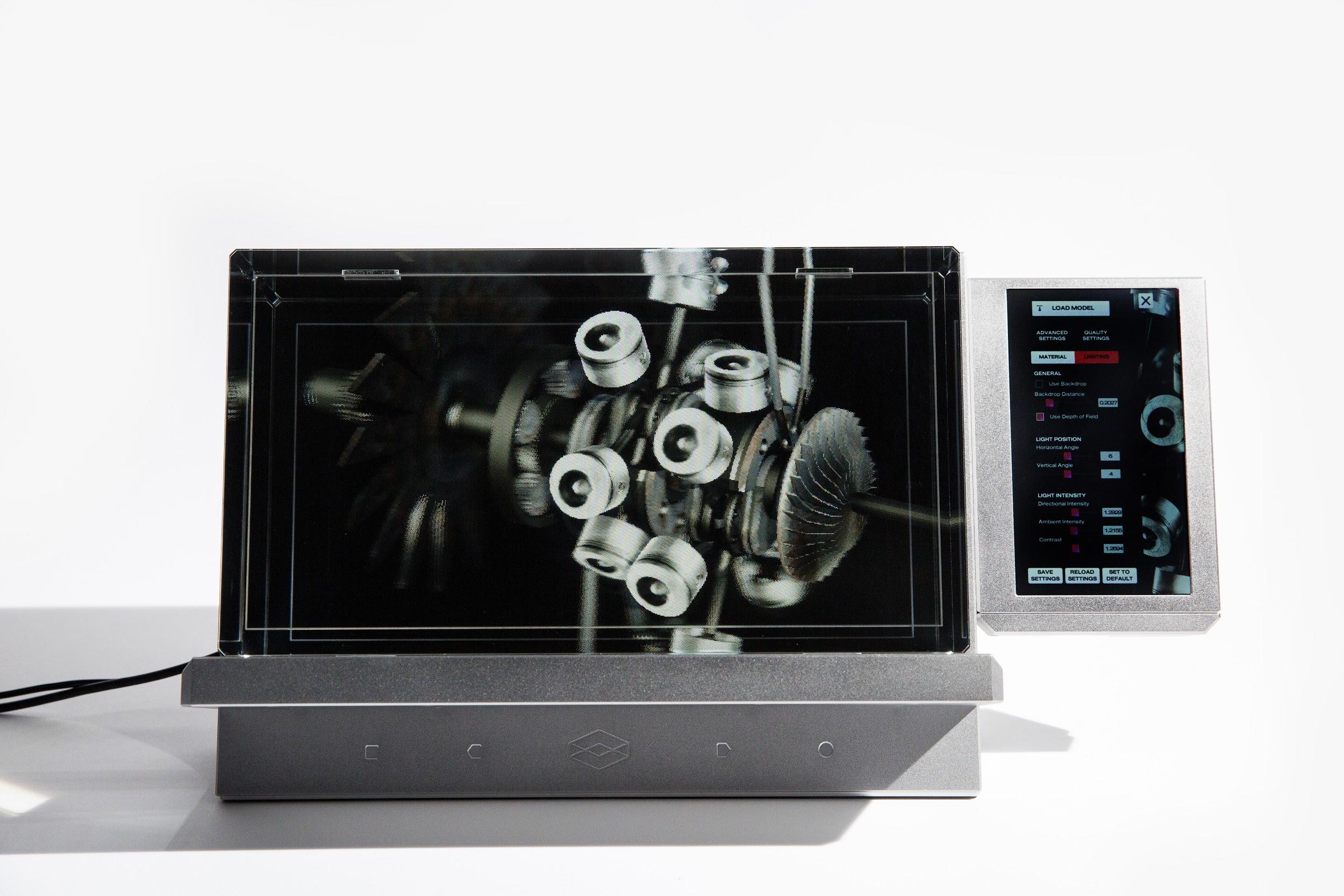 Some first use cases are showing up in fields like orthodontics, where holographic renderings of dental CT-scans for surgeons (and soon for patients) are fast becoming a reality.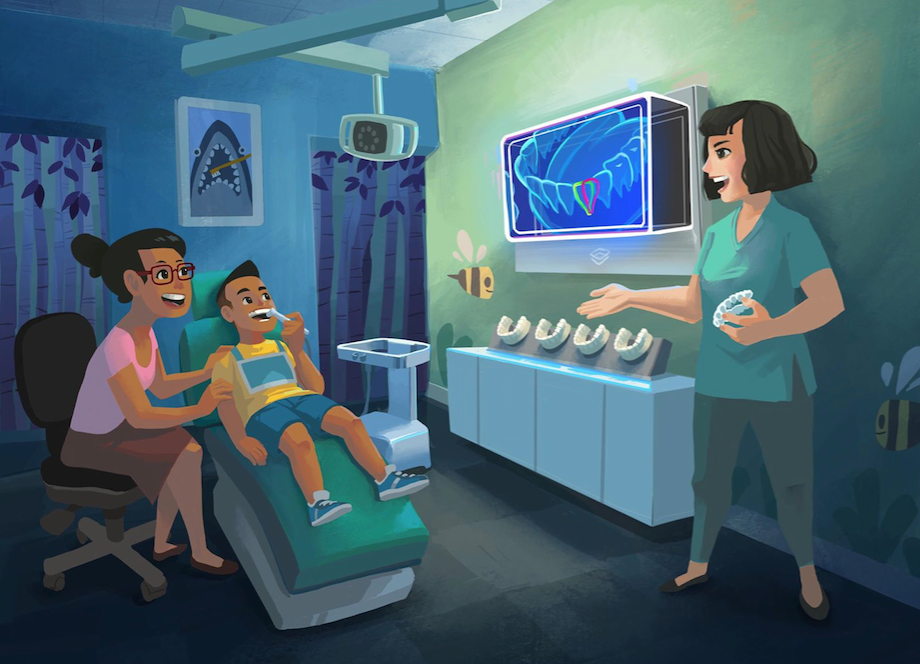 In situations where agencies are generating things like volumetric music videos and holographic ads (like in the case of Intel Studio's production Runnin', generated by Reggie Watts and written and directed By Kiira Benzing), being shown at the Augmented World Expo this week in a Looking Glass Pro).
And in scenarios where groups of engineers need to review three-dimensional simulations of phenomenon like the mechanical stresses in to-be-printed parts and complex biological systems in the Looking Glass Pro as if they were viewing the real thing.
The Looking Glass Pro comes with a lot of built-in functionality, including a powerful embedded computer, a direct touchscreen on the holographic display for interacting with the 3D content, and even a flip-out 2D touchscreen for things like text entry and extended UI. Most importantly, the Pro comes with a commercial license to the Holographic Software Suite, a collection of the Looking Glass SDKs for Unity, three.js, and the newly announced Looking Glass Unreal Engine SDK, meaning developers in the enterprise can make apps for the Pro and deploy them fully-standalone for commercial applications for the first time.
This story has been told before, where a new computing platform makes the phase change from a dev kit for a group of technology enthusiasts into something that businesses can use. Think back to the Apple I's transformation into the Apple ][ series, the evolution (several times over) of 3D printers, or even AR headsets if what Hololens 2 and just-announced Google Glass 2 are doing is any indication.
The launch of the Looking Glass Pro is a sign that that time has come for holographic interfaces.
If you're an enterprise looking to get into the hologram game, get one of the first batch of Looking Glass Pros today before they sell out.
---
In the super cool thing category, it's always fun to see two companies we are investors in easily put together a demonstration of the integration of their products.
Oblong is a master of spatially interacting with 3D data on a 2D display. Looking Glass lets you interact with 3D data in a 3D display with their product (the Looking Glass.)
Together, you can move and interact with 3D images on either a 3D display or a 2D display.
Now, if we could only print this out on a 3D printer. Hmmm.
---
Last week, Return Path announced it was being acquired by Validity
My fellow board member Fred Wilson wrote a great history titled The Long Game and Matt Blumberg wrote a beautiful tribute titled OnlyOnce, Part XX.
I've been involved in Return Path as an investor since 2001 when Return Path and Veripost merged as part of a funding done by Sutter Hill (Greg Sands), Flatiron Partners (Fred Wilson), and Mobius Venture Capital (me). I wrote the very long story in a post titled Return Path Acquires Netcreations in 2004. This post has a ton of Return Path history in it in case you want to go back in time 20 years. And, if you want to only go back in time 10 years, take a gander at Happy Birthday Return Path which is a post about Return Path's 10 year anniversary and includes the story of the negotiation between me and Fred to merge Return Path and Veripost.
I count my involved in Return Path for 20 years since my investment in Veripost (which became my investment in Return Path) was done in 1999.
Today, Matt is one of my closest friends. In addition to our personal relationship, we've had a number of other work experiences besides Return Path. Matt has served on two boards of companies I've invested in – FeedBurner (acquired by Google) and Moz. Matt was an early, and engaged mentor in Techstars. Matt introduced me to Scott Dorsey, which led to our investment in High Alpha. Finally, Matt – working with Andy Sautins, Cathy Hawley, and Tami Forman – co-founded Path Forward which was spun off from Return Path.
I'm proud to have been involved in all of these companies with Matt.
Finally, Matt's been a strong supporter of my quest to do a marathon in every state in the US. We've done two together – New York and Idaho.
Twenty years is a long time to be involved in anything. When a VC talks about a quick exit, you can mention that you know a few (Fred, Brad, and Greg) who has a 20-year board experience. As Fred says, "entrepreneurship and startup investing is a long game. It requires patience, resilience, capital, commitment, and much more."
Matt – and everyone at Return Path – thank you for letting me be part of your journey.
---
---
I've been a remote worker for many years. As a result, I think I've used every flavor of video conferencing and screen sharing going back to Carbon Copy and PC Anywhere.

Today's bell of the ball is Zoom, which has an outstanding video and audio conferencing experience. But, like most video conferencing services, there are significant limitations when you are working with content in a video conference. Existing video conferencing is adequate when one person shares content with a group. Sometimes you can pull it off when two people share content within a single video call. But once you increase the number of users trying to share content, or get into a real collaborative situation where multiple users are trying to comment on and interact with multiple pieces of shared content, everything breaks down very quickly.

We've been investors in a company called Oblong for many years. They invented the idea of multi-stream collaboration and have been implementing a high-end multi-stream sharing environment in high-end video conferencing rooms with their Mezzanine product. In addition, they provide a spatial operating system so you can control the interaction simply by pointing at the screen. And, with their g-speak platform, you can integrate this capability into any technology environment.

But to do this, you needed a Mezzanine room system. Until recently. Now, you can use Oblong's cloud-based collaboration system, called Rumpus, to bring all the multi-stream sharing and concurrent interaction features of Mezzanine to any video conferencing system, including Zoom, BlueJeans, Webex, and Google Meet.

Show is better than tell for this, so I'll walk you through several examples. Let's use Zoom and launch things using a Zoom conference ID. Rumpus is the window on the left and Zoom is the window on the right. All of the users automatically end up in the Rumpus app based on their Zoom ID.
Next, each person in the conference can share screens at the same time (in the Rumpus window). You can see the different screen shares at the bottom. Any of the users can switch between any of the screen shares. In this case, there are three screen shares happening at the same time with the current focus on the one in the middle.
Now, we have a fourth video user who has joined and a slightly different view (partial screen side by side instead of a full-screen view. In the Rumpus window, you can see different colored annotations for the different users. All of the annotations are live and persistent on whichever screen is in focus.

With Rumpus, the conversation just flows. There's an always-on opportunity to access content – any of the material anyone in the conference needs to talk about is always accessible. You don't have to ask permission to share, nor do you have to override someone else's presentation as everyone can share a different screen simultaneously. Each user has a personal cursor so annotations are done live, rather than someone verbally trying to explain what they are virtually pointing at. There are endless extensions to this collaboration interaction from the years of Oblong's experience with multi-share in Mezzanine, each of which are quickly being rolled out in Rumpus.

The way we communicate and collaborate online is rapidly evolving. I think video conferencing has entered a new era where it is infrastructure that fades nicely into the background. However, the collaboration layer is completely nascent and is wide open for innovation. Oblong's experience over the last decade at the high end makes it a natural for bringing the collaboration capability to the masses. And, this is another step in the path towards Oblong CEO John Underkoffler's vision of a new UI for always-on collaboration.
Rumpus is in public beta right now on the Mac. Download it for free at rumpus.co and invite your team to try it out alongside their favorite video conferencing system. If you are interested, the Oblong team will work with you to help you get set up and using Rumpus, as they are iterating rapidly on the beta. Drop me an email and I'll connect you.
---
Life often involves tough tradeoffs. I love running marathons but I'm less happy about the body soreness and longer recovery cycles as I age. I'm excited about every investment Foundry Group makes, but I know not all of them are going to pan out. Entrepreneurs talk about "changing the world", but the companies that emerge often ring hollow against this backdrop. And, when confronted with a for-profit company that has a strong social mission, many founders and investors struggle with the profit motive.
Sometimes, life gives you an easy decision. Investing in Boundless Immigration was one of those. We originally invested a small amount in Boundless' seed round in 2017 and just led a $7.8 million Series A financing. This is a case where there isn't a tradeoff between making a profit and making an impact.
Boundless Immigration aspires to be the leading brand around legal immigration in the United States. They take an incredibly time-consuming and expensive process – immigrating to the U.S. and securing a marriage green card or naturalization – and make it easy and available for anyone who wants to legally immigrate. Boundless' CEO and founder, Xiao Wang, immigrated to the U.S. as a child, and vividly remember his parents paying five months of rent to afford immigration attorneys and filing fees.
Boundless saves applicants time and money by automating a process that used to involve immigration attorneys filling out endlessly redundant forms. Everybody I talk to who has gone through the immigration process is stunned when they hear Boundless provides an end-to-end service for 20% of what most people currently pay for immigration services.
Every year 2.5 million families apply for immigration services in the U.S and there are about nine million people eligible to apply for naturalization. Boundless has put together a talented and diverse team (a majority has an immigrant background) resulting in a company with unique perspectives and empathy for anyone who wants to immigrate to the U.S.
Current dynamics around technology companies, especially around privacy, has people discussing the challenge that making a profit may require moral compromise. In this case, the opposite is happening, as I think it's a moral imperative to help improve legal immigration. In the U.S., legal immigration is a foundational activity that keeps America fresh and helps our country maintain its edge on a global stage. As an American, I want anyone who wants to build a life for themselves, contribute to U.S. society, and make this a stronger country to be able to become a U.S. citizen.
This an emotional issue for me. One set of my Jewish grandparents were first-generation Americans. If America hadn't been there for them, they might have perished in concentration camps during WWII. Another Jewish grandparent fled Russia in the 1910s. If America hadn't been here for him, he would have also likely been annihilated.
If there were no America, there would be no me. If America made immigrating as difficult then as it does now, I might not exist. My grandparents fleeing a shtetl didn't have vast sums of money lying around to spend on lawyers and fees, but were welcomed into this country. They, their children, and their grandchildren have all worked hard their entire lives to be productive and contributing members of American society. I like to think America is better for us having called this country our home.
I'm not shy about my opinions on immigration. And I'm not the only partner at Foundry Group who feels this way, as my partner Jason Mendelson testified in front of the House of Representatives in 2013 when he was on the National Venture Capital Association (NVCA) board about the importance of legal immigration to the U.S. innovation economy.
Life is full of difficult decisions. The last two years haven't been easy for those of us who believe immigrants help make America great. It's nice to have an easy decision like investing in Boundless – to make a profit, but also to remind everyone that we're a nation of immigrants, and proud of that fact.
---
---
It's still Pi Day at least in Boulder for a few more hours. And, well, robots.
Misty is making a lot of progress and is still available to pre-order at 25% off her retail price, which is just slightly more than $3,141.59.
---