David Cohen and I have co-hosted the Give First podcast for 71 episodes. I think our host ratio is 80/20 David/Brad, and he's covered everything in 2021 because I was burned out on all things public-facing and needed a break.
He figured a good way to get me back in the mix would be to interview me about entrepreneurship and mental health, so that's what Episode 71 is about.
Listen & subscribe to the Give First podcast on Apple Podcasts, Spotify, and more.
---
It's time for the 2nd annual Emerge Virtual 5k Run produced by Rise Against Suicide (formerly Second Wind Fund of Boulder County). It'll be from 8:00 am to Midnight MT on Sunday, May 2, 2021. Amy and I are helping underwrite it as we did last year and I just signed up to run it.
Rise Against Suicide provides access to funded counseling services for at-risk youth struggling with suicidal ideation in the geographic areas included in Boulder Valley School District and St. Vrain Valley School District. Youth up to the age of 19 who are at elevated risk for suicide, uninsured, or underinsured are eligible for funded counseling services through Rise Against Suicide. The organization receives referrals from private and public elementary, middle and high schools, community social workers, psychologists and mental health professionals, hospitals, and mental health facilities. Within hours of receiving a request for help, at-risk youth can be connected with qualified, private therapists. This immediate response is unique to Rise Against Suicide.
The mental health crisis has been dramatically accelerated as part of the Covid crisis. Now, more than ever, communities need to engage with and help support organizations that provide mental health related services. Recently, this challenge has been particularly acute with children our community given the unique stressors of the Covid crisis.
The Emerge Virtual 5k Run is free to anyone, but also provides an opportunity to give financial support to Rise Against Suicide. Please join us.
---
The Covid crisis has generated an extraordinary amount of what I like to call "false reassurance."
Consider how many times you heard something general like the following some time in 2020.
Everything is going to be ok.
We will get through this pandemic.
Things will go back to normal.
You'll look back on this as a unique time in your life.
Or, consider all of the messages you heard about the severity of the disease over the past year. Most of the messaging, until recently, was not "79,000 people in the US are going to die of Covid in the first 26 days of 2021."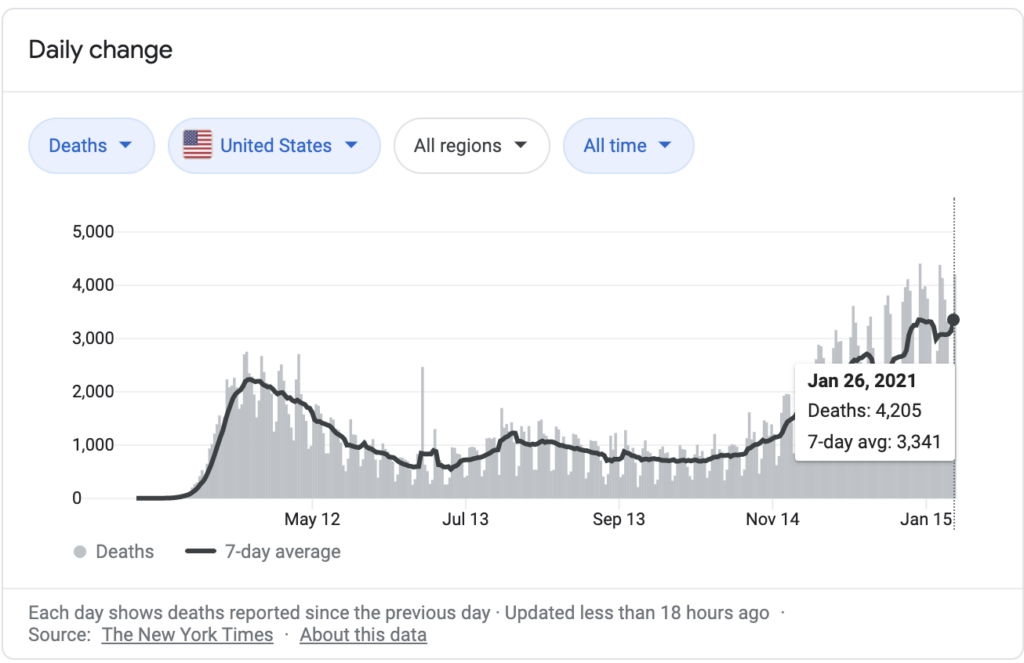 Or, "By the end of January 2021, over 425,000 people in the US will have died of Covid."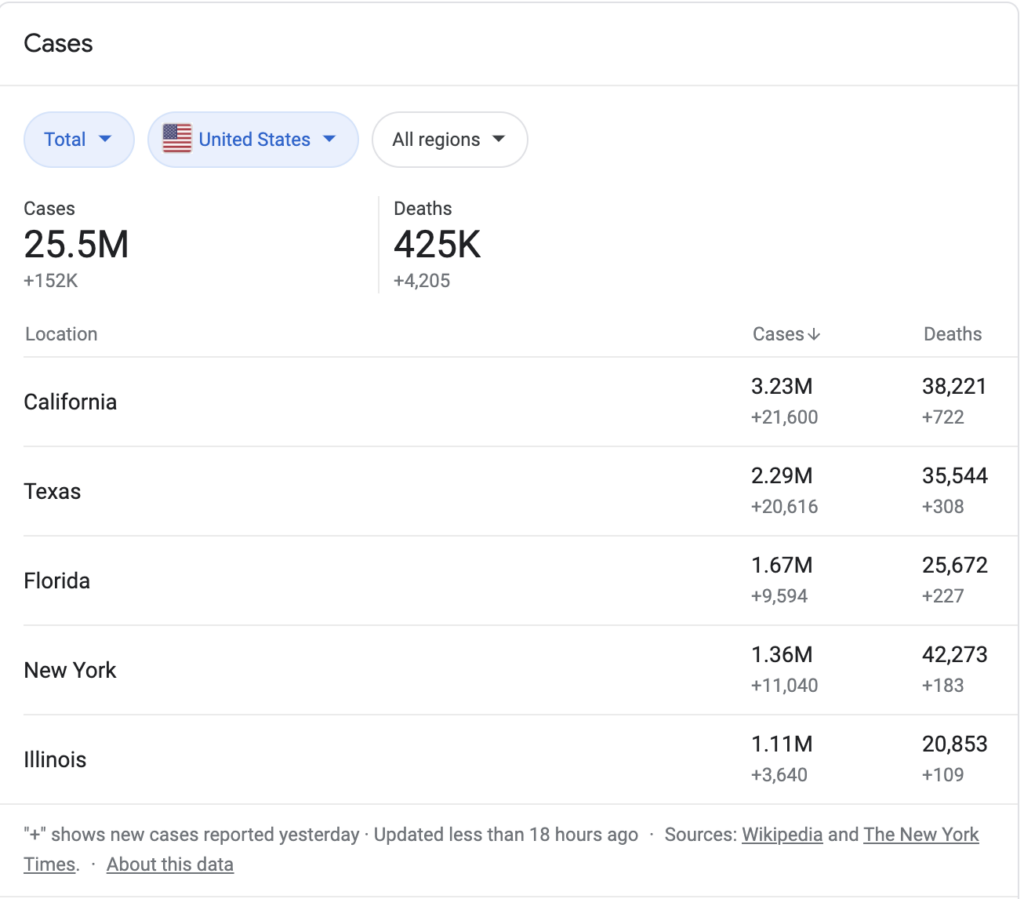 It's tough to focus on what is actually happening and what to do when bombarded by false reassurance. It doesn't matter what the context is – Covid, business, relationships, health, sports, …
Pema Chödrön's book, When Things Fall Apart: Heart Advice for Difficult Times is a powerful place to start when considering false reassurance. But, an even more grounding place is Jerry Colonna's comment that "things are falling apart all the time."
I've always loved the clichés about mortality, such as "Life is a fatal disease" or "Life is a process of continual oxidation." I'm sure the physics majors out there can add to the clichés, especially since entropy always wins in the long run.
Amy and I work hard to eliminate false reassurance in our life. Instead of saying, "It's going to be ok," we try to address what is in front of us. Instead of denying reality, we deal with it. I try to do this in my work, although it's much harder as the number of people in a system increase beyond two.
2020 has been brutal for many people, on many different dimensions. I expect 2021 will continue to be brutal, in some similar ways, but many that are different. There will be wonderful things mixed in, but they won't be distributed evenly or equitably.
If you defer your own reality because of false reassurances, consider what would change if you deleted the false reassurance and started considering what was directly in front of you.
---
Mental health has been an issue among tech entrepreneurs for a long time, but has been exacerbated by the stresses of the Covid crisis.
On March 31, I wrote a post called The Three Crises in which I suggested that the Covid crisis was the collision of three crises, each of which is a complex system. The health crisis (the disease) created the economic crisis (our economy was in strong shape before Covid), which would accelerate a mental health crisis. In the US, we have a fourth crisis amplified – the racial equity crisis – which has been going on since the inception of our country.
Since these are complex systems, they are interconnected and don't have a deterministic outcome. There are endless unintended consequences from actions in one crisis that have long term and unexpected impacts on other of the crises.
Humans are not built to be isolated in their homes for months at a time. Founders, who are already under immense pressure from many directions, now have to contend with that dynamic for themselves in an uncertain business environment, connected only by video conferencing and email to their teams, investors, and customers. At the same time, there is no relief from the endless intensity of creating and leading a business.
It should be no surprise that the mental health part of the crisis is real and accelerating. Toss in the dissonance in our society. Some tech companies stock prices are at record highs, while established businesses are in a complete retreat or freefall. Many small businesses are on the verge of extinction – ponder all the local retail businesses and restaurants in your city. Local and state governments are under economic and functional stress. We have record unemployment and a macro communication environment (media, politics, news) that is divisive rather than unifying. We are in an election year in the US. Oh yeah, and the disease.
Fortunately, the stigma associated with mental health, especially among founders, is lessening. It's still real, but more are talking about it. There are many more coaching options like Reboot to help founders, CEOs, and leaders through this. There are companies, like Meru Health (which we recently funded) that are working to make mental health services more broadly accessible and affordable. And, many leaders are speaking out regularly about their struggles with their mental health, making it much easier to start and navigate conversations about mental health.
In the future, I hope we are much more effective as a species around addressing and helping with mental health issues. The sooner we can eliminate the stigma around mental health, especially in entrepreneurship, the better.
---
I got a note from someone who recently saw my Techstars mental health video. He said that could relate to how I describe depression as the "absence of joy." He went on to write me a long, thoughtful, and brave note about his experience with depression.
One thing stood out to me was a statement near the end:
"I can't convince myself to "speak to someone" because it feels wrong if I am paying them. It doesn't feel whole."
I responded with a long note that follows:
---
When I was in my mid-20s, I had my first major depressive episode (it lasted over two years – very deep clinical depression.) I was functional at work, but that was it. Zero anything else …
I resisted therapy for about a year. I was ashamed of many things, including how I felt. I didn't think someone would be able to help me. Early on, my dad, who is a retired endocrinologist, said to me, "Just shake it off" which was profoundly unhelpful, but just reinforced my shame.
Finally, my PhD advisor said something like, "Brad, there is no downside to trying therapy. If it doesn't work, it doesn't work. But if it does, it'll make a big difference. It did for me. Give it a one year commitment. Here's the name and phone number of my long-term therapist."
It still took me a while to call. I did, and committed to a year.
It changed my life. I ended therapy in my late 20s, but started again (with a new therapist) at 47 when I had another major depressive episode.
The way I think about it is that I "go to planet Brad for 50 minutes a week." (I now go every other week). My therapist gets to hang out with me on planet Brad. Sometimes he guides me into a new part of the planet that I haven't yet explored. Sometimes we get out shovels and dig holes in the ground to look for buried treasure. Sometimes we sit on a rock together and just stare into the distance. And lots of other things that you would do with a guide on a planet as you explore around.
About a year ago, I had a massive depression for a short time (less than a week) that in hindsight was induced by ambien. I rarely take ambien, but was on a multi-week international trip, had a bad cold, and was having trouble sleeping. About 10 days into the trip I feel off an emotion cliff into one of the deepest holes I'd ever experienced. Fortunately, I was safe and with my wife Amy, and after about three days realized it might be the ambien after randomly surfing around on the web looking at depression+travel and other stuff like that. 48 hours I was fine.
Three days of complete absence of joy was awful. But I knew I could call my therapist in an emergency if I needed to. I was a few days away from going home and had a session right after I got home, so just knowing he was there helped a lot.
Therapy isn't "the only answer", but – like my PhD suggested many years ago, there's no downside to trying.
---
The Covid crisis has generated, or amplified, a number of separate crises. One of them is a mental health (or mental wellness) crisis. As humans, our entire way of living has been dramatically impacted by Covid. We are isolated from each other, many of us are afraid of being in public, and we are feeling enormous weight from economic, social, familial, and organization pressure.
One of our goals with Energize Colorado is to create a non-profit for the extended business community of "Coloradans helping Coloradans". We decided to make providing Mental Health Resources one of the primary initiatives.
The Energize Colorado website has a comprehensive list of mental health resources that are available, but here are two new ones.
Free or low-cost therapy or mental health support with a licensed therapist: As of the other day, we currently have therapists in Colorado who have donated a total of up to 1,000 free hours. If you are a therapist and you are open to donating up to five hours of free therapy, please sign up on the Therapist Volunteer page.
3 Free months of Simple Habit: Sign up to access meditations, sleep content, and movement exercises, designed to help you care for your mind — all free for 3 months.
Also, Energize Colorado now has a mailing list so you can stay informed on upcoming webinars as well as information from Energize Colorado.
---
Techstars just released a 4-part original video series on entrepreneurship and mental health. I'm featured in one of the four short (< 10 minute) videos.
If there was ever a moment in time that challenged our individual and collective mental health, it's the Covid crisis. When Techstars began working on this project last year, the focus was on increasing awareness of the issues around mental health and entrepreneurship. There was no anticipation of the additional pressure the Covid crisis would put on – well – everyone, everywhere. The timing goal was simply to release it during Mental Health Month 2020.
I've spoken regularly since 2013 about my struggles with anxiety and depression. As a result of a depressive episode that I had, I decided that I wanted to try to lower the stigma, especially in entrepreneurship, around mental health issues. I personally no longer separate between physical health and mental health – they are both part of our existence as humans, something everyone struggles with at some level, and something everyone can work on, if they want.
I'm officially DSM-5 300.3: Obsessive-Compulsive Disorder. If you know me, you know that I'm a counter, arranger, and checker with some washing (mostly hands) tossed in for good measure. My magic number is 3.
Since I became public about this in 2013, I've met many entrepreneurs who have opened up to me about their own struggles. In some cases, I'm the first person they've ever talked to because of the stigma associated with mental health issues, especially around leadership (e.g. a leader can't show weakness). Some of the people I've developed relationships with around this are much more visible and successful than I am, yet, very few people know that they struggle with mental health issues. While that's their choice, I'm glad they feel safe talking to me and I hope it's at least a little bit helpful to them.
My wife Amy Batchelor is front and center in this video. When I listen to her talk about her experience with me around these issues, I realize how incredibly lucky I am to have a partner who has supported me from the very beginning. I know how challenging I can be at times, and I don't think I'd be here, at this point in my life, without Amy.
I also highlight my first business partner Dave Jilk in the video. Dave is still one of my closest friends and probably knows me better than anyone on Planet Earth other than Amy and my brother Daniel. Dave's support of me during my first depressive episode – when we were partners at Feld Technologies – was profound to me. And his support during my depressive episode in 2013 (which is a story I tell in the video) was incredible.
Many of the organizations I'm involved in are increasing their focus on mental health support. For example, one of the primary initiatives of Energize Colorado is mental health support for business people during the Covid crisis. And, there's a lot more coming in my world.
Techstars – thanks for making this a priority for entrepreneurs. And to my fellow participants in the video series – Andrea Perdomo and Matthew Helt – thank you for being brave enough to tell your stories. Finally, Tishin Donkersley, thank you for the foresight, motivation, and endless efforts to make this project come to life.
---
Covid-19. Presidential Primaries. Gyrations in the Stock Market. Global Pandemic. Trisolarians arriving in their droplet to exterminate us.
It's pretty intense out there right now. Somewhere. But not in my backyard where my dogs roam around.
I was in the hospital recently, attached to those devices they attach you to that monitor everything. I was trying to relax by closing my eyes, breathing deeply and slowly, and meditating. Every 30 seconds or so something beeped. After a few minutes of that, I asked the nurse if he could turn off the beeping. He looked at it and said my HR was going below 60 so that's why it was beeping. I told him my resting HR is low 50s and could he turn the beeping off. He said he couldn't turn it off because he needed to be alerted whenever my HR went below 60. I suddenly identified with Kafka.
People conflate worry, stress, and anxiety all the time, but they are different. Worry and stress create anxiety. There are different ways of dealing with each of them, and addressing them individually is better than thinking about them as a big clump of things bundled together. Or, not addressing them at all. But all three get in the way of concentrating on, well, anything.
When I'm worried, I realize that my obsessive worrying has negative value. Instead, I write down what I'm worried about and decide whether I can do something about it. If I can, I do. If I can't, I don't and let it go.
When I'm stressed, I focus on understanding what I can and can't control. I put my energy against what I can control. I let go of what I can't control. I exercise more and sleep more.
When I'm anxious, I slow things down. I take deep breaths. I sit quietly until the anxiety passes.
I sense an enormous amount of worry, stress, and anxiety around me with many of the people I interact with. I've always been a huge absorber of other people's worry, stress, and anxiety, which is a strength of mine, but at a real cost to me. Figuring out how to continue to be an absorber, without it having as much of a cost to me has been an important part of my last few years. I notice this more as things amp up, and they are pretty amped up right now.
If you are feeling any of this, consider how you are dealing with it and what it is doing to you. Take action on what you can impact and let the rest go.
---
Yesterday, Josh Felser of Freestyle Ventures wrote a post titled For the Love of Founders and their mental health. In it, he discussed his own struggles with mental health as an entrepreneur.
"Like so many others I just sucked it up, grinded away and punted, hoping for relief down the road. That strategy of denial and repression worked until it didn't. My founder stress and burnout couldn't be contained despite my best efforts. In fact, my mental unhealthiness impacted my physical health, by causing debilitating sleep apnea, as diagnosed by UCSF and missed by Stanford (but that is another post). I sold my 2nd company, Crackle, and vowed to leave the high anxiety of being a founder for the relatively easy life of venture, not that it's actually easy. I was lucky to have exited Crackle before my situation worsened and ultimately found the relief I desperately needed to feel whole again."
More importantly, he talked about his fear of discussing it with his investors.
"Unsurprisingly, my investors, back then, never once inquired about my mental state and certainly didn't offer any resources I could tap. In fact if I'd shared my actual state of mind, I would probably have been fired or at the very least encouraged ostensibly to take time off. Those were the times."
Thankfully, this is changing, in part to leadership by firms like Freestyle. The partners, Josh, David Samuel, and Jenny Lefcourt have announced an initiative initially focused on their portfolio founders in an effort to break down the barriers to better mental health for all in our industry.
To begin, they are underwriting 100% of the cost for two programs – Meru Health and Hoffman Institute, for all of their founders.
Meru Health is a three-month digital program for treating depression, anxiety, and burnout that leverages remote therapists/psychiatrists, CBT, meditation, and biofeedback.
Hoffman Institute is a one-week intensive on-site program, leveraging therapy, meditation, experiential exercises and peer-to-peer community, designed to break the most formative negative patterns from our childhood.
I'm fortunate that I have a strong, long-term relationship with a psychologist who works with entrepreneurs. However, he, like many others in the field, is extremely busy so even though he is open to referrals from me, he is limited in who he can take on as a client. Part of the challenge here is the time delay that a referral takes, and Meru Health is an impressive approach to providing rapid response care in a specialized way with an economic model that can work in entrepreneurial contexts.
The Hoffman Institute was new to me, but after spending some time on the website, I went and signed up to attend one of the week-long retreats. While I feel like I've explored – in therapy – some of the things they talk about, I know that I'm still struggling with a bunch of this, especially as I shift into the next phase of my life.
As an LP in Freestyle, I'm extremely excited to see their leadership in this area. While they are not the first firm to announce an initiative like this – last year Felicis Ventures gifted Founders 1% Of Every Invested Dollar To Spend On Coaching And Mental Health – I'm hopeful that this is addition momentum in an area that needs a lot more attention, support, and help.
Josh, David, Jenny – thank you!
---