David Cohen and I just released Episode 4 of our Give First podcast.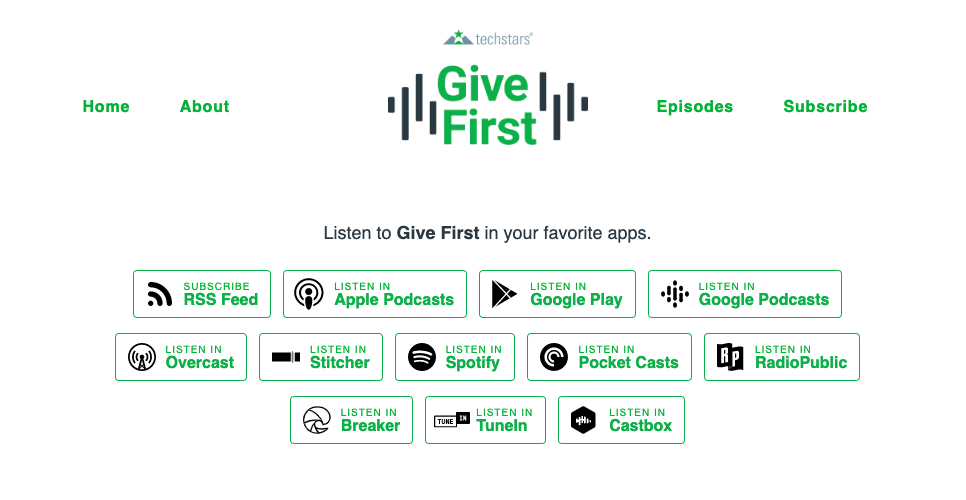 We interviewed Mary Grove on the origins of Google for Startups & Startup Weekend among other things. Mary has been a long time friend and supporter of Techstars and is currently a partner at Rise of the Rest Seed Fund, the co-founder of Silicon North Stars, and on the Advisory Board for the Techstars Foundation.
David and I are starting to get better at the podcast thing. It's a new medium for both of us so we are learning and iterating quickly on what makes a good podcast interview. Any feedback – good and bad – is welcome.
---
I've been open about my journey with depression and the importance of addressing and destigmatizing issues around mental health. So I was excited that one of our Techstars programs – the MetLife Digital Accelerator powered by Techstars – is looking closely at mental health startups for their 2019 class. If you're a founder innovating in the mental health market, I encourage you to apply for this program.
The MetLife Digital Accelerator powered by Techstars is focused on insurtech startups. MetLife and Techstars managing director Mee-Jung Jang are defining insurtech broadly, and mental health is a key area of focus. They are looking at all types of mental health startups in their search including ones helping individuals improve their everyday mental fitness, using data to better assess and predict serious mental health conditions, and providing easier access to care at the moment of need.
Over half of all humans will experience a major mental health challenge in their lifetime. Yet, mental health still carries a stigma, and many people suffer silently including our coworkers, friends, and family. The startup journey is immensely difficult, so the quiet sufferers include many entrepreneurs. Mental health startups that take advantage of new technologies and data could have a huge positive impact by solving these problems.
The MetLife Digital Accelerator powered by Techstars recruits globally and is stage agnostic. Founders in this program have unique access to the resources of both Techstars and MetLife, a Fortune 50 company with over 100 million customers worldwide in nearly 50 countries and serving 90 of the Fortune 100 as their clients in the US.
If you're a founder of a mental health startup, I encourage you to request office hours with managing director Mee-Jung Jang with this form and follow her on twitter to keep posted on her startup recruiting tour. Or, just apply now as applications are open until April 7th.
I'm excited to see which mental health companies get accepted into the MetLife Digital Accelerator powered by Techstars.
---

If you are New York-based and interested in entrepreneurship around financial services, consider participating in Techstars Startup Weekend New York: Financial Inclusion on April 5th to April 7th at Rise on 23rd Street.
When Startup Weekend first began in 2007, it was primarily based on geography. Today, a number of Startup Weekends have a specific theme. The upcoming NY-based one is around financial inclusion.
Approximately three billion adults worldwide are underserved by the financial services industry. In many cases, they don't even have bank accounts. Imagine your life and daily functions without some of the most basic, increasingly critical, and necessary financial services?
If you are interested in this topic and want to explore ideas that will improve financial inclusion, sign up and participate in Techstars Startup Weekend New York: Financial Inclusion.
No entrepreneurial or financial experience needed – just a desire to learn, work, and to make a difference.
---
I participated in a one hour Crowdcast yesterday with Techstars and 43 North about How to Build a Successful Startup Ecosystem in your City. Some of the thoughts from my upcoming book The Startup Community Way are in the hour, along with a bunch of things Techstars is doing around this initiative.
powered by Crowdcast
If you are in a city somewhere in the world working on developing your Startup Community and are interested in learning about the new Techstars Startup Ecosystem Development product, drop me an email.
---
On 2/12/19, Brian McPeek (President, The Nature Conservancy) and I are doing an AMA about the Techstars Sustainability accelerator.
It'll be at 1 pm MT and last for an hour. This will be the second year that Techstars is running an accelerator in partnership with The Nature Conservancy. I had high expectations when we announced the partnership in November 2017. The year one program far exceeded my expectations!
Brian and his team at TNC are a substantial force for good in our ever more complex world. Join us to hear more about how TNC and Techstars are working together to help companies get started to address some of the most challenging issues facing our planet.
And, if you are one of those companies, applications for the accelerator are now open. Please apply!
---
Today, Techstars announced a new initiative called Techstars Studio which will allow Techstars to source new company concepts from Techstars alumni founders, community leaders, venture capitalists, mentors, and corporate partners. The Techstars Studio will then build prototypes, test market adoption, and select the most promising concepts for launch. Techstars Studio will then launch new startups and source talent and capital from the Techstars worldwide network to run the new companies.
The goal of each Techstars Studio is to launch four new companies annually. The first Techstars Studio will be in Boulder, just like the first Techstars accelerator was in 2007. As with the expansion of Techstars Accelerators around the world (Techstars will run 41 accelerator programs in 31 cities and 11 countries in 2019), expect Techstars Studios to follow a similar expansion path.
At Foundry, we have a lot of experience with the Studio model. We are investors in PSL (in Seattle) and High Alpha (in Indianapolis). We are also investors in the venture funds associated with the studios (PSL Ventures and High Alpha Capital) as well as Techstars Ventures.
Over the past five years, we've looked at potentially investing in numerous studios. We think the studio model, while very attractive with the right team, resources, and network, is very difficult to execute well. We've been deliberate in our choices and the leaders of both PSL and High Alpha have been helpful with Techstars as they've gone through their thought process on how to build out a studio.
We are especially excited about the founding team of Techstars Studios. Along with the leadership of David Cohen (the co-CEO of Techstars) will be Isaac Saldana, founder of SendGrid and Mike Rowan, former VP of SendGrid Labs. We've worked closely with Isaac and Mike over the years and are psyched to have another chance to create something with them from the ground floor.
A number of the most successful Techstars accelerator alumni are participating as founders in residence and advisors to Techstars Studio. In addition, more than 25 corporate partners of Techstars are involved in the initiative at launch.
If you are interested in the Techstars Studio, drop me an email and I'll route you to the right folks.
---
One of my favorite public events is the CU Boulder Silicon Flatirons Entrepreneurs Unplugged series. I was the co-host for the first couple of years, sharing the interview job with another Brad (Bernthal) who now is generally on his own.
On Thursday, 9/13/18 at 5:30pm, Bernthal will be interview David Cohen and David Brown, the co-CEOs of Techstars (who we often fondly refer at Foundry Group as the "the David(s)." The event will be held at the CU Boulder Law School.
If you know the David(s), I expect this will be a treat as I know Bernthal will start with their early entrepreneurial career (Pinpoint) and stick with it for a while. While many people know the Techstars story, the PinPoint story is much less well known but equally fascinating. And, if you need any hints on Q&A (which Bernthal always leaves time for), just drop me a note.
---
The first accelerator, YC, was founded in 2005. The second, Techstars, was founded in 2006. Wikipedia has a good summary of the history of accelerators.
Now that we are 13 years into the accelerator journey, an accelerator is a well-established construct that is part of the global startup ecosystem. They have evolved over the years, and many new approaches have been taken.
The question of the efficacy of accelerators has regularly been asked over the past decade. A number of academic papers have appeared in the past few years exploring this. I was asked if any existed the other day by an LP, so following is a list of papers I am familiar with.
If you know of any others, please put links in the comments or send me an email with the info.
Accelerators and Crowd-Funding: Complementarity, Competition, or Convergence in the Earliest Stages of Financing New Ventures?, Smith, Hannigan, and Gasiorowski, 6/13
Accelerating Startups: The Seed Accelerator Phenomenon, Hochberg and Cohen, 3/14
Accelerators and the Regional Supply of Venture Capital Investment, Fehder and Hochberg, 9/14
Swinging for the fences: How do top accelerators impact the trajectories of new ventures?, Winston Smith and Hannigan, 6/15
Investment Accelerators, Bernthal, 8/15
Startup Accelerators and Ecosystems: Complements or Substitutes?, Fehder, 9/15
Do Accelerators Accelerate? If So, How? The Impact of Intensive Learning from Others on New Venture Development, Hallen, Bingham, and Cohen, 7/16
How Do Accelerators Impact the Performance of High-Technology Ventures?, Yu, 8/16
Who Needs Contracts? Generalized Exchange within Investment Accelerators, Bernthal, 11/16
Business Incubators and Accelerators: A Co-Citation Analysis-Based, Systematic Literature Review, Hausberg and Korreck, 3/17
How Do Accelerators Select Startups? Shifting Decision Criteria across Stages, Yin and Lau, 12/17
---
"Technologies that have revolutionized so many sectors of the economy have the potential to transform the way we do conservation. We're at the front end of a new 'nature-tech' revolution and nature stands to win big from it."
Brian McPeek, Chief Conservation Officer of The Nature Conservancy
As many of you know, Techstars and The Nature Conservancy have teamed up to build a tech accelerator for the planet – Techstars Sustainability. The accelerator kicks off this July in Denver and companies from across the globe are applying now through April 8th. Considering how much Amy and I love both of these organizations, we're excited to be supporting this effort to build stronger startup ecosystem at the intersection of sustainability, nature and technology.
From the state of coral reefs to deforestation, I'll admit that it's easy to feel overwhelmed and the work ahead is certainly not something to take lightly. But, I'm also choosing to pursue a personal path that is rooted in urgency and action. I'm inspired by entrepreneurs like Grant Canary and his team at DroneSeed (a Techstars Seattle 2016 alumni). Grant is working to innovate the future of forestry through planting trees with swarms of drones. And then there is Liané Thompson, CEO of Aquaii, who is also utilizing drone technology to build robotic fish that gather underwater data in a way that was previously unachievable.
And that's just drones and big data. Imagine all of the enabling technologies that can be applied to build powerful solutions in soil health, aquaculture, fisheries, water markets, climate resilience, and more. I think my friend Brian is right, we are on the forefront of a nature-tech revolution – and I want to be a part of it.
If you are interested in continuing this conversation with Brian and I, join us for a live online discussion and AMA on Monday, March 26th at 4:30pm MST. We'll be talking about the origins of this partnership, the intersection of nature and technology and the upcoming accelerator. You can grab your seat by signing up here.
For more on how The Nature Conservancy is thinking about this, enjoy this short video.
---
The science fiction of the last 30 years is rapidly becoming reality as technologies such as virtual reality and artificial intelligence are becoming more real and present with each passing day. While my jetpack still seems ponderously far away and cars are becoming self-driving instead of flying, we are making progress.
In medicine, progress is methodical and incremental. As lives are literally at stake, it's imperative to move forward in a logical and data-driven manner. The resulting regulatory requirement of clinical trials may sometimes be seen as an innovation-stifling burden, but lengthy clinical trials protect patients by ensuring safety and efficacy of therapies. The result? As real advancements are being made in biotechnology, such as engineered cells to fight cancer or using stem cells to regenerate the spine, news and hype eventually quiets during decade long timeline for these technologies to clear trials. There is a bright horizon of therapies that many of us are unaware of.
While I'm not a biotech investor, I ran into a company in Techstars Class 92 (Seattle 2017) called Silene Biotech that fascinated me. The founder, Alex Jiao, has been focused on regenerative medicine for the past decade, an area of research that still feels strongly like science fiction. The idea is to use our cells outside the body to regenerate or regrow lost tissues and organs. A buzzword in this space is "stem cells" and nowadays most people are familiar with the general concept. Stem cells can self-renew and turn into other cells, so their potential is incredible for regenerative medicine.
Currently, there is a lot of mythology and misinformation surrounding stem cells. Unlike newts which can regenerate their limbs, our bodies have limited repair mechanisms and our stem cells can only do so much. However, there are businesses purporting that a simple injection of unmanipulated stem cells can work miracles. The FDA disagrees, and without any compelling data from a clinical trial, most scientists would disagree as well.
I learned from Alex that not all stem cells are the same. Different stem cells have varying abilities to regenerate and turn into other tissues. Furthermore, we are also realizing that it takes guidance and manipulation to coax a stem cell into the correct cell or tissue for regeneration. And new technologies allow us to reprogram adult cells into more "potent" stem cells. These factors have now led to stem cell-based clinical trials to treat diseases such as macular degeneration and heart disease, with some early promising results.
There are still limitations to stem cell technology. One major limitation is that we are realizing age and environment can have a profound effect on stem cell function and even safety. Essentially, the older we are, the older all of our cells (including stem cells) become, and as a result, our bodies' natural repair mechanisms deteriorate or stop.
Given these factors, I was excited about Alex's notion that "backing up" our cells and stem cells could be a valuable tool for improving and extending our health in the near future. We can stop the biological aging of our stem cells by putting them in a deep freeze at an earlier age, when they have fewer mutations and damage. Banking our stem cells will then allow us to eventually generate and bank other tissues for self-use, like a population of heart cells for cardiac repair or a population of liver cells to diagnose drug toxicity. As technology moves towards a future where it's technologically possible to engineer tissues and organs from our own stem cells, backing stem cells up today can give us the best opportunity to use them when we need them.
I love the idea of backing up my stem cells. Alex and his team are coming to Boulder to do this for me on 11/29. If you are interested in backing up your stem cells, Alex has offered to do it for a few others in Boulder when he is here. If you are interested, just email me and I'll connect you with Alex.
---