Of all the business and technology writers out there, including bloggers, I think the best one, at this moment, is Matt Levine. He's the only person currently writing on Planet Earth that I find myself reading every word of everything he writes.
For the last few months, he has been mostly writing about three topics:
The Twitter Elon Musk Soap Opera
Why (and How) Much of Crypto Is A Plain, Old, Ponzi Scheme
Other Crazy and Fucked Up Things in Finance
For a flavor of his writing, read the following 11 chapters of Matt's writing (listed in chronological order). Then, subscribe to his newsletter and get a magnificent medium-form article in your inbox every other day or so.
Matt – thank you for making me snort or laugh out loud several times on the days you write.
---
My partner Ryan shared this with me. It's a 10-minute video showing the evolution from System 0.97 to macOS 13 Ventura. I had an original Macintosh 128K which is now enjoying its retirement at the Media Archaeology Lab. Enjoy!
---
The only time I go outside right now is to go running. I had an awesome run in the dark at 5:30am today in 10 degrees. There were only two cars that passed me and one person near the end of my run walking his dog.
As Amy and I sit in our office in Aspen and grind away, we are blessed with a magical view.
A few moments ago, my EA Annie sent me a link to WindowSwap. It's a treasure. I felt like hanging out in Ukraine for a bit, so off I went.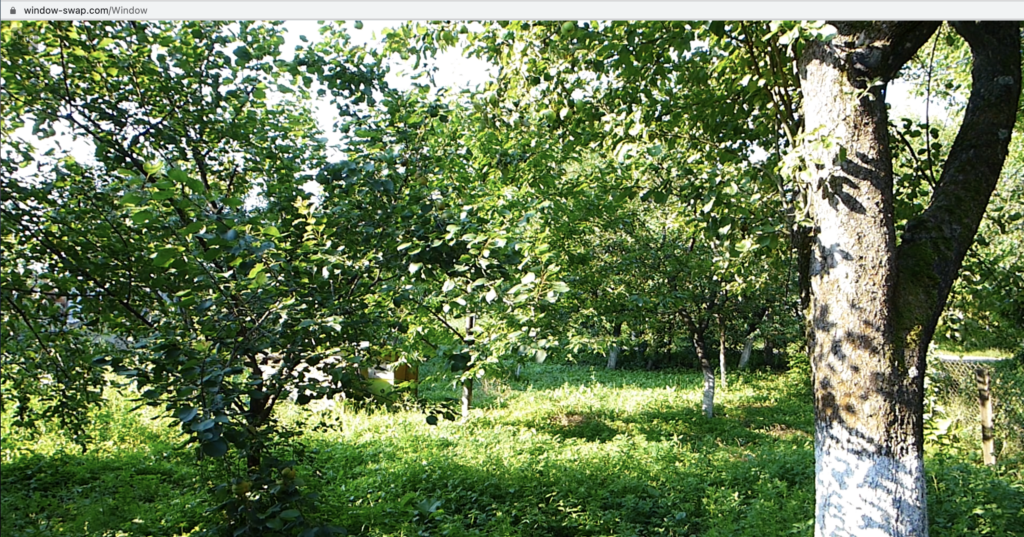 Each video is 10 minutes long with sounds, so on a big monitor, it feels pretty close to looking out the window.
---
On my run yesterday, I listened to Tim Ferriss interview Naval Ravikant on Happiness, Reducing Anxiety, Crypto Stablecoins, and Crypto Strategy.
I know both Tim and Naval. I have a mostly virtual relationship with each of them (I think I've been in the same physical space with Tim twice and never with Naval), but they are two people I've learned a lot from over the past decade.
When I run, I listen to one of four things.
Nothing
Podcasts
Audible Books (mostly science fiction)
Music, but generally my long time standards (Pink Floyd, Boston, Red Hot Chili Peppers, Rush)
I go through phases, and I'm in a Podcast / Audible phase. I'm a little bored of Diamond Age (I'm halfway through in a slow spot), so I fired up a random Tim Ferriss podcast. I noticed he'd done one recently with Naval, so that was it.
The crypto stuff was good, but I was much more intrigued by everything else. I'm a big fan of Richard Feynman, so when Naval started rolling out Feynman quotes, he had me. There was a ton of wonderful in the back and forth between Tim and Naval, and when Naval got on a roll on a topic, the running just vanished into the background.
A fun sleeper idea in the middle of things was that Naval, who has over a million followers, doesn't follow anyone on Twitter. I only use Twitter to broadcast things these days, so I think I'll try that hack for a while and see if it works.
I haven't been blogging much lately – on purpose. I've been trying to reset a few things in my writing and decided to go inward for a few months, starting around my birthday. I believe the reset has happened and listening to Naval and Tim helped reinforce a few things I've been playing around with now that I'm 55 years old.
Tim / Naval – thanks. I enjoyed listening to y'all.
---
Last week I participated in a virtual tour of the Media Archaeology Lab. Amy and I are financial supporters, I gave them my vintage computer collection several years ago, and we've underwritten their acquisition of several collections. I believe the Media Archaeology Lab is now one of the largest collections of working vintage computers.
"Working" is an important part of the phrase. The team at the Media Archaeology Lab, including Dr. Lori Emerson and Dr. libi rose striegl are magicians who, along with many student volunteers, loving take care of, well, everything.
When most people who had an Apple ][ or Apple //e think of Zoom, they think of Zoom Telephonics or WGBH-TV's Zoom.
When I saw bpNichol's Computer Poems streaming on Zoom, I responded with, "Holy shit, this is awesome." Yeah, that wasn't very poetic of me.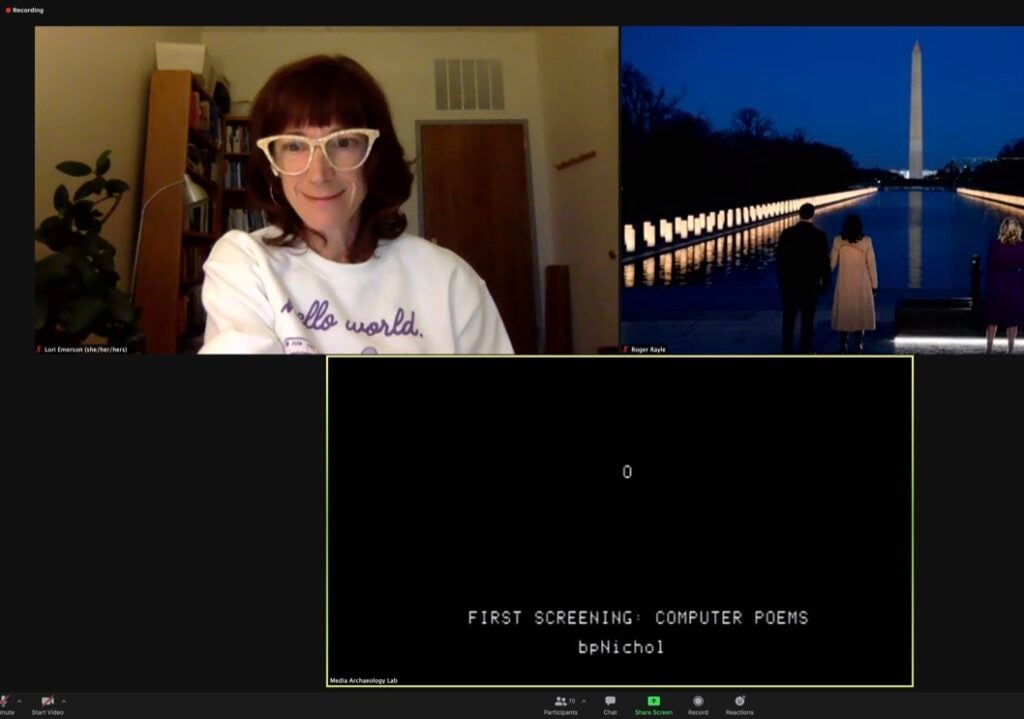 A few minutes later, we saw Super Mario Bros. running on a Commodore 64. We talked about the history of Nintendo not liking this and their subsequent DMCA takedown notice. Some companies have no sense of nostalgia.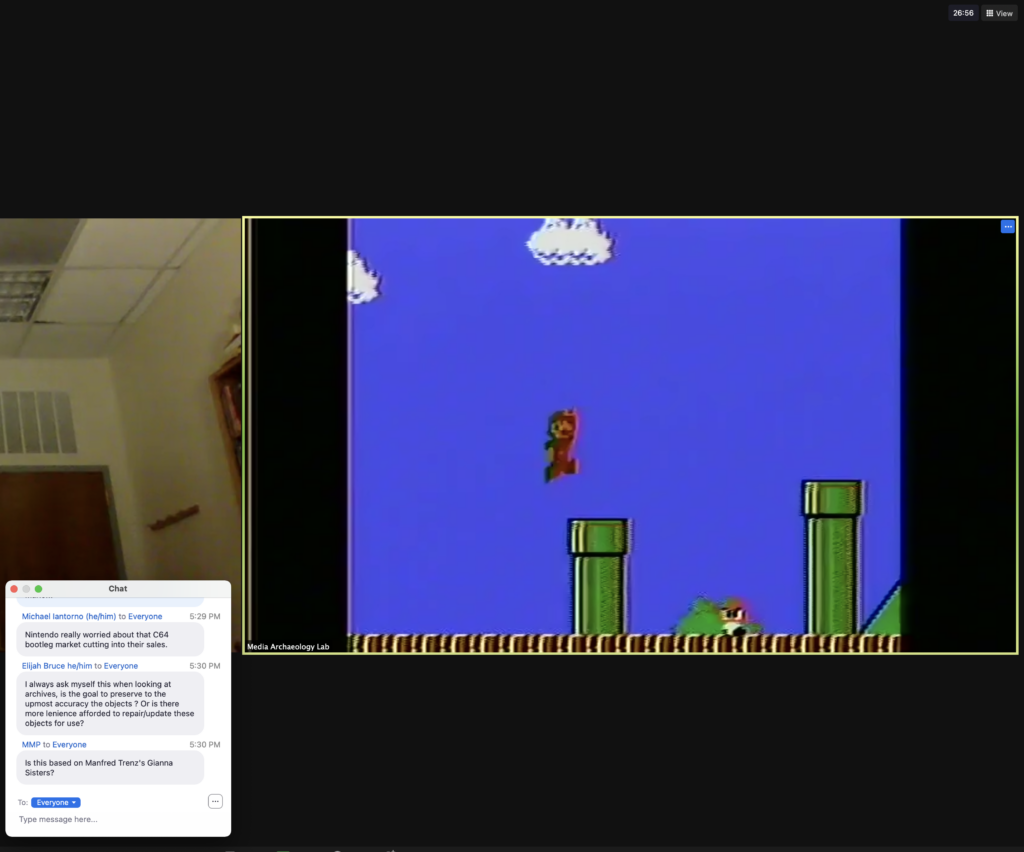 Here's how you stream from an Apple //e to Zoom.
The Apple //e has an RCA jack for the monitor, so all you need to stream is an RCA cable and an AV to USB adapter.
Run the RCA cable from the Apple to the converter.
Plug the USB into your computer.
When you open your preferred video streaming software (Zoom, OBS, Twitch), the converter will show up as one of your camera options. 
Audio with the Apple //e is a little more complicated. You need an upgrade to the sound card, such as a ReActiveMicro Mockingboard v2.2, to get an audio line out. The Mockingboard has a 3.5mm audio jack, so you need a 3.5mm – RCA splitter from that to the AV converter.
Here's how you stream from a Commodore 64 to Zoom
The Commodore 64 has an RF jack on the back that carries both image and sound, requiring something that can convert that signal to split audio and video channels.
A VCR is faster, easier, and more reliable than any other converter, but you can also use an RF modulator.
The RF cable runs from the back of the Commodore to the Coax-IN on the VCR via an RF-Coax converter.
Then connect RCA cables from the AV-OUT on the VCR to the AV-USB converter.
As with an Apple, when it is all set, the AV-USB converter shows up as a camera in your camera menu on any streaming software
If you want to see the full poem by bpNichol, here it is on Youtube.
If this is interesting to you, please consider making a cash donation to support the Media Archaeology Lab's operations. If you have vintage computers you'd like to donate, drop me an email.
---
If you can't imagine that a drama about chess would be riveting, you need to watch The Queen's Gambit. And, if you love (or even like) chess, start watching it tonight.
The first two episodes are the Opening. The Middlegame happens in episodes 3, 4, and 5. The Endgame is episodes 6 and 7. Each is delicious. The Endgame is spectacular.
We watched it in three nights. Last night was episode 5, 6, and 7. We normally would have gone to bed after episode 6, but we played through rather than taking an adjournment.
So wonderful. Thanks Netflix for the distraction from everything else.
---
Here's a simple one to make your 10 hours a day on Zoom more enjoyable.
Hide Self View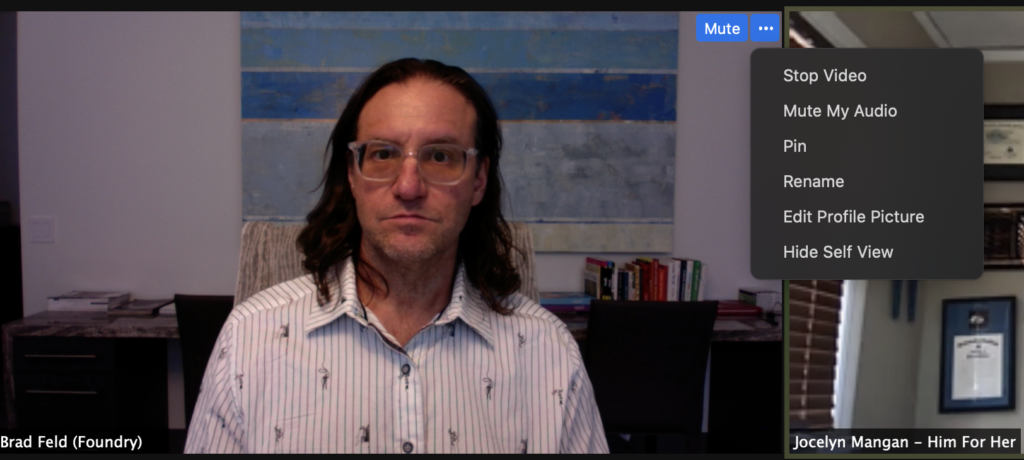 Click on the three little dots next to Mute in your video window. Choose "Hide Self View."
The following view …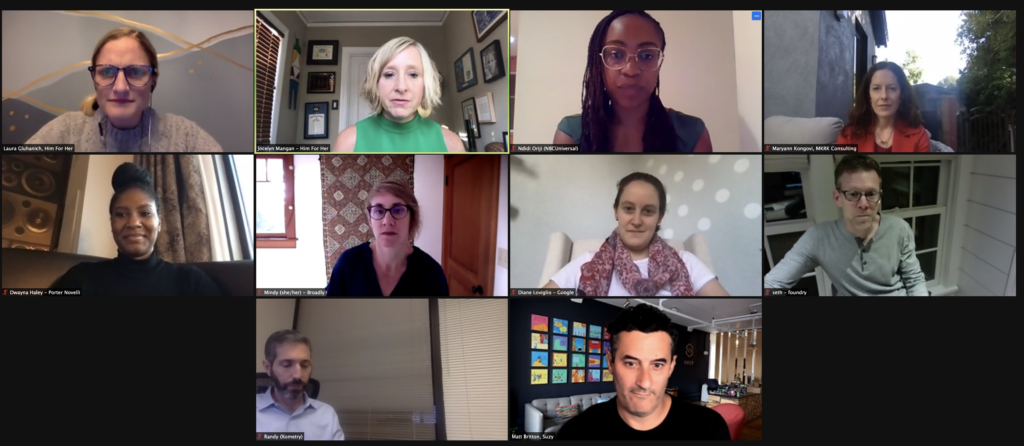 is much better to look at that the one with my own picture in it.
Staring at yourself for 10 hours a day is exhausting. If you are having trouble relating to this, put a mirror on your desk in front of you and look at it all day. That's basically what you are doing when you don't hide self view.
For some crazy reason, Zoom hasn't made this a default feature yet (Dear Zoom, make it a default to Hide Self View).
I started doing this about a month ago. It has blown my mind how less tiring the day of endless Zoom is and how easier it is to concentrate when I'm not constantly looking at my face on the screen.
---
Amy and I driving to dinner with Ben Einstein and Grace Livingston a few months ago. Amy generally dislikes podcasts so she was annoyed with me as I fiddled with my iPhone and Carplay which kept opening my podcast app.
Ben said, "Have you listened to The Anthropocene Reviewed?"
I responded, "The what what?"
Amy said, "Put some music on."
Ben tried again. "Put on The Anthropocene Reviewed Scratch 'n' Sniff Stickers and the Indianapolis 500."
15 minutes later Amy said, "Not bad" and I was hooked.
Several of my favorites have been Notes App and Sports Rivalries, Hot Dog Eating Contest and Chemotherapy, Gray Aliens and Rock Paper Scissors, and Teddy Bears and Penalty Shootouts.
If you are looking for a new podcast, give The Anthropocene Reviewed a try.
---
Why doesn't Amazon acquire Starbucks?
Starbucks has one thing Amazon doesn't have – over 30,000 physical locations. Sure, Amazon owns Whole Foods, which has about 350 physical locations, but they are large food distribution facilities (e.g. grocery stores) rather than community meeting spaces (e.g. coffee shops).
Amazon's market cap is $930b. Starbucks' market cap is $104b. That's roughly a 90% / 10% merger assuming no premium for Starbucks. Even with a huge premium, it's still less than an 85% / 15% split.
Oh, and they are both headquartered in Seattle.
Wouldn't it be interesting if the primary retail point of presence in the US suddenly became Amabucks?
I'm sure there's a massive analysis of this somewhere in a corp dev department at Amazon or at investment banks pitching Amazon on the deal.
I'm trying to decide if I like the name Starmazon better.
---