One of my mantras for v54 is "Simply Begin Again."
As I get closer to v55 (58 days from now), I've been thinking about it more. During my morning meditation, I repeated it for a stretch and then did the same for about a mile on my run this morning.
Garth gets so many things correct.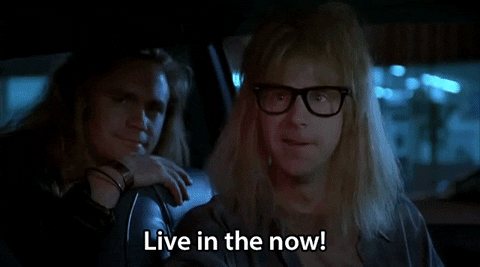 I made a big shift earlier this summer after I finished up some of the work I was doing with the State of Colorado around Covid, specifically around the Innovation Response Team. A lot of that energy shifted to new work around racial equity and the release of my new book with Ian Hathaway The Startup Community Way. At the same time, my Foundry Group workload intensified as companies shifted from "survive Covid" to "grow like crazy because of tailwinds from Covid and adjustments made during Q2."
When I reflect on where we are in October, 2020, I'm amazed. There is a spectrum that has awesome at one end and awful at the other. I'm engaged on both ends and spent relatively little time in between them. The inequities that exist on so many dimensions of our existence are extremely visible to me right now.
My gear shift around each day has been profound. I've adopted a set of new habits for the beginning and end of the day. I start each day with 30 minutes of meditation (I'm on a year and a half streak), then have 15+ minutes of coffee with Amy, and then go running three or four days a week. It's a full reset every morning, which has had a profound impact on my attitude to everything that then follows.
Next, Amy and I try to have a 30 minute lunch every day. We probably miss a day a week, but right after I hit post, I'm going to go have lunch with her. We've never done this during the week before and I hope to do this with her every day for the rest of my life.
At the end of the day, which ranges from 5pm to 8pm, I'm done. I no longer try to get through all my email. I no longer do one last check before I go to bed. I just stop for the day.
And then I simply begin again the next day.
---
Daniel Jackson created a magnificent book. It's a combination of three things: 1) Extraordinary personal stories about 2) The struggle with mental health, anxiety, and depression while 3) at MIT.
MIT is a foundational part of my life. I spent seven years there. I got into graduate school in my fourth year and got into a Ph.D. program in my fifth year. I also started three companies while I was there – the first failed after my sophomore year, the second failed after my junior year, but the third turned into Feld Technologies, which was my first successful company.
I vividly remember my first major depressive episode. It was 1990. My first marriage had fallen apart. My company was doing fine, but I was bored with the work. I knew my Ph.D. journey was doomed, but I hadn't accepted it yet.
While I had theoretically experienced failure, none had felt very personal up to this point. When I flashback to MIT undergraduate failure, it was dropping out of courses like 18.701, which I had no business taking when I did. Or it was getting a 20 on my first 8.01 test, only to find out a few days later that class average was a 32.
But the failures in 1990 were real and personal. I had a fantasy about my first marriage, which was also my first adult relationship (which had started in high school.) My divorce obliterated that fantasy. I had created a narrative about myself, if only in my head, that I was an overachiever at the youngest possible age – my company, my Ph.D., my marriage. When the second of those, the Ph.D. blew up, a deep depression ensued.
I was lucky – I had three people in my life who showed up for me in profound ways. The first was my Ph.D. advisor, Eric von Hippel, who protected me from the worst of what could have been the emotional fallout from MIT while providing me with the best he could as a paternalist-non-parent. The next was my now wife, Amy Batchelor, who knew I was depressed, called it out, and encouraged and supported me through understanding what was going on. Finally, my business partner, Dave Jilk, showed up as a partner every day. I don't think he understood what I was going through or what to do, but what he did was what I needed.
That was almost 30 years ago.
Depression can be a fiendishly challenging thing that some us call the black dog. Today, when it shows up, I pet it on the head, talk nicely to it, and encourage it to find somewhere else to play. But, for a while in my 20s, it took up residence in my dark, opaque box, which spent a lot of time in a 24,000 cubic foot apartment at 15 Sleeper Street and eventually migrated to 127 Bay State Road. At some point, the black dog got bored of that apartment and went somewhere else for a while.
Reading this book made me wish this book existed then. I remember feeling incredibly alone at MIT, in Boston, and the world. Once I acknowledged to myself that I was depressed, I knew I wasn't the only person in the world who was depressed. But I was so terrified about it and felt so much stigma and shame around my depression that I built a dark, opaque box around myself and only let a few people in during that time. If this book had existed, I would have looked at the photos, read the stories, and realized both that I wasn't alone and that I eventually could be ok.
---
The Covid crisis has generated, or amplified, a number of separate crises. One of them is a mental health (or mental wellness) crisis. As humans, our entire way of living has been dramatically impacted by Covid. We are isolated from each other, many of us are afraid of being in public, and we are feeling enormous weight from economic, social, familial, and organization pressure.
One of our goals with Energize Colorado is to create a non-profit for the extended business community of "Coloradans helping Coloradans". We decided to make providing Mental Health Resources one of the primary initiatives.
The Energize Colorado website has a comprehensive list of mental health resources that are available, but here are two new ones.
Free or low-cost therapy or mental health support with a licensed therapist: As of the other day, we currently have therapists in Colorado who have donated a total of up to 1,000 free hours. If you are a therapist and you are open to donating up to five hours of free therapy, please sign up on the Therapist Volunteer page.
3 Free months of Simple Habit: Sign up to access meditations, sleep content, and movement exercises, designed to help you care for your mind — all free for 3 months.
Also, Energize Colorado now has a mailing list so you can stay informed on upcoming webinars as well as information from Energize Colorado.
---
On Wednesday 6/3 at 11am Energize Colorado will be launching our Mental Wellness initiative.
While we already have a Mental Health Resource section up on the Energize Colorado, we are starting a weekly webinar series called Wellness Wednesdays.
One of our goals with this initiative is to destigmatize mental health and support those in need of engaging in service during the Covid crisis. I've been talking about mental health as the third part of the Covid crisis since the end of March when I wrote the post The Three Crises.
I didn't anticipate structural racism being a fourth crisis. But here we are.
Yesterday, a friend suggested that a middle-aged white person trying to constructively engage around structural racism feels like walking across lava. It's dangerous and there are lots of ways that you can say or do something that goes very wrong, even if that wasn't intended.
I'm aware of that, so rather than tell anyone what the solution is, I'm just going to engage, in the same way I've engaged with other issues like gender discrimination. Listen, learn, and do things in support of other leaders who are already involved. For example, in the case of gender, I began my journey in 2005 by supporting and learning from leaders like Lucy Sanders.
This morning, I've reached out to several black entrepreneurial leaders I know, including Rodney Sampson. My question to him is not "what should I do" but rather "what are you doing that I can get involved in and support right now."
So, now we've got four crisis. Health. Economic. Mental Health. Structural Racism.
If you are involved in one of these, know that you are not alone.
And, if the mental health crisis is on your mind right now, join us Wednesday for our discussion on our the You are Not Alone webinar.
---
Amy just walked in to our shared office (the "Library") and said something about it being Tuesday.
It's gloomy in Colorado today. For the past few years, the month of May has been more like Seattle weather than Colorado weather, so while spring is transitioning into summer, heavy clouds hang over us.
I seem to have two types of days right now.
Type 1 is what happens between Monday morning and Friday afternoon. Zoom call after Zoom call. Lots of exogenous stress and anxiety. By the end of each of these days, it's hard to shrug it off as I'm absorbing so much from other people as I try to help them navigate through whatever they are working on or struggling with. There are momentary bright spots, smiles, and statements of appreciation, but they are fleeting as the 1 Minute To Next Call message appears at the top of the screen. At the end of the day, I try to run, but only feel like it a few days a week. Amy and I finish the day staring at the TV for an hour or two and then go to sleep.
Type 2 is the weekend. I stop doing meetings and email Friday night. I use Saturday to rest, recover, read, nap, and hang out with Amy. Sunday is similar, but I catch up on email, and read a bunch more.
I love to read but the only days I seem to have the energy to read are Type 2 days.
I'm going to finish out this week this way and then take a week off the grid and try to reset. As I expect we are in for a very long haul of stress and misery around the Covid crisis, it's clear to me that Type 1 / Type 2 is not going to be a sustainable rhythm for me.
While I don't know where I'll land, I do know that the mental health crisis I talked about in my post The Three Crises is real. I see it and hear about it everywhere. I feel it. And I know how lucky and privileged I am, so I can only imagine how intense, pervasive, and challenging it is for others.
---
Over the past week, I've done a handful of podcasts to help entrepreneurs, leaders, and employees at startups to help think through how to respond in a crisis. I've requested that anything I do right now on this front is made public, so if anyone is interested, they can watch them.
The first, hosted by David Cohen, is with Scott Dorsey, Paul Berberian, and Berne Strom. Scott, Paul, Berne, and I are all "older entrepreneurs and investors" who have been through multiple crises dating back to 1987.
The next was a podcast I did with Greg Keller at JumpCloud on mental health in a crisis.
Last week I did two podcasts with Howard Lindzon on his series called Panic with Friends.
As a bonus, Fred Wilson also did a Panic with Friends with Howard which was excellent.
I've allocated a max one hour a day during the weekday for participating in creating content like this during the week as the Covid-19 crisis unfolds, but I'll continue doing this as long as I feel like I have fresh things to contribute.
---
Yesterday, Josh Felser of Freestyle Ventures wrote a post titled For the Love of Founders and their mental health. In it, he discussed his own struggles with mental health as an entrepreneur.
"Like so many others I just sucked it up, grinded away and punted, hoping for relief down the road. That strategy of denial and repression worked until it didn't. My founder stress and burnout couldn't be contained despite my best efforts. In fact, my mental unhealthiness impacted my physical health, by causing debilitating sleep apnea, as diagnosed by UCSF and missed by Stanford (but that is another post). I sold my 2nd company, Crackle, and vowed to leave the high anxiety of being a founder for the relatively easy life of venture, not that it's actually easy. I was lucky to have exited Crackle before my situation worsened and ultimately found the relief I desperately needed to feel whole again."
More importantly, he talked about his fear of discussing it with his investors.
"Unsurprisingly, my investors, back then, never once inquired about my mental state and certainly didn't offer any resources I could tap. In fact if I'd shared my actual state of mind, I would probably have been fired or at the very least encouraged ostensibly to take time off. Those were the times."
Thankfully, this is changing, in part to leadership by firms like Freestyle. The partners, Josh, David Samuel, and Jenny Lefcourt have announced an initiative initially focused on their portfolio founders in an effort to break down the barriers to better mental health for all in our industry.
To begin, they are underwriting 100% of the cost for two programs – Meru Health and Hoffman Institute, for all of their founders.
Meru Health is a three-month digital program for treating depression, anxiety, and burnout that leverages remote therapists/psychiatrists, CBT, meditation, and biofeedback.
Hoffman Institute is a one-week intensive on-site program, leveraging therapy, meditation, experiential exercises and peer-to-peer community, designed to break the most formative negative patterns from our childhood.
I'm fortunate that I have a strong, long-term relationship with a psychologist who works with entrepreneurs. However, he, like many others in the field, is extremely busy so even though he is open to referrals from me, he is limited in who he can take on as a client. Part of the challenge here is the time delay that a referral takes, and Meru Health is an impressive approach to providing rapid response care in a specialized way with an economic model that can work in entrepreneurial contexts.
The Hoffman Institute was new to me, but after spending some time on the website, I went and signed up to attend one of the week-long retreats. While I feel like I've explored – in therapy – some of the things they talk about, I know that I'm still struggling with a bunch of this, especially as I shift into the next phase of my life.
As an LP in Freestyle, I'm extremely excited to see their leadership in this area. While they are not the first firm to announce an initiative like this – last year Felicis Ventures gifted Founders 1% Of Every Invested Dollar To Spend On Coaching And Mental Health – I'm hopeful that this is addition momentum in an area that needs a lot more attention, support, and help.
Josh, David, Jenny – thank you!
---
Recently, I read a well-written article in Fast Company by Jon Dishotsky titled We need to be more honest about what tech culture is doing to our mental health.
In it, he had a list of lessons he has learned over the years.
Look out for your wake-up call
Create routines that prioritize mental health
Work in line with your body's rhythm
Make time for silence
Find space to unplug
Give your emotions credit
Cultivate (and listen to) your inner circle
These mental health suggestions are all right on the money. I encourage you to go read the article if this is a topic that interests you.
---
This first appeared in the Boulder Community Health Foundation Summer 2019 Magazine in an article titled Taking On The Mental Health Stigma.
I started the second week of 2013 in Las Vegas at the Consumer Electronics Show. Within two hours of arriving, I was in my hotel room, the shade closed, the door locked, and in bed with a pillow over my head. I couldn't deal with anything at all. Having been here before, I knew I was in a deep depression.
From all external perspectives, my life was going great. I was healthy, my business (Foundry Group) was successful, I had an excellent marriage to Amy Batchelor, was surrounded by numerous friends, and I got to live in Boulder, Colorado. But I was physiologically exhausted from 2012. I'd run an ultra-marathon in the spring that I never recovered from, had a near-death bike accident, and squeezed a marathon in October when I had no business running one. I was on the road 75% of the time, working constantly, dealing with the explosive growth of several of our investments while struggling through the challenges at others while writing two books. Ending up with a kidney stone in November that required surgery and a month of rest should have been the warning I needed to slow it all down and take care of myself.
I'm fortunate that my wife, business partners, family, and friends are helpful to me when I'm depressed. I'm in a privileged position of having the financial resources to do whatever I need to do. I have a job that provides me a lot of flexibility. And I'm no longer afraid of being depressed or ashamed of being public about my struggles with depression and anxiety.
I had my first major depressive episode in my mid-20s. While I probably had been depressed prior to that, I never really processed it as depression. I was one of those kids who was successful at almost everything I tried, loved by my parents, and comfortable growing up. One day I found myself in the middle of a divorce, being kicked out of a Ph.D. program, and bored of my work at my first company, even though it was successful. I was lucky to have a Ph.D. advisor who was able to recommend a psychiatrist to me. I was quickly diagnosed with obsessive-compulsive disorder (OCD) and again lucky to have a psychiatrist who was able to combine CBT and medication to help me overcome OCD while providing a safe space for me to explore my underlying anxiety disorder and the root causes of it.
At the time, I was incredibly ashamed of everything around my depression. I was ashamed that I was depressed. I hated that I took medicine. I was terrified that someone would find out that I was going to a psychiatrist. I was afraid to tell anyone I worked with, other than my business partner, that I was depressed. I thought CEOs and leaders had to be strong and show no weakness.
Again, I was lucky. My business partner Dave was supportive, even when he didn't really know what to do. My new girlfriend (now my wife) Amy didn't view me like a broken toy she needed to fix but rather acknowledged that I was going through a difficult time as we began our relationship. I had several friends and family members who showed up for me.
During my 2013 depressive episode, I blogged openly about my struggles and what I did. Since I was no longer ashamed of being depressed, I thought it might be helpful to talk about things. I had a large audience of readers and quickly ended up interviewed by a number of national business publications, including Inc. and Fortune. Several high-profile entrepreneurs had recently committed suicide and mental health was starting to be talked about in entrepreneurial circles, so I became a visible example of a successful entrepreneur who struggled with depression but was willing to discuss it.
The combination of these experiences and my liberation from my shame surrounding depression helped me realize how pernicious the stigma around depression is in our society. I ended up talking with hundreds of entrepreneurs about their own experience with mental health issues, including anxiety, depression, bipolar disorder, and mania. In many cases, I was the first person, including family members, that they had ever discussed their struggles with.
I decided that part of my mission on this planet would be to help destigmatize the issues surrounding mental health. I won't be done with this until we have achieved parity between prioritizing mental and physical health. Instead of being a stigmatized health issue, we need to talk about and treat mental health as we would any other physical health challenge. Cancer used to be a death sentence; now many cancers are treatable. Smallpox and polio were deeply misunderstood and mistreated; now they are largely eradicated. Diabetes, once a mysterious and crippling disease, is well understood and easily treated in most cases. Destigmatizing mental health issues and removing the barriers to care are critical to addressing and treating mental health diseases.
I'm incredibly moved by the community's support of the Bolder Community Health initiative to expand critical mental health services. When Amy and I first heard about the effort to raise money for what is now the Della Cava Family Medical Pavilion, we immediately committed to getting involved. We are honored to be able to provide funding in support of the medical pavilion and for the establishment of the Anchor Point Mental Health Endowment and I'm thankful that my partners at Foundry Group have also provided a significant gift through our Pledge1% Fund.
Most importantly, I'm proud of everyone in our community who has supported this initiative, both functionally and financially. We are a special community at the forefront of many things in our society. Providing excellent care for people suffering and taking action to destigmatize mental health issues are important steps that we are pursuing in Boulder. Thank you to everyone who is helping us find our voice around this issue, elevate the conversation, and help destigmatize mental health.
---
I've been open about my journey with depression and the importance of addressing and destigmatizing issues around mental health. So I was excited that one of our Techstars programs – the MetLife Digital Accelerator powered by Techstars – is looking closely at mental health startups for their 2019 class. If you're a founder innovating in the mental health market, I encourage you to apply for this program.
The MetLife Digital Accelerator powered by Techstars is focused on insurtech startups. MetLife and Techstars managing director Mee-Jung Jang are defining insurtech broadly, and mental health is a key area of focus. They are looking at all types of mental health startups in their search including ones helping individuals improve their everyday mental fitness, using data to better assess and predict serious mental health conditions, and providing easier access to care at the moment of need.
Over half of all humans will experience a major mental health challenge in their lifetime. Yet, mental health still carries a stigma, and many people suffer silently including our coworkers, friends, and family. The startup journey is immensely difficult, so the quiet sufferers include many entrepreneurs. Mental health startups that take advantage of new technologies and data could have a huge positive impact by solving these problems.
The MetLife Digital Accelerator powered by Techstars recruits globally and is stage agnostic. Founders in this program have unique access to the resources of both Techstars and MetLife, a Fortune 50 company with over 100 million customers worldwide in nearly 50 countries and serving 90 of the Fortune 100 as their clients in the US.
If you're a founder of a mental health startup, I encourage you to request office hours with managing director Mee-Jung Jang with this form and follow her on twitter to keep posted on her startup recruiting tour. Or, just apply now as applications are open until April 7th.
I'm excited to see which mental health companies get accepted into the MetLife Digital Accelerator powered by Techstars.
---