Daniel Jackson created a magnificent book. It's a combination of three things: 1) Extraordinary personal stories about 2) The struggle with mental health, anxiety, and depression while 3) at MIT.
MIT is a foundational part of my life. I spent seven years there. I got into graduate school in my fourth year and got into a Ph.D. program in my fifth year. I also started three companies while I was there – the first failed after my sophomore year, the second failed after my junior year, but the third turned into Feld Technologies, which was my first successful company.
I vividly remember my first major depressive episode. It was 1990. My first marriage had fallen apart. My company was doing fine, but I was bored with the work. I knew my Ph.D. journey was doomed, but I hadn't accepted it yet.
While I had theoretically experienced failure, none had felt very personal up to this point. When I flashback to MIT undergraduate failure, it was dropping out of courses like 18.701, which I had no business taking when I did. Or it was getting a 20 on my first 8.01 test, only to find out a few days later that class average was a 32.
But the failures in 1990 were real and personal. I had a fantasy about my first marriage, which was also my first adult relationship (which had started in high school.) My divorce obliterated that fantasy. I had created a narrative about myself, if only in my head, that I was an overachiever at the youngest possible age – my company, my Ph.D., my marriage. When the second of those, the Ph.D. blew up, a deep depression ensued.
I was lucky – I had three people in my life who showed up for me in profound ways. The first was my Ph.D. advisor, Eric von Hippel, who protected me from the worst of what could have been the emotional fallout from MIT while providing me with the best he could as a paternalist-non-parent. The next was my now wife, Amy Batchelor, who knew I was depressed, called it out, and encouraged and supported me through understanding what was going on. Finally, my business partner, Dave Jilk, showed up as a partner every day. I don't think he understood what I was going through or what to do, but what he did was what I needed.
That was almost 30 years ago.
Depression can be a fiendishly challenging thing that some us call the black dog. Today, when it shows up, I pet it on the head, talk nicely to it, and encourage it to find somewhere else to play. But, for a while in my 20s, it took up residence in my dark, opaque box, which spent a lot of time in a 24,000 cubic foot apartment at 15 Sleeper Street and eventually migrated to 127 Bay State Road. At some point, the black dog got bored of that apartment and went somewhere else for a while.
Reading this book made me wish this book existed then. I remember feeling incredibly alone at MIT, in Boston, and the world. Once I acknowledged to myself that I was depressed, I knew I wasn't the only person in the world who was depressed. But I was so terrified about it and felt so much stigma and shame around my depression that I built a dark, opaque box around myself and only let a few people in during that time. If this book had existed, I would have looked at the photos, read the stories, and realized both that I wasn't alone and that I eventually could be ok.
---
My long-time friend and former MIT professor, Professor Edward Roberts, who founded and still chairs the MIT entrepreneurship program, recently published "Celebrating Entrepreneurs: How MIT Nurtured Pioneering Entrepreneurs Who Built Great Companies".
The book is fascinating, especially its five chapters filled with in-depth interviews and background on the MIT "spinoff startups" that became the leaders of: the life sciences and biotechnology industry, the Internet, from CAD-CAM to robotics, and even "modern finance", plus a host of other companies, including such recent successes as HubSpot, Okta and PillPack, all founded and led by MIT alums.
Chapter 11 is the one on Modern Finance. Who said professors at MIT didn't have a sense of humor. Having known Ed for 35 years, he has a wicked one.
It has taken 50 years to transform MIT from its unique historic traditions to today's recognition that forming new innovation-based companies is indeed the most powerful source of impact upon the world. In his praise for the book, MIT President Rafael Reif exclaims: "An entrepreneurship tornado continues to blow at MIT. The energy of entrepreneurship rises through our classrooms, labs, and centers. It is central to who we are as an institution for 50 years of extraordinary achievement."
The first half of the book focuses upon MIT's history of creating from scratch what they lovingly call the "MIT Entrepreneurial Ecosystem". Much of what MIT has done has been literally copied by other institutions worldwide. Still more universities, regions, and countries have adopted MIT's approaches as needed to fit their own surroundings.
Structured in two parts, the book first showcases how the unique atmosphere at MIT encourages its innovative entrepreneurs to thrive. Then, with in-depth coverage of the founders and companies that pioneered four industries—biotechnology, the Internet, from CAD-CAM to robotics, and modern finance—plus many other successful firms, Ed analyzes how MIT's most successful entrepreneurs have capitalized on that environment and culture to build companies that have lasted for decades. Both internal and external to MIT, the founders of these organizations and companies tell their own stories, describing their motivations, challenges, and outcomes.
The opening cover page says clearly that all author royalties will be donated directly to endowment funds that support the MIT-wide entrepreneurship programs. Buy the book to learn more about the history and evolution of entrepreneurship at MIT while helping foster future entrepreneurs.
---
If you are looking for information on the public markets, this is not the blog you should be reading. Instead, I encourage you to go read Fred Wilson's post Market Meltdowns or Howard Lindzon's post Momentum Monday – A Panic For The Ages.
Rather than watch the news tonight, I encourage you to pick up a copy of Alan Lightman's book Searching for Stars on an Island in Maine. I've loved Alan Lightman's writing and the idea of a human that behaves like Alan Lightman since I read his first book Einstein's Dreams when it came out in 1992.
Lightman is an astrophysicist, novelist, essayist, and educator. He's been foundational at MIT around all of their creative writing endeavors and is currently Professor of the Practice of the Humanities at the Massachusetts Institute of Technology (MIT).
I don't know him, but when I think about evolving human journeys, his appeals to me as much as his writing does.
The book starts out strong with a chapter titled "Longing for Absolutes in a Relative World." For a taste, I loved this paragraph:
On the one hand, such an onslaught of discovery presents a cause for celebration. In fact, the wonders of Einstein's relativity and the idea of the Big Bang were the engines that propelled me into science decades ago. Is it not a testament to our minds that we little human beings with our limited sensory apparatus and brief lifespans, stuck on our one planet in space, have been able to uncover so much of the workings of nature? On the other hand, we have found no physical evidence for the Absolutes. And just the opposite. All of the new findings suggest that we live in a world of multiplicities, relativities, change, and impermanence. In the physical realm, nothing persists. Nothing lasts. Nothing is indivisible. Even the subatomic particles found in the twentieth century are now thought to be made of even smaller "strings" of energy, in a continuing regression of subatomic Russian dolls. Nothing is a whole. Nothing is indestructible. Nothing is still. If the physical world were a novel, with the business of examining evil and good, it would not have the clear lines of Dickens but the shadowy ambiguities of Dostoevsky.
If you open up any news based website, you are going to get efforts of describing the world in the clear lines of Dickens. Just remember that we are living in the shadowy ambiguities of Dostoevsky. I'm going to happily carry that one around for a while.
Lightman has a long rant on something he calls the Central Doctrine of Science.
Without ever hearing it spoken out loud, we budding scientists simply embraced a principle I call the Central Doctrine of Science: All properties and events in the physical universe are governed by laws, and those laws hold true at every time and place in the universe.
He then unfolds this, using the concept of Absolutes and Relatives, and takes us into an endless, parallel universe of mostly empty space.
I've been reading plenty of "things to read after you are 50 about the meaning of life", which feels like a cliche even as I type it. It's not the only stuff I've been reading (e.g. over the weekend, I finished Jane Against the World: Roe v. Wade and the Fight for Reproductive Rights) but I look forward to gobbling down Lightman's In Praise of Wasting Time soon.
If you accept that the rest of 2020 will be insane, that a year is a tiny portion of the 13.8 billion years since the big bang, that no one really knows what happened before the big bang, that there might be an infinite number of parallel universes, and that most of everything is just empty space, things might be a little less stressful today. Or not …
---
Dave Jilk was my first business partner (we co-founded Feld Technologies). The photo above is from Dave's office at 155 Federal Street around 1991. We worked closely together for seven years before selling the company in 1993 to a public company called Sage Alerting Systems, which renamed itself Sage Technologies and then finally AmeriData Technologies. Well, at least the "Technologies" survived that naming transition …
Dave recently published a book of poetry titled Distilled Moments. I read it Sunday night and it's delicious. If you are into poetry, a friend of Dave's, or just want a taste of something different from your normal reading stuff, grab a copy.
If, when I met Dave in 1983, you had told me that he would become a poet later in his life, I would have spit out whatever food or drink was in my mouth at the time and rolled around on the ground laughing for a while. I think the only time I ever associated poetry and Dave in my mind is when he would use a phrase like "Physics for Poets" to describe a class at MIT I was considering taking.
Dave and I met on my second day in Cambridge in 1983. I spent my first day alone, feeling very confused and lonely as I wandered around MIT trying to figure out where I was. I crossed the Mass Ave bridge into Boston, had dinner by myself, and went to back to my assigned room in Baker House with three other guys, two of whom immediately got stoned and smoked pot for the rest of the evening (not my thing.)
The next afternoon was the MIT Freshman picnic. On a beautiful fall Cambridge day, Paul Gray (then president of MIT) gave a welcoming speech where, in typical MIT fashion, he said something like:
Look around. Your fellow freshmen are the best and brightest from around the world. Never forget that it is simple math that 50% of you will be in the bottom half of your class.
After talking for a few minutes, he ended by shouting "Let the Rush begin!"
Suddenly, hundreds of people descended on us with signs for their fraternities and living groups (there were no sororities at MIT in 1983.) Two guys I didn't know – Mark Dodson and Ramanujam Manikkalingam – grabbed me and said, "Come with us." I jumped in a van, was driven to ADP at 351 Mass Ave, and never left.
I met Dave that first night and we have been best friends ever since. He was a senior when I was a freshman, so we didn't live together for that long, but we spent a lot of weekend time together. I became close with his first boss, Will Herman, and with Warren Katz (who we met through our seventh employee, Ilana Katz), continue to be extremely close friends.
Now that you've got the backstory, I'll finish this post off with a few teasers from Distilled Moments that I loved.
Following is Twenty-Three, a poem about the morning after a night out together.
This one is my favorite business-related one, titled The Elephant in the Room.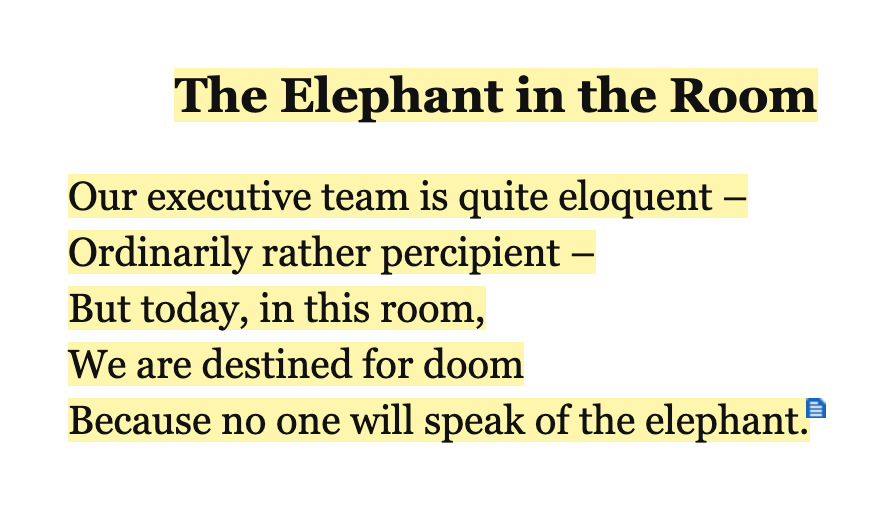 I'll end the teasers with the beginning of Take the Gloves Off, which is awesomely creative and full of business cliches.
There are many more. Support a friend, a Boulder-based poet, someone who I never expected would be a poet, or just a dear, dear friend by buying a copy of Distilled Moments.
---
It's a gray and rainy early summer day in Cambridge. As I was walking home from dinner last night through Kendall Square, I had a thought as I passed the Otto Piene designed Galaxy Earth Sphere sculpture. "I will never be lost here."
I lived in Cambridge for four years when I was an undergrad at MIT. I then lived in Boston for eight more years after moving across the river to downtown while running Feld Technologies. Twelve years as a young adult in one city will cement the place in one's brain.
While I only lived in Cambridge for four years, the essence of it is woven into the fabric of me. I immediately think of Toscanini's Ice Cream, a place I at which I ate chocolate ice cream at least four times a week for the better part of four years. Gus's smile is imprinted on my brain as he hands over the cone with the evening treat in it. Or the greatest food of all for a 170 pound 20-year-old – a giant scoop of chocolate ice cream with hot fudge generously poured over it.
While Kendall Square is all grown up with gleaming glass buildings, as I peer down Main Street to Mass Ave, I can almost see Tosci's to the right, across the street from the U-Haul place. And then I remember my first real office, at 875 Main Street.
On the drive from the airport, we passed Rogers Street, and I immediately thought of NetGenesis's first office. The Lotus building loomed large, the Royal Sonesta Hotel was still there, and the zig from First Street to Third Street remained the same. Amy and I were starving so after we dropped our bags off at the hotel, we wandered over to Legal's for some food
I'm here for a couple of things. On Monday, I'll be spending the day at the MIT Media Lab for the Formlabs Digital Factory event. At 11:30 am EST Formlabs is announcing something new and exciting.
Tuesday I could be anywhere, as I'll be holed up in my hotel room on an endless stream of conference calls. On Wednesday, Amy and I are spending the day at Wellesley College. I've got a fun dinner with old friends each night and will run a few bridge loops if I can shake the time zone fatigue tomorrow and Wednesday.
It feels very comfortable here. And I like that.
---
In November, during the week of the presidential election, I was at MIT for the Celebration of 50 Years of Entrepreneurship at MIT. The Friday night event included a keystone from Simon Johnson, an MIT professor who became famous during the financial crisis because of his superb analysis along with his almost daily blog The Baseline Scenario and his willingness to openly challenge an enormous amount of conventional thinking.
I remember hearing Simon for the first time at an MIT Sloan Dean's Advisory meeting in the basement of a fancy hotel in NY in the middle of the financial crisis. Many of the advisory board member attendees looked like hammered dog shit as they were part of the New York financial services and real estate world. Simon gave a clear eyed, extremely compelling pep talk that challenged everyone to ask questions and think hard, rather than just retreat into gloom.
On the Friday night after the election in 2016 on the six floor of E-52, Simon gave another impassioned talk. As he wrapped up, he addressed the elephant in the room, which this time corresponded with Trump, a Republican Congress, and a huge swath of red on an electoral map where a bunch of people, including me, had previously expected blue.
One question really stuck with me.
"How do you make technology work for those who are not working? Especially for those who are not working because of technology."
This is not the first time we've had to deal with this as a species, or a country. The transition from the agricultural revolution to the industrial revolution is a simple historical analogy. There are others, but Simon asked another question after making the analogy.
"Is this time different?"
I don't know the answer to the questions but they slapped me in the face and made me sit up.
Over the past two weeks, I've had a lot of interesting conversations, mostly with Amy, about the next 20+ years. I believe humans are in for the biggest transformation (and subsequent challenges) that we've faced so far since the origination of our species. I think it's going to be extremely complicated, painful, and confusing to many.
Simon suggested a powerful approach and one he's going to take. He's going to rip up all the old models and start with a blank sheet of paper. As part of that, he's going to start with the question, and explore. He doesn't know where it's going to lead him, but he'll let it go where it will.
I'm of a similar mindset. I'm also comfortable with my first principles, like the notion that a key part of the improvement in our situation, both economic and cultural, around the world are startup communities. I believe ever more deeply than ever in the philosophy of #GiveFirst, which is the title of my 2017 book. I'm committed to the work path I'm on with Foundry Group and Techstars, the philanthropic path that Amy and I are on with the Anchor Point Foundation, and the philosophical path I'm on with many friends around the world.
While I don't have any answers to Simon's question, I have more questions and answers to some of those questions. And, I know how to find answers, and find more questions. So that's what I'm going to do this year, both in the context of my existing work, and on new intellectual, functional, and philosophical paths.
You'll see this show up in what I read, what I do, and where I travel. For example, you'll see hints in my Goodreads book list (whether or not I do book reviews.) For example, each of the last two books I read – Interface by Neal Stephenson / J. Frederick George and Hillbilly Elegy: A Memoir of a Family and Culture in Crisis by J.D. Vance – are both relevant to this discussion.
I'm not trying to find the answer right now to anything in particular. Instead, I'm starting with a blank sheet of paper and trying to learn more, with a beginners mind.
---
Over the weekend, Joi Ito (the director of the MIT Media Lab among a long list of other awesome things) announced that the MIT Media Lab Changes Software Default to FLOSS*
As someone who disdains software patents and is appalled by universities, especially publicly funded ones, acting as patent trolls, I applaud the MIT Media Lab's move.
Eric von Hippel, my PhD advisor at MIT (I didn't finish) and one of my early mentors, co-wrote two of the seminal papers on how free and open source software (FOSS – and now FLOSS) impacts innovation.
Joi's punch line says it all.
"As an academic institution, we believe that in many cases we can achieve greater impact by sharing our work."
I couldn't agree more and applaud Joi's vision and leadership.
---
I rarely read physical magazines anymore. I only read in the bathroom and most are things I forget to unsubscribe to or that Amy gives me.
Today, I finished the most recent MIT Technology Review where I was reminded about the amazing MIT Science Fiction Society. As a sci-fi nut, I realized I'd screwed up by not having a lifetime membership. So, I'm now trying to figure out where to send my $260 to be a lifer.
As I was reading the other MIT thingy I get regularly (the MIT Science News and Events) I saw a mindblowing stat from the most recent Putnam Competition (the 74th). MIT took four of the top five places, won the team competition, and had 43% of the top 81 scores (depending on the rounding, that's either 34 of 81 or 35 of 81.) Either way, it's nuts.
When I was a freshman, I thought I was hot shit at math. I was the star of my high school Mu Alpha Theta team and as a senior had an unexpected first place finish in a Rice University national competition for Algebra. I was pretty damn good in the calculator competitions on my TI-58C. Yes, I was a nerd then, and I'm still a nerd now.
While I got an 800 on the math SAT, I booted all the AP tests except Biology (to place out at MIT you need to get a 5) – I can't remember what I did the night before the tests but it clearly wasn't something that I should have been doing if I wanted to pass them.
So, when I got to MIT, I took 18.011, which was the "advanced first calculus course." It was straightforward. I then took 18.021 ("advanced second calculus course.") It was less straightforward. If I had placed out on the Math AP test, I would have taken 18.02 and 18.03 instead. So I felt a little less like hot shit.
My friend (and future business partner Dave Jilk) knew I liked math so he encouraged me to take a course called 18.701: Algebra. I figured "Algebra – I've got that." I don't know if Dave was serious or just fucking with me, but when I got a 12 on my first test I knew I was fucked. I dropped the class shortly thereafter. Dave, of course, got an A in that one. He's much better at math than I am.
While I ended up being "fair" at math by MIT standards, I developed a weird savant like numeric skill. I can remember crazy amounts of number and data pairs. I can also do a lot of math in my head, although I'm often off by an order of magnitude, which of course either matters a lot or is easy to adjust when you realize it.
Mitchell M. Lee, Zipei Nie, Bobby Shen, and David Yang – y'all are math studs. Well done representing the Beavers in the 2014 Putnam.
---
I'm gearing up for a long series of posts about the various books I read on my month off on Bora Bora. In the mean time, I read a bunch of stuff online this morning (from Friday through today) and thought I'd give you a taste of some of it in case you feel like digging in.
I started with How Reading Transforms Us. It's a good frame setting piece about some new research on the impact of reading – both fiction and non-fiction – on humans. There is a pleasant surprise in there about how non-fiction influences us.
As with many of you, I'm deeply intrigued by what's going on around the movie The Interview. Fred Wilson wrote a post titled The Interview Mess in which he expresses some opinions. I'm not in opinion mode yet as each day reveals more information, including some true stupidity on the part of various participants. Instead, I'm still enjoying The Meta Interview, which is how the real world is reacting to The Interview.
Let's start with the FBI's Update on Sony Investigation followed by Obama Vow[ing] a Response to Cyberattack on Sony. 2600 weighs in with a deliciously ironic offer to help Sony get distribution for The Interview. Sony's lawyers unmuffle their CEO Michael Lynton who fires back at President Obama.
Now it starts getting really interesting. North Korea says huh, what, wait, it wasn't us and seeks a joint probe with US on Sony hack (yeah – like that is going to happen.) After everyone worrying about not being able to see The Interview (which might now be the most interesting movie of 2014 before we've even seen it), Sony says Nope, we didn't chicken out – you will get to see The Interview.
Apparently, Obama isn't finished. Instead, he's just getting started. He's decided that the North Korea hack on Sony Pictures was not an act of war but is now trying to decide if it's terrorism so he can put North Korea on the terrorism sponsors list to join Cuba, Iran, Sudan and Syria. No wait, maybe it's to replace Cuba which Obama has decided to restore full relations with.
Thankfully, Dr. Evil weighs in on this whole thing and makes sense of it (starting at 0:40).
At the same time we are struggling over North Korean's cyber attack terrorism censorship thing, we are struggling with our own internal efforts by some very powerful companies to figure out how the Internet should work in the US. Hmmm – irony?
Let's start with the cable industry's darkest fears if the Internet becomes a utility. According to the Washington Post, Congress now wants to legislate net neutrality. And Verizon tells the FCC that what they do doesn't really matter to them.
The FCC situation is so fucked up at this point that I don't think anyone knows which way is up. Fortunately, we have the Silicon Flatirons Digital Broadband Migration Conference happening in February which I'm speaking at to clear this all up. Well, or at least watch some entertaining, very bifurcated arguments about First Principles for a Twenty First Century Innovation Policy.
If you are a little bummed by now about how humans behave, check out this article where MIT Computer Scientists Demonstrate the Hard Way That Gender Still Matters. For a taste:
The interactions in the AMA itself showed that gender does still matter. Many of the comments and questions illustrated how women are often treated in male-dominated STEM fields. Commenters interacted with us in a way they would not have interacted with men, asking us about our bra sizes, how often we "copy male classmates' answers," and even demanding we show our contributions "or GTFO [Get The **** Out]". One redditor helpfully called out the double standard, saying, "Don't worry guys – when the male dog groomer did his AMA (where he specifically identified as male), there were also dozens of comments asking why his sex mattered. Oh no, wait, there weren't."
But the fun doesn't end with cyberterrorism, censorship, incumbent control, or gender bias. Our good friends at Google are expanding their presence in our lovely little town of Boulder from 300 employees to over 1,500 employees. I think this is awesome, but not everyone in Boulder agrees that more Googlers are a good thing. I wonder if they still use Lycos or Ask Jeeves as their search engine. And for those in Boulder hoping we municipalize our Internet net, consider FERC's smackdown of the City of Boulder's Municipalization position.
Oh, and did you realize the US government actually made a $15 billion profit on TARP?
---