My mom is extraordinarily patient.
Several weeks ago, I bought her a brand new Mac as a mother's day present. She was using a 2010 Mac, and it was time for her to use one that didn't have an endless spinning pinwheel of Mac slowness on it.
I had it sent to me, although there's a whole story in just that. I set it up, downloaded and set up all the apps she used, installed all the new stuff she needed to manage her passwords from now on, connected iCloud, and tidied and buffed it. Then, I figured we could use Zoom's remote control, so I thought all I'd need to do was ship it to her, spend a few hours with her walking her through everything, and she'd be in great shape.
I can be so naïve. And, since I'm no longer young, I don't qualify as young and naïve.
She and my dad got it, set it up, and connected it to the new LG monitor I'd gotten her along with the Anker USB extender. Cables and connectors – lots of them. It's kind of remarkable how hard Apple makes the transition from devices (iPad – different cable, 2010 Mac – different cable, 2020 Mac – different cable, connect old external hard drive – different cable.) So many cables.
Eventually, it worked and, after walking through giving Zoom access to the right things on the Mac (click on the little lock in the bottom left; now check the box next to Zoom; no, the one next to Zoom. Yes, Zoom in the window to the right of the lock…) I was able to connect remotely.
Day 1 was fine. We spent three hours Sunday afternoon going application by application. I copied all the files on her external hard drive (which she lovingly calls "her Toshiba") to the new Mac. I enabled iCloud to upload all the files to the cloud, and we spent a bunch of time discussing why that would probably take a few days over their slow internet connection, but then everything would be on her computer and in the cloud. We tested all the apps to make sure they were pointed at her documents as a default so she could find them. We went through the approach with the new password manager, which means she has three different passwords, one for her Mac, one for iCloud, and one for the password manager. But, once she has these three memorized, she won't have to keep the rest of her passwords for all her individual apps "somewhere."
We had a short discussion Monday night to refresh a few things. Last night was the first day of working through the list she'd made during the day of issues and questions.
We spent three hours on issue #1. Passwords.
It should have been simple. I foolishly made the Mac and iCloud passwords the same, figuring that would be easier for her. But, after Apple let me do that, it eventually told her she couldn't have them be the same (hours later) and prompted her to change the Mac password. She wanted the Mac password to be a different one, so I assumed all I needed to do was change the iCloud password, then the Mac password and all would be good.
Two-factor authentication slowed that down. She has an Android phone, and the authentication is on her iPad, but that took me a while to figure out. I think we entered a different TFA code a dozen times over the course of three hours on her iPad. Then, I thought we were all set, but suddenly the Mac password didn't work. And just like that, we were logged out of the computer, and Zoom was disconnected.
150 minutes of misery ensued. At the two-hour mark, I said, "just ship the Mac back to me, and I'll start again." Mom really didn't want to do this or have to start from scratch, so I pressed on with a full password reset using iCloud. But, of course, the iCloud password was now no longer working. I have a feeling that Apple, in the background, invalided both of them somehow, but what really happened is still a mystery to me. The big hint was the endless "You have been locked out of …" message on iCloud and the regular prompts on the Mac to use iCloud to reset your password. Um – ok.
And, you guessed it, Zoom wasn't able to connect us while she was logged out of her Mac, so this ended up be me dictating what to type, with her taking screenshots of her Mac screen and texting them to me since she was an on Android phone and we couldn't simply Facetime.
Eventually, I figured out that I could reset her iCloud password on her iPad, which was still logged into iCloud (thankfully, I didn't say "log out all devices from iCloud" when prompted over and over again. So we did that (more screenshots), we then did a full password reset on the Mac using iCloud (I never knew that was possible) and re-entered a new Mac password.
Three hours later, she got back into her Mac. We were exactly back where we started. Except now she was getting a message that the Mac couldn't log into iCloud. Launch Zoom. Connect. Grant remote access. System preferences. Apple ID. Log out of iCloud. Log back in. Reboot (oops – bye Zoom). The bad message was still there.
Well, at least she can get back into her computer.
I'll take on that last error message again tonight. And try to get to item #2 on her list. Maybe.
We all know the current approach to passwords and security is completely busted, but I just lived three hours of how incredibly broken it is.
And, before you say "just use the Touch ID," neither of our fingerprints work. It's not just Apple, it's Clear, Global Entry, and the fingerprint process for a money transmitter license, so there must be something genetically wrong with us. Plus, I'm pretty sure that would have just made it worse somehow.
Mom – thanks for not chucking the new computer out the window and going back to your old one.
---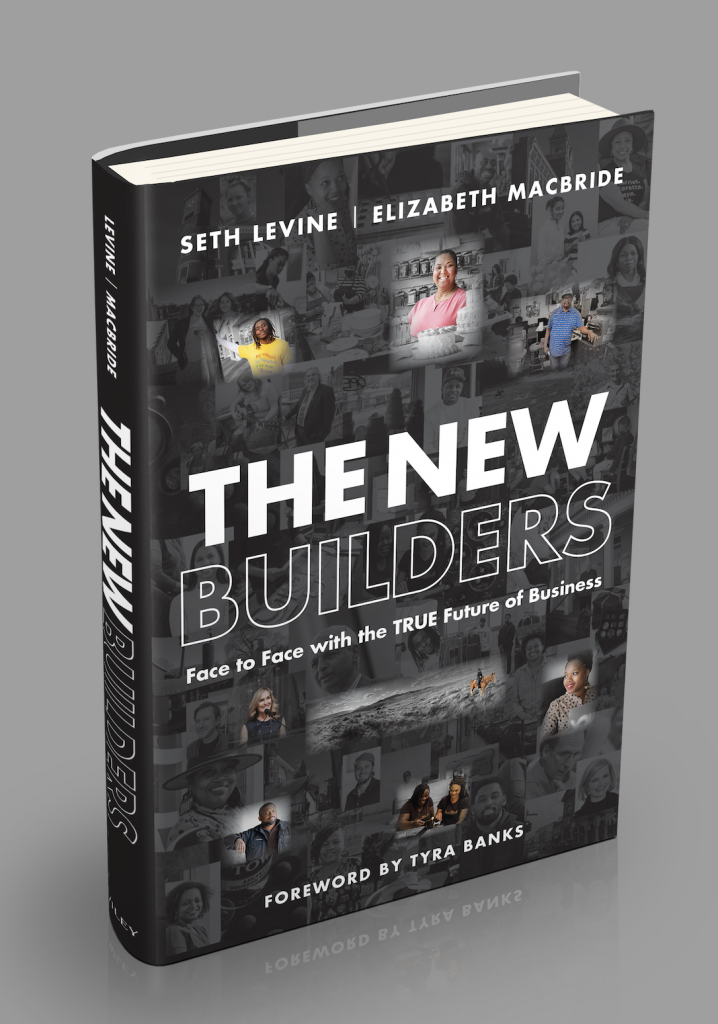 My long-time business partner Seth Levine has written a book with Elizabeth MacBride titled The New Builders: Face to Face with the TRUE Future of Business. It's extraordinary – buy a copy now!
For many years, Seth has been frustrated about the entrepreneurial narrative around the White male tech founder. He's been active as an investor and philanthropist around entrepreneurship in rural Colorado and with organizations, such as Entrepreneurship for All, that are focused on accelerating economic and social impact in communities nationwide through inclusive entrepreneurship. He's been exploring this and investing both in the US and other places globally, including Africa and the Middle East.
Pre-Covid, he started working on The New Builders with Elizabeth MacBride. They made good progress, and I remember saying hello to Elizabeth in our conference room after she and Seth had taken it over for a few days of writing, back when we met in conference rooms. As the Covid crisis began, they started writing a series of OpEds that got a lot of play, including To save the US economy, policymakers need to understand small business 101, and Communities across America rush to save Main Street as federal relief for small business stalls. These articles foreshadowed what they were digging into as part of their research for The New Builders.
Seth and Elizabeth obliterate the myth of the White male tech founder. Through detailed history, current stories, and many interviews, they bring life to new businesses started by Black, Brown, Female, and Older people. These entrepreneurs, including immigrants, are the next generation of business owners. Post-Covid, they will be key to redefining our economy.
While this group of founders and business owners may not get the same press that tech entrepreneurs get, they profoundly impact their local communities. Their efforts are foundational to the health, development, and growth of American cities, enabling a future where people have the economic freedom to pursue their passions.
Seth and Elizabeth have issued a powerful wake-up call for America with The New Builders. It's time to see, understand, and value the next generation of business owners.
---
Boundless Immigration, a company we've been investors in since they spun out of Pioneer Square Labs venture studio, raised a $25 million financing last week.
If you are a regular reader of this blog, you know that I've been involved in and advocating for legal immigration since 2010, when, with a half dozen other VCs and entrepreneurs, I co-created the Startup Visa initiative. Since then, I've been involved in many immigration-related activities, including the Global EIR program, a docu-drama called For Here or To Go, and direct involvement in helping many immigrants to the US get their visas and green cards.
When PSL started ideating on Boundless, I was lucky to be at the PSL office and participate in one of the extended sessions. I introduced them to Doug Rand, who I'd worked with during the Obama administration on several things, including Startup America and the USCIS EIR program. Shortly after, I met Xiao Wang, the entrepreneur PSL recruited to be the founding CEO of Boundless.
Working with Xiao and the team he's built has been incredibly rewarding. In early 2017, the US government posture toward immigration took a strong negative turn, and from that point forward, Boundless faced massive headwinds at every turn. Rather than complain or fold up shop like several of their early competitors did, Boundless focused on a long-term vision of being the best possible resource for legal immigration into the US. As a result, their business grew with extremely high customer satisfaction while navigating the endless changes and stresses coming from the US government around immigration.
Last summer, Boundless acquired RapidVisa and significantly expanded its business and types of visas that it could support. Whenever a company acquires a similar-sized business, tough choices ensue as the two companies are integrated. The teams at Boundless and RapidVisa made these choices deliberately and thoughtfully, setting Boundless up for growth from a more meaningful base.
With the new Biden administration, the US government's posture on immigration has shifted again. As a result, Xiao now finds himself as the CEO of the largest company in its category, with huge tailwinds after navigating and surviving four years of headwinds. I'm excited to be part of the next phase of Boundless's journey.
---
It's time for the 2nd annual Emerge Virtual 5k Run produced by Rise Against Suicide (formerly Second Wind Fund of Boulder County). It'll be from 8:00 am to Midnight MT on Sunday, May 2, 2021. Amy and I are helping underwrite it as we did last year and I just signed up to run it.
Rise Against Suicide provides access to funded counseling services for at-risk youth struggling with suicidal ideation in the geographic areas included in Boulder Valley School District and St. Vrain Valley School District. Youth up to the age of 19 who are at elevated risk for suicide, uninsured, or underinsured are eligible for funded counseling services through Rise Against Suicide. The organization receives referrals from private and public elementary, middle and high schools, community social workers, psychologists and mental health professionals, hospitals, and mental health facilities. Within hours of receiving a request for help, at-risk youth can be connected with qualified, private therapists. This immediate response is unique to Rise Against Suicide.
The mental health crisis has been dramatically accelerated as part of the Covid crisis. Now, more than ever, communities need to engage with and help support organizations that provide mental health related services. Recently, this challenge has been particularly acute with children our community given the unique stressors of the Covid crisis.
The Emerge Virtual 5k Run is free to anyone, but also provides an opportunity to give financial support to Rise Against Suicide. Please join us.
---
Dear Discord: Please go public and stay independent instead of being acquired. Love, Brad.
I've become a huge Discord fan and user of the past year. I've got many daily reference points from products that I use for real-time communication channels: Slack, Telegram, Signal, iMessage, Zoom, Voxer, Mighty, and of course, email.
An increasing number of my group communications is on Discord. There was a ramp-up on Slack several years ago across organizations, but I find it noisy, not terribly easy to navigate, and tiresome for various reasons.
In contrast, Discord is much easier and feels much more vibrant for dynamic communities. This then leads to lots of 1:1 comms across organizations, which until recently was really difficult with Slack, which is now sort of, but not completely, fixed since Slack rolled out Connect.
I stopped using Twitter, Facebook, WhatsApp, and LinkedIn for any real-time comm stuff a while ago. While my iMessage is noisy, it's calmed down a lot given wiring up some other stuff to the right channels.
I continue to believe that Zoom has a massive disruptive opportunity to obliterate Slack. Still, it's clearly not a priority for them, and all that might now be irrelevant given Salesforce + Slack along with the Salesforce / Zoom relationship.
That brings me back to Discord. While it would be a smart move for Microsoft to acquire Discord, it would likely pin Discord into a particular segment of Microsoft given Teams along with Microsoft's functional separation between their gaming business and their corporate business. I know nothing specific about the Microsoft / Discord discussions, but I expect it was primarily, if not entirely, on the gaming side of Microsoft. This would eliminate what I expect is Discord's most interesting current vector, which is cross-organization collaboration within either affinity groups (communities) or for corporations with their customers.
I fantasize about having one app that deals with all the different sub-apps. Right now, that's called "my computer" since I have to deal with many different apps. If the promise of APIs really came true, or if XMPP had worked out, or if Trillian had become a thing, this might have happened. But, as with most things in tech, the walled garden takes over when the revenue and profit imperative takes over in the context of monetizing users.
Real-time everything is broken right now. Yeah, it works at an application and network-level (quite brilliantly, and much better than 20 years ago), but it sucks at a user level.
There is so much to do here. Ironically, at least from my perspective, we need more companies (e.g., Discord – stay independent) rather than fewer companies working on this right now.
---
The best businesses are data-driven and metrics-driven. Instead of simply tracking top-line metrics, every person in the organization understands their role, how they impact the business metrics, and how this impacts its larger goals.
One of the biggest mistakes I see companies make is fooling themselves into thinking they are metrics-driven because they are good at reporting high-level and often lagging metrics. Companies that achieve breakout success and longevity have a much deeper and richer understanding of their business's nuances.
This work is hard, and while there are endless short-form posts about this on the web, there are few in-depth, comprehensive resources to help business builders figure this out.
Consequently, I'm excited about a new book called LEVERS – The Framework For Building Repeatability into Your Business, a collaboration between Amos Schwartzfarb, Trevor Boehm, Cody Simms, and Troy Henikoff. The book is a play-by-play series of frameworks that any company can use to become data and metrics-driven.
I love how the book takes the mystery out of finding repeatability by putting forward simple-to-follow instructions. However, even though the instructions are easy, the work isn't.
Each of the authors has experience both as a founder and an investor. Amos Schwartzfarb is currently Managing Director of Techstars Austin, before which he's helped to build six companies to nearly $1B in exit value. Cody Simms is presently SVP of Climate and Sustainability at Techstars, before which he was a Partner and SVP on Techstars' investment team and was Techstars' first Managing Director in Los Angeles. Trevor Boehm was formerly Program Director at Techstars Austin and Impact and then Managing Director at the Techstars Amazon Alexa Next program. And Troy Henikoff was formerly the founding member of Techstars Chicago and is now General Partner at Math Ventures.
Every entrepreneur and CEO should read LEVERS. It's stage agnostic and will help you with at least the following things.
Create clarity and alignment across the leadership team and the entire organization
Provide a straightforward way to communicate to all stakeholders
Give the leadership team more control over the destiny of the company
Explain a clear and data-driven plan on how to build a long-term and sustainable business
I highly recommend getting your copy of LEVERS – The Framework For Building Repeatability into Your Business today.
---
On my run to Boulder on Saturday, I listened to The God Equation: The Quest for a Theory of Everything by theoretical physicist Michio Kaku. My run was about four hours long, which was roughly the time it took to listen to this spectacular book. The quick summary from Wikipedia follows:
Kaku explores the history of unification theories of Physics starting with Newton's law of universal gravitation which unified our experience of gravity on Earth and the motions of the celestial bodies to Einstein's general relativity and quantum mechanics and the Standard Model. Kaku dubs the final Grand Unified Theory of relativity and quantum gravity The God Equation with an 11-dimensional String theory as the only self-consistent theory that seems to fit the bill.
I knew a bunch of the history Kaku covered, but he did it in a clear and beautiful way that built up to a bunch of contemporary theory that I couldn't have explained prior to listening to the book. M-theory is still a complete mystery to me, but at least I understand the linkage to Trisolarans and their sophons a little better.
This morning, I had an email from Tom Keller pointing at a recent APOD from 4/16/21. It was additive to my experience running on 4/17 and listening to Kaku's book.
Explanation: Light rays from accretion disks around a pair of orbiting supermassive black holes make their way through the warped space-time produced by extreme gravity in this stunning computer visualization. The simulated accretion disks have been given different false color schemes, red for the disk surrounding a 200-million-solar-mass black hole, and blue for the disk surrounding a 100-million-solar-mass black hole. That makes it easier to track the light sources, but the choice also reflects reality. Hotter gas gives off light closer to the blue end of the spectrum and material orbiting smaller black holes experiences stronger gravitational effects that produce higher temperatures. For these masses, both accretion disks would actually emit most of their light in the ultraviolet though. In the video, distorted secondary images of the blue black hole, which show the red black hole's view of its partner, can be found within the tangled skein of the red disk warped by the gravity of the blue black hole in the foreground. Because we're seeing red's view of blue while also seeing blue directly, the images allow us to see both sides of blue at the same time. Red and blue light originating from both black holes can be seen in the innermost ring of light, called the photon ring, near their event horizons. Astronomers expect that in the not-too-distant future they'll be able to detect gravitational waves, ripples in space-time, produced when two supermassive black holes in a system much like the one simulated here spiral together and merge.
You know nothing Jon Snow.
---
I listened to Wintering: The Power of Rest and Retreat in Difficult Times on Audible over the past week. It was spectacular.
Danielle Morrill recommended it to me. We had an intense up and down journey together with Mattermark, which was doing great until we made a fundamentally bad decision around the company's strategic direction. The ride down, especially against the backdrop of what I expect would have been a success if we hadn't made that strategic decision, was extremely challenging. We both learned from it, and it's been awesome to see the journey that Danielle has been on since.
While I often run without listening to anything, I'll occasionally listen to a book on Audible on long runs. I started Wintering last week during a run at Hall Ranch. I did another run at Hall Ranch the next day and listened to some more. I run a long loop from my house around McIntosh Lake in the dark and almost finished it two nights ago. Yesterday, I did a few miles in a classic Boulder spring snowstorm at the end of the day and finished it up.
Danielle recommended that I listen to it rather than read it, which turned out to be a great recommendation. The narrator (Rebecca Lee) was incredible. There was so much emotional impact and resonance that I thought it was the author (Katherine May) for a while until I looked it up.
Our entire species has been wintering since the Covid crisis hit. We are just starting to emerge from a literal winter, although the four inches of snow that fell at my house yesterday one of the last gasps of winter trying to hold on. Of course, whether we want to or not, personal winters often appear out of nowhere, even in the summertime.
There's a paragraph from an NPR interview that sums up whatever review of the book I could write.
Wintering is refreshingly free of self-pitying navel-gazing and trite exhortations to buck up. In fact, May complains about a culture in which we are "endlessly cheerleading ourselves into positivity while erasing the dirty underside of real life…The subtext of these messages is clear: Misery is not an option." Although she agrees that "Happiness is the greatest skill we'll ever learn," she insists that it's also important to learn about sadness. What she calls wintering is "the active acceptance of sadness."
I love the phrase "the active acceptance of sadness." It's a thing. It's part of life. I can be for an hour or years. Passively accepting it or actively denying it makes it worse. Actively accepting it is profound.
---
Amy and I watched Bridge of Spies over the weekend. We enjoyed it, but particularly loved one interaction between the lawyer (James Donovan) and the accused Russian spy (Rudolf Abel).
Donovan: You don't seem alarmed?

Abel: Would it help?
At multiple climactic moments, the line "Would it help?' got rolled out.
It had the same kind of resonance with us to one of our favorite movie lines ever (from Argo).
For the past two days, each of us have done call and response using this line about multiple things.
Brad: Are you worried?

Amy: Would it help?
It's so powerful.
---
My partner Chris Moody recently sent around a note on a concept he refers to as Leader Leverage. I encourage every CEO to read and consider it. His rant follows.
---
Many of you are probably tired of hearing me rant about some form of what I often refer to as "leader leverage". If you've been lucky enough to avoid these rants, the quick summary is that your biggest lever as a board member is the CEO and your biggest lever as CEO is your direct reports. I learned this lesson the hard way running a very decentralized business with 70 offices in 17 countries at Aquent.
A critical learning about a company's leadership is whether or not employees trust and respect their senior-most manager. Yet, asking this question directly often doesn't get a great answer. However, asking it indirectly can be magical.
Using an NPS approach, the example below asks the question, "The company is in a position to really succeed over the next three years." The different answers are by department.

The average employee believes the Company is in a position to succeed over the next three years. The exception is the employees in one particular department (the red box) who all believe the company is completely fucked. This perfectly illustrates the point that the collateral damage of having a bad leader goes far beyond that leader's ability to perform their technical job because a bad leader will usually poison a team's perception of the entire company.
We've known for a long time that we needed a new leader in that department for the Company. However, we've always viewed the issue with the current leader to be an issue around technical skills. It turns out the ramifications of not having a leader that people can trust and respect goes far deeper.
At Aquent, we found similar results around crazy specific things like compensation where people would go from feeling grossly under-compensated to feeling like they were compensated fairly simply because we made a change in the leader of their market.
---
If you found this useful and want more of Moody on topics like this, I encourage you to go watch his vlog Venture Kills. For example:
---