---
Recently, two bills have been introduced into Congress that – if passed – will do irreparable damage to the Internet, entrepreneurship, free speech, and job creation as a result of the continued entrepreneurial activity around the Internet.
Fred Wilson has a strong post up titled Protecting The Safe Harbors Of The DMCA And Protecting Jobs that explains the situation. Go read the post now – it's an outstanding summary in plain English of what is going on.
If you don't want to read the bills, watch the following four minute video for another excellent summary of what they are about, especially how the bills will be used by existing large companies.
The bills – like many in Congress – are misleadingly named. The House bill is called the E-PARASITES Act. The Senate bill is called the Protect IP Act. If you have the emotional fortitude and patience, go read them – they will scare the crap out of you, if you can understand them (I had to print them out, read them slowly, and annotate them to understand what they actually said.) I'd encourage Congress to rename both of these bills the "Destroy the Internet, Corresponding Jobs Created by Entrepreneurship Around The Internet, and Restrict Freedom of Speech" Act.
I'm not being dramatic – these are horrifyingly bad bills being introduced at a time when our country should be focused on exactly the opposite of what these bills represent.
Speak out now about this – loudly – to your representatives in Congress. While I recognize the lobbyists behind these bills – and the companies behind the lobbyist – are pouring in tons of money to try to get these bills past, hopefully our representatives are strong thinkers who can't simply be bought.
The Internet has been an unbelievable force for innovation, entrepreneurship, job creation, and free speech in the US, and around the world. The US had been a leader here – let's continue to be a leader.
---
While Jane was building SayAhh's revenue projections, Dick focused his attention on building the expense side of the projections. He procrastinated for a few weeks because he was deep in product development, but surfaced a few days ago when he realized they had an investor meeting coming up and really should have at least a basic financial model ready in case the investor asked about it.
Before building his projections, Dick needs to make three main decisions:
Should he build a simple cash forecast or a set of projected financial statements?
What are the right drivers for each expense category?
How should he account for unforeseen expenses?
1. Cash Forecast vs. Projected Financials – What's the difference?
A simple cash forecast is just that – it is a model that helps anticipate cash balances over time. It is simple in that it forecasts how much cash will be coming in the door (revenues + equity financing + debt financing) and then subtracts from that amount how much cash is expected to be going out the door. The expense forecast tends to be organized by what the money is being spent on such as office space, employee salaries, or computer hardware and software.
Building a set of projected financial statements is more complicated. For one, it requires keeping track of not only what the company is going to be buying, but also where the purchased goods/services are used. In the straightforward example of a widget manufacturer, expenditures on electricity (the "what") can get spread across multiple line items on the Income Statement. Part of the spend may be assigned to Cost of Goods Sold, part to Marketing, and part to General & Administrative, all of which can be separate line items on the Income Statement (the "where").
Creating a set of projected financial statements also requires understanding different types of expenses. Specifically, is an expense an operating expense (generally speaking, spend on a good or service that is consumed immediately) or a capital expense (spend on an asset that will be used up more gradually over time)? The former will impact the Income Statement, Balance Sheet, and Cash Flow Statement while the latter will only impact the Balance Sheet and Cash Flow Statement (although as the asset depreciates, the depreciation will show up on the Income Statement).
To keep track of all of this, companies assign every expense to a Cost Center (tells where the spending occurs, indicating the line item on the Income Statement that will be impacted), a Cost Code (which indicates what was purchased, e.g. Office Supplies, Salaries, Utilities, etc.) and a spend type (e.g. Capital vs. Operating).
Finally, building projected financials requires a strong understanding of the interactions between the three financial statements.
Due to the added complexity of building projected financial statements and because Dick and Jane are currently focused on cash, Dick chose to build a cash forecast. This is fine for now, but eventually SayAhh will need to become sophisticated enough to build projected financial statements.
2. Choosing the right drivers for each expense category
Just as it was important for Jane to choose the right drivers for her revenue projections, it is similarly important for Dick to choose the right drivers for his expense forecast. Since this was addressed on the revenue side, we won't go into details on the expense side.
3. Accounting for unforeseen expenses
Dick is confident that his forecast will capture SayAhh's major business expenses. But how should he forecast unanticipated expenses? Dick decided that unanticipated expenses will be equal to 10% of anticipated expenses in order to provide a cushion in SayAhh's budget.
4. Putting it all together
With that, SayAhh now has their initial set of revenue & expense projections. Subtracting the expenses from the revenues provides a forecast of cash flow from operations. Dick and Jane are not currently anticipating any additional cash flow from financing (or investments), so these projections are a good indication of SayAhh's anticipated cash burn, which will help Dick and Jane determine when/if they need to raise more money.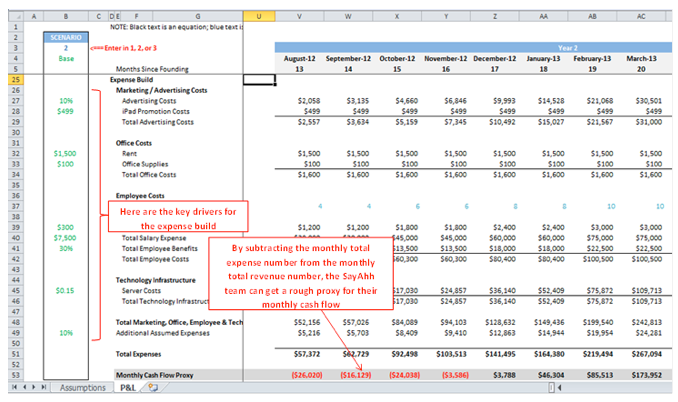 ---
On November 9th, I'll be helping launch Startup Colorado. We'll be having a kickoff event at CU Boulder from 6:30pm – 8:35pm.
Startup Colorado will be one of the regional initiatives under the umbrella of the Startup America Partnership. Startup Colorado is an initiative to make a meaningful impact on entrepreneurship and new company creation in the Front Range. We want to expand the breadth and depth of entrepreneurial networks from Fort Collins to Boulder to Denver to Colorado Springs and lower barriers for people who want to build high-growth businesses.
At the launch event, our agenda will include talking specifically about what our plans and goals are for 2012. We'll be operating under my first principle of entrepreneurial communities – that an entrepreneurial community must be lead by entrepreneurs. We have a panel discussing what has happened in Boulder over the past decade and one about the power of mentorship.
We'll also be joined by several special guests, including Scott Case (Startup America Partnership CEO) and Aneesh Chopra (United States Chief Technology Officer).
If you are an entrepreneur in Colorado, we'd love to have you join us. Please register at the Silicon Flatirons site. The event will be at the Wittemyer Courtroom, Wolf Law Building, University of Colorado on Wednesday, November 9, 2011; 6:30 – 8:35 PM.
---
Several of the companies I'm an investor in are significantly building out their iOS and Android development teams. They are looking for acquihires of up to teams of five. If you are a partner in a small iOS or Android development shop, are tired of doing custom projects, and want to join a fast growing VC-backed startup, drop me an email.
---
MakerBot has a great weekly TV show. This week learn about all the things you can make for halloween with your MakerBot as well as how you can help save the hermit crab. Also watch as the new MakerBot TV mascot – Mr. Maker – goes on a tour of New York City.

---
This year marks the fifth anniversary of Defrag.
What started as a blog post (and email exchange with Eric Norlin) I did about "intelligence amplification" in 2006 has morphed into a conference about the larger topics of social and big data and is now a wide-ranging conversation about technology and what's over the horizon.
If you check out this year's agenda, you'll find everything from mobile to cloud computing to tech policy in DC to my own keynote on Resistance Is Futile.
Defrag has become one of the cannot-miss events of the tech conference world. Every year it increasingly feels like a family gathering, as more than 300 people journey to Boulder to basically hang out and expand their thinking for two days. This year, Eric decided to cap attendance at 325 to make sure that the quality of interaction stays high.
You simply will not find a better forum for making in-depth connections that will change your business and career in technology. There are still about 25 seats left – sign up before they are gone. Use the discount code "brad12" for $200 off the price.
The list of confirmed keynote speakers includes:
Paul Kedrosky, Kauffman Foundation
Roger Ehrenberg, IA Ventures
James Altucher, The Altucher Confidential
Robert Stephens, CTO, Best Buy
Adrian Cockcroft, Cloud Architect, Netflix
Tim Bray, Google
Phil Weiser, Dean, CU Law School
Hal Stern, CTO's Office, Juniper Networks
Lili Cheng, Microsoft R&D
Jeff Lawson, Twilio
Wendy Lea, Get Satisfaction
Pete Warden
Dave Gutelius, Chief Scientist, Jive Software
Tim Young, Socialcast
TA McCann, Gist
Duncan Watts, Author, "Everything is Obvious *Once You Know The Answer"
Sam Arbeson, Kauffman Foundation
Me
and I know that Eric is still adding more surprises on a weekly basis.
---
A few weeks ago a guest post titled Minimum Viable Personality appeared on Fred Wilson's blog. The author was a Giant Robot Dinosaur who has been dishing out wisdom in all caps in the comments on Fred's blog for a long time. I'm a huge fan of FAKEGRIMLOCK, occasionally commenting on his comments, but often laughing out loud or smiling with recognition of their brilliance when I saw them. And, I grinned with relief when I finally made his #NOEATFRIDAY list.
Recently, while pondering how Yoda would deal with Optimus Prime, I got a tweet from FAKEGRIMLOCK asking if I wanted a guest post from him. Without hesitation I said yes. Following in all its awesomeness (with illustrations), is another missive from my favorite Dinobot.
BE ON FIRE
WORLD FULL OF IDEA. ALL NEED IS BRAIN. MOST HUMANS HAVE BRAIN.
IDEA BY SELF IS COLD. JUST SIT THERE. DO NOTHING.
IF WANT DO SOMETHING, NEED FIRE.
NEED BE ON FIRE.
WHY BURNING MATTER
MAKE STARTUP HARD. IT HARD BECAUSE YOU WRONG. YOU FAIL.
FAIL COLD? GO HOME. QUIT.
YOU NOT QUIT. YOU BURN. FAIL IS FUEL. MORE FAIL, MORE BURN. BURN FAIL UNTIL ONLY WIN LEFT.
THAT WHY BURNING MATTER. NOTHING STOP PERSON ON FIRE. NOT SLEEP. NOT SICK. NOT BROKE. NOT BULLET. NOT END OF EARTH.
NOTHING.
FIRE MAKE SMOKE
ANGER IS SMOKE. FIRE DESTROY. DESTROY MAKE NEW THINGS GROW. COLD PEOPLE HATE FIRE. NO ONE WANT TO BE FERTILIZER. FIRE NOT CARE.
LOYALTY IS SMOKE. PEOPLE FOLLOW FIRE, GET HOT. NOTHING STOP PERSON ON FIRE. PERSON ON FIRE WRAPPED IN HOT CROWD? THAT FIRE CHANGE WORLD.
WIN IS SMOKE. PERSON ON FIRE NOT CARE ABOUT WIN. NOT CARE ABOUT MONEY, FAME. WIN HAPPEN WHEN BUSY DO THINGS THAT MATTER. THINGS ON FIRE.
WHERE IS FIRE? LOOK FOR ANGER. MIDDLE OF ANGER IS CHANGE. MIDDLE OF CHANGE IS HOT CROWD. MIDDLE OF HOT CROWD IS WIN. MIDDLE OF WIN IS FIRE.
HOW MAKE FIRE?
WORLD IS BROKEN. FIX IT.
RIGHT IDEA HARD. RIGHT IDEA HURT. RIGHT IDEA IS HOLE IN WORLD.
RIGHT IDEA MAKE BURN INSIDE TO FIX. CAN TAKE DAY OFF FROM IDEA? IT WRONG ONE.
FIND IDEA THAT BURN, GRAB WITH BOTH HANDS, NEVER LET GO.
THAT HOW MAKE FIRE.
YOU MUST BURN
EVERYONE THINK WAY TO STARTUP IS TALENT + IDEA + MONEY.
EVERYONE WRONG.
STARTUP NOT ABOUT MAKE THING, SELL THING. STARTUP ABOUT CHANGE WORLD.
WORLD IS COLD. YOU MUST LIGHT WORLD ON FIRE.
YOUR FIRE.
YOU. MUST. BURN.
In order to stay on the #NOEATFRIDAY list, I promised FAKEGRIMLOCK that this would be licensed under Creative Commons. Anyone can do anything they want with this, including FAKEGRIMLOCK (as long as no infinite loops are created.)
---
It's not quite halloween, but our friends at SVB are hosting an event for me and Jason Mendelson in Boulder on Thursday night to discuss our new book Venture Deals: Be Smarter Than Your Lawyer and Venture Capitalist. We'll be handing out signed copies of our book along with answering any questions about venture capital, startups, entrepreneurship, beer, or our upcoming halloween costumes. There might be halloween candy and I'm certain there will be some tricks as well as other treats.
The event is free but registration is required. It's being held at the St. Julien from 6pm – 8pm on Thursday 10/27. We hope to see you there.
---
Marathon #20 is in the books. Yesterday I did the St. Louis Rock 'n' Roll Marathon with Matt Shobe. The amazing Amy Batchelor once again sherpa'd for us. The weather was perfect, the course was pretty but hilly, the support was outstanding (as it typical of Rock 'n' Roll marathons), and I came in at a solid 4:51:26.
This race was an experiment – I wanted to see if I could do a marathon two weeks in a row while living my normal life. Last weekend I did the Amica Newport Rhode Island Marathon, ran out of gas around mile 16, and struggled home in 5:13:36. Prior to that marathon I had been on the road all week and crisscrossed the country (Denver to SF to Rhode Island). Last week was another heavy travel week – Boston to NY to SF to St. Louis. I did all the normal stuff I did with two exceptions – I didn't drink any alcohol and I was obsessive about rubbing Purell on my hands throughout the day.
When I got to St. Louis Friday night I was tired and my left shoulder hurt. I always have pre-marathon hypochondria so I figured that since I don't run on my left shoulder, that was as good a place as any to have some pain. Amy and I had room service, I went to sleep early, slept in, went to the marathon expo, took another nap, went out to Italian dinner with Matt and Amy, and went to bed early.
At 7:30 Sunday morning Matt and I were off and running. Well – not really – it was a 20,000+ person race so it took us 15 minutes to cross the start line. I felt tight and uncomfortable the first three miles but just let the crowd carry me along. We went past the St. Louis Ballpark which is a beautiful stadium, cruised through downtown, and by mile four I was starting to settle down.
My coach – Gary Ditsch – has regularly encouraged me to eat gels during a marathon. Up until now I've ignored him since I don't want to carry anything while I run. This time I bought an iFitness pouch and filled it with six gels. There were two spots on the course where they were handing out gels so I decided to have one on every prime number mile. Rather than drinking Ctyomax (which I hate) I just did gels and water this time. As is typical, the coach is right as it made an incredible difference.
Our pace was incredibly steady for the first ten miles. At mile ten, I had to take a dump so we lost about three minutes along with a few pounds. Matt patiently waited for me and then had to listen to me rant about how relieved I was. He's such a patient person.
We cruised through the half marathon in 2:24. This was faster than we expected as we figured we were on a 5 hour pace. Neither of us was watching out split times – I had RunKeeper going on my iPhone but no audio with the idea that we'd just run.
The course was a really nice tour through St. Louis. There were tons of hills – only one particularly long, but the endless undulation of the course started to get annoying around mile 20. Or maybe it was just that we were at mile 20.
Matt was the perfect running partner. He could have easily done the race 30 or 45 minutes faster but just hung with me. We talked a little on and off, but mostly told jokes and just chilled out running together. My dark miles on this race were 14 to 20. I was a little anxious about running out of gas like I did last week, but 17 passed, then 18, then 19, and I felt fine.
At 20, we decided to run solid for the next four miles and then push the last two. This was the strategy we used when we ran the Huntsville marathon together and it was an incredibly satisfying way to finish. We cranked on the last two miles, passing hundreds of runners, and feeling great as we crossed the finish line together.
I'm incomprehensibly tired this morning. As I wrap up this point, I'm heading to the airport to head home to Boulder for a week. Yay.
---