David Cohen and I just released Episode 4 of our Give First podcast.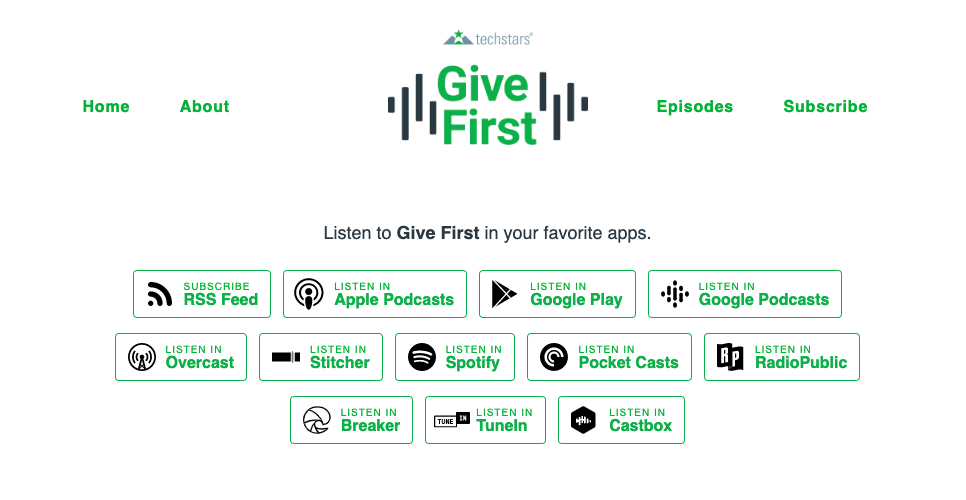 We interviewed Mary Grove on the origins of Google for Startups & Startup Weekend among other things. Mary has been a long time friend and supporter of Techstars and is currently a partner at Rise of the Rest Seed Fund, the co-founder of Silicon North Stars, and on the Advisory Board for the Techstars Foundation.
David and I are starting to get better at the podcast thing. It's a new medium for both of us so we are learning and iterating quickly on what makes a good podcast interview. Any feedback – good and bad – is welcome.
---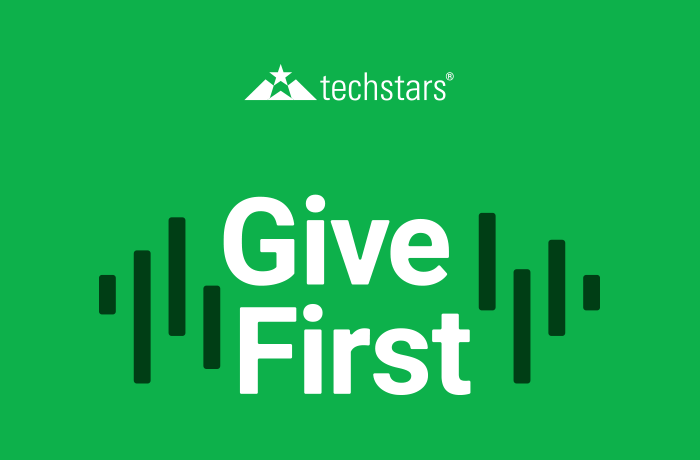 David Cohen and I are doing a podcast together called Give First. Readers of this blog likely know that this is the mantra of Techstars and the title of an upcoming book of mine that will be published in 2020.
While I've been interviewed for many podcasts, I've never hosted one before. David and I have been massive fans of Harry Stebbing's 20 Minute VC so we've modeled Give First after it. Harry really hit his stride after about 100 episodes so my guess is it'll take us a while to be in the same zone as he is. It's good to have something to shoot for!
The first episode is an intro with an overview. We've got a steady stream of episodes coming that are already recorded, so subscribe to Give First and give us feedback.
---
While we aren't LPs in Eniac Ventures, we are big fans of the team. So, it was my pleasure to be interviewed by Hadley Harris as part of their Seed to Scale Podcast.
The interview ended up being two episodes and, while listening to it in the car, I felt like it was one of the better recent interviews that I've done. Hadley and I talked for about an hour and then he edited the discussion down into two ten minute podcasts, so he pulled out the good stuff and left all the garbage on the cutting room floor.
Episode 1 includes advice I'd give to a much younger me and discusses why I think it is important to build long-term fund strategies with conviction and consistency.
Episode 2 covers what makes an excellent board member, the biggest reasons startups fail, and the three machines that must work together in order for a company to scale.
Enjoy!
---
If you are a regular listener of the Reboot Podcast, you've heard Jerry Colonna masterfully interview many people. And – if you aren't a regular listener, go sign up and give it a try.
In Episode 78: When Did You Start to Listen to Your Heart, I turned the tables on Jerry and interviewed him. We've been close friends for 22 years and I felt like it was time someone interviewed him on his podcast. I suggested it to him and his team, who either rolled their eyes or jumped for joy. Either way, it is now up.
I listened to the final version during my run yesterday. I smiled a lot, snickered a little, and grimaced a few times. If you want a taste to entice you to listen, here are a few of the quotes from the show highlights that jumped out at me.
"What I'm trying to do right now is pull myself into the present and be really real." – Jerry Colonna
"I have always given a shit about people." – Jerry Colonna
"Things are fucked up all the time like every day, continually. You can either just react to it, or you can deal with it." – Brad Feld
"I think that there are two things that I would get excited about as an investor. People and product." – Jerry Colonna
"Better humans make better leaders." – Jerry Colonna
"I don't want to spend minutes with people who I don't feel are good humans." – Brad Feld
"Good people do shitty things all the time." – Jerry Colonna
"If you've got that inquiry process and you remain curious about human beings, you can, with compassion, understand and therefore protect yourself from the bad things that even good people do." – Jerry Colonna
"Men at 40 learn to close softly doors to rooms they will not be going back to." – Jerry Colonna
"This idea that people are fundamentally willing to work on themselves and that they're there for each other especially when there's a struggle." – Brad Feld
"When I'm dust and dried up, and I'm dead and whatever, please just keep paying it forward." – Jerry Colonna
It's all Jerry for an hour with a little bit of me nudging the discussion along. None of it is scripted. We didn't discuss anything in advance. Just two guys, who have known each other, worked together, and have had a deep emotional intimacy together – for 22 years – talking about some things that come to mind about what they think matter.
If you are a reader instead of a podcast listener, the transcript for Reboot Podcast 78: When Did You Start to Listen to Your Heart is also available.
---
I've become a huge fan of Harry Stebbings, the intrepid entrepreneur turned VC whose age (20) matches the title of his podcast (The Twenty Minute VC.) Today, at SaaStr at 1:40pm in the Hypercritical section, Harry is interviewing me about – well – whatever he wants.
Harry has done hundreds of 20 minute VC interviews over the past few years. It's a staple of mine on my podcast listening rotation so I've heard a bunch of them. It's fun to watch Harry evolve as an interviewer as his knowledge of the industry has increased dramatically and his point of view about various VC-related things has become crisp and clear. And his hustle is relentless and has led to him also doing the SaaStr podcast and joining Atomico.
All five of the Foundry Group partners have been interviewed at this point. I think our interviews are a great way to get to know us quickly since we each tell our story, our strategy, and our approach in our own words and from different perspectives. Over the past few weeks I've probably talked to over 100 VCs between my trip to Australia, LA, and SF. When I find myself telling our story in response to being asked, I often wish I had a short cut to point people to.
This post is now the shortcut. I'll use Harry's original titles so you can see how his SEO prowess has evolved.
20 VC 065: FOUNDRY GROUP WEEK 1: BRAD FELD
20 VC 066: FOUNDRY GROUP WEEK 1: SETH LEVINE
20VC: THE FUNDAMENTALS TO CREATING A SUCCESSFUL VENTURE PARTNERSHIP & THE OPTIMAL INVESTMENT DECISION MAKING PROCESS WITH RYAN MCINTYRE, CO-FOUNDER @ FOUNDRY GROUP
20VC: HOW 50% OF VCS HURT ENTREPRENEURS, HOW TO BUILD A RELATIONSHIP OF TRUST WITH YOUR VC AND HOW ENTREPRENEURS CAN DETECT VC BS WITH JASON MENDELSON, CO-FOUNDER @ FOUNDRY GROUP
20VC: WHY MANY VCS FAIL TO RAISE, WHY LP COMPENSATION IS A MASSIVE PROBLEM & WHY FUND OF FUNDS WILL BECOME MORE PROMINENT WITH LINDEL EAKMAN, MANAGING DIRECTOR @ FOUNDRY GROUP
Yeah – I don't love the capital letters either, but there you have it.
In case you are wondering about the tone of the 100 VCs I've talked to, I'd rate it as very high on the anxiety meter. Some of the tone is from the macro dynamics post election, but some seems deeper and more unsettled. I don't know what it is, but I switched my Headspace meditation pack from Motivation (which I don't need any help with) to Anxiety, just to be proactive.
---
Last month I had dinner at Pizzeria Locale in Boulder and did a long interview with Nick Chirls and Alex Lines of Notation Capital for their podcast. Dinner was about them and as they learned, if you trek out to Boulder, dinner is on me.
Their podcast series is called Origins and is unique among podcasts as they go deep into the formation history of venture funds, especially from an LP perspective. I was their ninth interviewee following some really great ones including Beezer Clarkson (Sapphire), Naval Ravikant (AngelList), Chris Douvos (VIA), Michael Kim (Cendana), and Judith Elsea (Weathergage).
They walked me through multiple origin stories, including how I started making angel investments (1994), the origin of Mobius / Softbank Venture Capital (1996-1997), the origin of Foundry Group (2007), and the creation of Foundry Group Next (2015-2016).
If you want to listen to all of the podcasts, subscribe to Origins on iTunes, Google Play, or SoundCloud.
---
One of the podcasts in my regular rotation is Turnpikers. Luke Beatty and Danny Newman – both long time friends – are doing an awesome job interviewing interesting people in the Boulder – Denver startup community.
If you don't know the area, Turnpikers stands for U.S. Route 36 (known locally as "36" or sometimes "Highway 36"). But the locals call it the Boulder Turnpike. So, those of us who travel up and down 36 between Boulder and Denver are known – at least to Luke and Danny – as Turnpikers.
Luke and Danny interviewed me a few weeks ago in a studio at Postmodern Company in Denver. We hung out for an hour in a windowless room talking about whatever came to mind. I never listen to interviews I do before they are published – I like to listen to them after they are out in the world. This interview was one of my recent favorites.
The interview is Episode 18 of Turnpikers. You can listen to it here on the web. Or go to iTunes and download the entire Turnpikers podcast. iTunes gives me a little E for explicit – go figure. If you live in Boulder or Denver, be recursive and listen to it while driving on 36.
---
My partner Lindel Eakman just did a really fun interview with Harry Stebbings on Harry's 20 Minute VC Podcast. You can listen to it here or subscribe to the 20 Minute VC on iTunes.
As a Saturday bonus, two of the other podcasts in my regular rotation are the Reboot Podcast and How I Built This. I listened to the VICE: Suroosh Alvi interview yesterday and it was fantastic.
The show notes for Harry's interview with Lindel follow.
1.) How Lindel made his way into the weird and wonderful world of LPs and then Foundry? What is the origin story behind is first fund investment, Union Square Ventures?
2.) Question from Michael Kim @ Cendana: How is Lindel approaching portfolio construction for Foundry Next? What combination of GP portfolio & direct exposure diversifies the portfolio while retaining upside through individual deal performance?
3.) With the direct co-investment platform how does Lindel look to mitigate the negative signalling that can occur with opportunity funds? Does Lindel agree with Chris Douvos in stating this could lead to the 'hybridisation of GP and LP'?
4.) Where do most prospective fund managers fail when pitching to LPs? What does Lindel look for in a risk strategy for a potential fund investment?
5.) What are the biggest problems with the LP community today? What would Lindel like to see change? What do the financial compensation plans look like for LPs?
---
If you've missed me, it's because I spent a week in Australia. Ten days ago, after being there for a few days, I came down with salmonella poisoning. I'm finally starting to feel normal again although I'm still exhausted. This has easily been the sickest I've ever been.
While I was gone, the gang at Reboot put up the Reboot Podcast #45 – What's Love Got to Do with It?- with Fred Wilson and Brad Feld which was a delightful conversation between me, Fred, and Jerry Colonna.
The three of us have a 20+ year history that gives me joy every time I think about it.
I first met Fred in the suburbs of Boston at Yoyodyne in 1996. It was also the first time I met Seth Godin. I had just started working with Softbank and had been commanded to go to Yoyodyne and do "due diligence" by Charley Lax. I had no idea what Softbank or Charley wanted in the way of due diligence, so I went, hung out with Fred and Seth, and wrote Charley an email after saying "Looks great – Seth is awesome" or something like that. Softbank (and Fred – via his new firm Flatiron Partners, which was partially funded by Softbank) invested.
I first met Jerry in a conference room at NetGenesis in Cambridge. I was chairman and we has three product lines at that point: NetForm (an HTML form filler that was getting its but kicked by Allaire), NetThread (which was super cool but getting its butt kicked by something – maybe again Allaire), and NetAnalysis, which was the first weblog analysis tool and became the focus of the company. We sold NetForm to a company called Virtuflex (which went on to become Channelwave, which I became an investor in) and NetThread to eShare. Jerry, again through Flatiron (he and Fred had become partners), was an investor in eShare. I joined the eShare board as an outside director. eThread was acquired by Melita International in 1999 after a crazy ride that included a midnight negotiating session on the 173rd floor of some building in midtown Manhattan to try to merge with iChat. I remember walking about at around 2am with Jerry, completely wasted and frustrated. Welcome to 1999.
Over the last 20 years, the three of us have worked on lots of things in different configurations, but I'd put the deep friendship we've developed ahead of all of our business deals. We've won and lost together, had great moments as well as deep disappointments. But throughout, we've stayed best friends.
I enjoyed making the podcast, I hope you enjoy listening to it.
---