Since releasing my newest book The Entrepreneur's Weekly Nietzsche: A Book for Disruptors I've been continually getting the questions "Why Philosophy and Entrepreneurship?" and "Why Nietzsche?"
Dave and I cover this right off the bat in the book, so I thought I'd toss up an excerpt that addresses the question with part of my own origin story with Dave. It follows.
---
Nietzsche? For entrepreneurs?
It was the end of January 1988, about nine months since we had embarked on turning Brad's solo consulting shop, Feld Technologies, into a real business. We were fraternity brothers and close friends and opened our first office directly across the street from our fraternity chapter house in Cambridge. We planned to use smart yet inexpensive software developers to build business application software. We employed half a dozen programmers, most of whom were undergraduates from our fraternity working part-time. We didn't have any financing except for Brad's credit card and the $10 with which we had purchased our common stock.
Dave walked into Brad's office after calculating preliminary financial results for January. Up to this point, we had mostly broken even, but the news was grim: we had lost $10,000 in one month. We had not seen it coming, and it took some effort for us to untangle what had gone wrong. Dave had been spending most of his time managing the part-time developers, who were primarily working on future products, instead of billing hours to clients. Brad had been selling computer equipment, which had low gross profit margins, instead of billing hours to clients. Much of our revenue for the month had come from one highly productive though erratic undergraduate developer, Mike, who was working on a billable client project.
Before we had a chance to figure out what to do, Mike quit, citing a need to focus on his studies. Now we had no choice: we fired everyone, shut down our month-to-month office, sold all the office furnishings, and moved the business to our apartments in downtown Boston. It was gut-wrenching. Brad wondered whether we had failed just as we got started. Dave worried about paying rent. We had long discussions about the future of the business, including whether or not to continue.
But we did have billable projects. We no longer had to spend our time managing people and had figured out where our bread was buttered. Results were good enough in February to calm our nerves and even better in March. Just as important, we had learned some crucial lessons and settled on a very different idea about how we would move forward with the business. The experience of hitting bottom and the lessons we learned became deeply ingrained in our brains and our company culture as we more methodically and progressively built the firm.
Fast-forward thirty years, when we were in the midst of writing this book, and Dave was reading Thus Spoke Zarathustra. He encountered a passage that said the highest mountains rise from the sea, and that fact is "inscribed…on the walls of their summits." Because of our experience at Feld Technologies—and many times since—we knew immediately that this had to be a chapter in the book. We imagined the solace and instruction it might have offered us to have seen (and understood) this quote, to have read a short essay like the one in our chapter Hitting Bottom, where the starkness and promise of the situation are presented in black and white, or to have heard Walter Knapp's story of the crash and rebirth of Sovrn, a genuinely disruptive company.
That is how we wrote most of the chapters and how this project began. In reading Nietzsche, we noticed ideas that reminded us of situations, questions, and concerns that frequently arose in our entrepreneurial and venture investment experience. Nietzsche had a way with words, and we found that some ideas were nicely encapsulated and phrased. We started playing with expanding upon his pithy aphorisms and gathering stories from entrepreneurs, and it clicked.
Feld Technologies never became a disruptive company, despite our ambitions. It plateaued at around $2 million in revenue before we sold it in 1993. Because we had built a solid foundation for a certain kind of success, we never again hit a deep low point, and consequently never again had the painful opportunity to rethink our premises. This point, too, is covered in Hitting Bottom and illustrates why we did not just skip Nietzsche, write some essays, and assemble some entrepreneur stories. Nietzsche—sitting or walking alone, in pain, almost blind—thought deeply and managed to share these thoughts with the world. We tried to follow his lead, thinking hard and pondering additional angles and situations to which the quote might apply. We want you to do the same, as you keep in mind that Nietzsche's works have been highly influential throughout the 20th century and into the 21st.
In business and entrepreneurship literature, inspiration is sometimes more helpful than instruction. Though there is plenty of how-to information in this book, we aim to give you food for thought from a different perspective. We address issues of leadership, motivation, morals, creativity, culture, strategy, conflict, and knowledge. We push you to think about what you and your enterprise are made of. We expect you to question and ponder these ideas, not just put them into action. If we are successful, you will sometimes get angry and at other times feel pride. At times you will wonder what you really know, and at other times you will charge forward. We hope that the combination of Nietzsche's colorful language, our elaborations, and some stories from entrepreneurs will offer you intellectual, emotional, and entrepreneurial inspiration.
Nietzsche was not a fan of commercial activity or businesspeople. He saw the former as crass and the latter as lacking nobility. However, we suspect that if Nietzsche were alive today, he would view entrepreneurs differently. He adored intensity and fervor, deeply valued those who create things, and wrote at length about "free spirits" who do not feel bound to tradition or cultural norms. Nietzsche viewed his mission as the "revaluation of all values," and he intended to disrupt the entire moral tradition of Europe in the late 19th century.
---
Most of the quotes we discuss in The Entrepreneur's Weekly Nietzsche we found by reading his work, but a few are well-known lines that you may have heard before. This is one, used in our chapter "Monsters":
He who fights with monsters should be careful lest he thereby become a monster. And if thou gaze long into an abyss, the abyss will also gaze into thee.
The quote leads quickly to questions of ethics. In the chapter, we discuss the fact that we each have our own views of what constitutes ethical or unethical behavior in business. It is a line-drawing game – there is no reference that everyone agrees on. The choices have both short- and long-term consequences for both the success of your business and for your own reputation. Further, once you choose an ethical approach, it becomes entrenched in your organization and is difficult to change.
These questions arise pretty much every day in business. It came up for us today with our own book promotion. Our publisher was excited that we had achieved "#1 Amazon Best Seller" status in a couple of categories and produced the graphic below for promotion. The thing is, the categories were things like "Existentialism" and "Philosophy Reference" where overall sales are lower – they are applicable to the book as categories, but not really our target market (for the record, the book is selling nicely in "Entrepreneurial Management", where it was briefly #2.)
The question is, should we use it, or is it misleading and dishonest?
We expect that most of you will say that of course we should use it, because strictly speaking it is true, and it will help sell the book. A few might agree that it is a little uncomfortable, perhaps preferring that the language be changed a little. Others will say that the question is overthinking a simple thing, and why should one even worry about it?
This is indeed a simple example, and in isolation this is overthinking. It's not going to show up as a scandal on the front page of the New York Times. But if you never examine such questions, the pressure of competition and the temptation of promotion can be an abyss that gazes into you. Eventually you may find yourself, or people in your organization, saying things like "A lot of people are telling me…" (where have you heard that before?) Such statements are strictly true, depending on one's interpretation of "a lot." How is this marketing image different?
Our book asks you to think harder about questions like this, and many others that may not have such an explicitly ethical component.
As another example, Dave wrote this post after a quick back and forth this morning about the issue on email while I was on another call. I read it, make a few light edits, and posted it. One approach would be to just post this. Instead, I asked Dave how he wanted it posted since he was the primary author. As we went back and forth in email (his answer: "Either say we both wrote it or credit me, either is fine. I'd lean toward the first.") just reinforced our own alignment, while being a nice self-referential example.
And … we both just looked and the book is currently selling at #1 in both "Business Management Science" and "Business Technology Innovation." Ahhh, that feels better.
---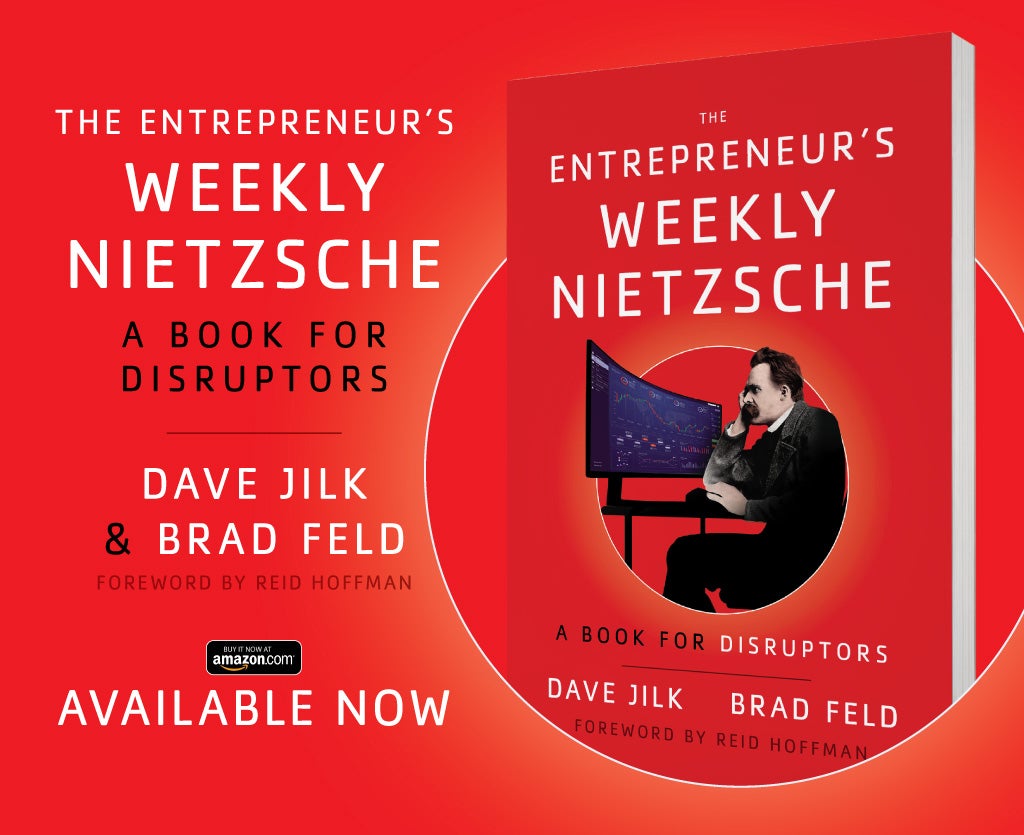 My newest book, The Entrepreneur's Weekly Nietzsche: A Book for Disruptors, shipped today. It's available on Amazon in Kindle, Paperback, and Hardcover. If you are so inclined, go buy a copy today!
I'm particularly proud of this book, as it is a more philosophical approach to entrepreneurship than my other books. I wrote it with Dave Jilk, the co-founder of our first company (Feld Technologies, 1987) and one of my closest friends for 38 years.
The book contains 52 individual chapters (hence the "Weekly" in the title) and is divided into five major sections (Strategy, Culture, Free Spirits, Leadership, and Tactics). Each chapter begins with a quote from one of Nietzsche's works, using a public domain translation, followed by our own adaptation of the quote to 21st-century English. Next is a brief essay applying the quote to entrepreneurship. About two-thirds of the chapters include a narrative by or about an entrepreneur we know (or know of), telling a concrete story from their personal experience as it applies to the quote, the essay, or both.
Our goal with this book is to make you think, rather than try to tell you the answers. For example, here's the Nietzsche quote from a chapter titled "Obsession" from the section on "Free Spirits".
"The passion which seizes the noble man is a peculiarity, without his knowing that it is so: the use of a rare and singular measuring-rod, almost a frenzy: the feeling of heat in things that feel cold to all other persons: a divining of values for which scales have not yet been invented: a sacrificing on altars which are consecrated to an unknown God: a bravery without the desire for honor: a self-sufficiency which has superabundance: and imparts to men and things."

Our interpretation is:
In other words: A noble man has exceptional passion, but does not realize just how unusual it is: he has high standards for success, enthusiasm for things that others find dull, a sense of what will be valuable in the future, intense but unexplained motivations, courage without the need for praise, and the ability to sustain and revel in this intensity without support from others.
And the chapter begins with:
You may have noticed that this chapter is titled Obsession, but Nietzsche seems to be talking about passion. For several years, Brad has written and spoken about the pitfalls of "passion" in entrepreneurs, distinguishing it from "obsession," which is a quality he looks for. Dictionaries generally speak of passion as a strong emotion, while obsession is a preoccupation of the mind. We have a hunch that Nietzsche is trying to make a similar distinction here. The word "obsession" did not come into common use until later. Earlier in the text, he says, "What then makes a person 'noble'?…Certainly not that he generally follows his passions; there are contemptible passions." It is worth asking yourself whether you are obsessed with your business and the problem it solves for customers or merely passionate about it.

If you intend to disrupt an industry or change the world, you must expect people to see you as crazy, intransigent, and possibly sociopathic. Maybe you are. To sustain yourself and your efforts in such a climate, you must find your drive within. You must know your vision and why it matters to you. Importantly, you cannot feel that its correctness depends on your ability to explain it to others. You must be obsessed.
Each essay from us is two to three pages long, so they are easy to quickly consume and then reflect on. The narratives from entrepreneurs telling their story as it applies to the quote are also a few pages long.
For one more taste, here's the Nietzsche quote and our interpretation chapter called "Attracting Followers" from the chapter on "Leadership".
"Men press forward to the light not in order to see better but to shine better.—The person before whom we shine we gladly allow to be called a light."

In other words: People are drawn to light because it shines on them, not because it shows them the way. A person who makes us shine is someone we gladly call a light."
I hope this inspires you to get a copy of The Entrepreneur's Weekly Nietzsche: A Book for Disruptors. I'd love to hear what you think about it.
---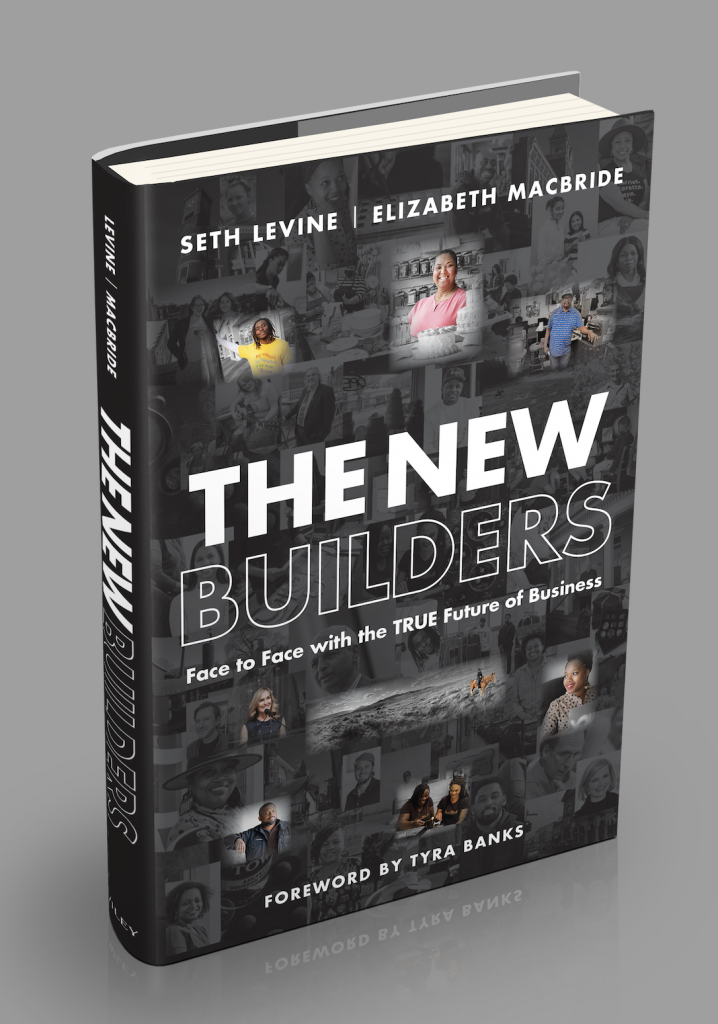 My long-time business partner Seth Levine has written a book with Elizabeth MacBride titled The New Builders: Face to Face with the TRUE Future of Business. It's extraordinary – buy a copy now!
For many years, Seth has been frustrated about the entrepreneurial narrative around the White male tech founder. He's been active as an investor and philanthropist around entrepreneurship in rural Colorado and with organizations, such as Entrepreneurship for All, that are focused on accelerating economic and social impact in communities nationwide through inclusive entrepreneurship. He's been exploring this and investing both in the US and other places globally, including Africa and the Middle East.
Pre-Covid, he started working on The New Builders with Elizabeth MacBride. They made good progress, and I remember saying hello to Elizabeth in our conference room after she and Seth had taken it over for a few days of writing, back when we met in conference rooms. As the Covid crisis began, they started writing a series of OpEds that got a lot of play, including To save the US economy, policymakers need to understand small business 101, and Communities across America rush to save Main Street as federal relief for small business stalls. These articles foreshadowed what they were digging into as part of their research for The New Builders.
Seth and Elizabeth obliterate the myth of the White male tech founder. Through detailed history, current stories, and many interviews, they bring life to new businesses started by Black, Brown, Female, and Older people. These entrepreneurs, including immigrants, are the next generation of business owners. Post-Covid, they will be key to redefining our economy.
While this group of founders and business owners may not get the same press that tech entrepreneurs get, they profoundly impact their local communities. Their efforts are foundational to the health, development, and growth of American cities, enabling a future where people have the economic freedom to pursue their passions.
Seth and Elizabeth have issued a powerful wake-up call for America with The New Builders. It's time to see, understand, and value the next generation of business owners.
---
Generation X: Tales for an Accelerated Culture is weekend reading for anyone who wants to understand me and my generation.
I was born in 1965 – right at the beginning of the transition from "Boomers" to "Xers." I'm glad my parents had me in 1965 instead of 1964, where I'd spend my life arguing (maybe with myself) that I'm not a boomer.
A millennial friend of mine didn't know anything about Generation X, so I sent her a copy of the book. I suppose I was teasing her too much about being a millennial, which was just me mostly being a typical ironic Gen X slacker.
I reread Generation X a few weeks ago, and it held up. The definitions in the margins made me flash back to phrases we used in my early 20s. Douglas Copeland's brilliant imagination shines throughout. And, at 55, I've become comfortable saying "Kids today …" which is what I'm sure my parents (and the boomers) said about me and my generation.
This week sucked emotionally. The Boulder shooting on Monday took the wind completely out of Amy and me. It's Friday, and I'm winding down for the weekend. Work was intense, so I didn't have a lot of time to feel my feelings. We were in the car for a while this morning driving back to Boulder from Aspen, so I let myself settle into how I felt. Now that I'm not shocked anymore, the best word I can come up with is "sad." Very sad.
Grunge is my music. Pessimism abounds in Gen Xers. I've adopted the mantle of "paranoid optimist," which I first heard from Madeleine Albright. At 55, I prefer to be happy and optimistic, but underneath it all is cynicism.
I'm glad to be back in Boulder.
---
I haven't been posting about my reading lately. While I continue to read at my typical pace, I think I was a little tired of writing book reports, but that has passed.
Last night I read The 80/80 Marriage: A New Model for a Happier, Stronger Relationship. Kaley and Nate Klemp have written an excellent book that can help any married couple improve their relationship. This is especially true in the time of Covid, given all the additional dynamics about being home together most of the time.
When Amy and I wrote Startup Life: Surviving and Thriving in a Relationship with an Entrepreneur in 2013, our goal was to write something different than YARB ("yet another relationship book"). Whenever I worked on it, I had in my mind, "Do not let this be a YARB."
The 80/80 Marriage is definitely NOT a YARB. The framework comes from the idea that many marriages are 80/20 with a goal of shifting to 50/50, where the partners are equal in the relationship. Kaley and Nate's goal is to do better than 50/50, hence 80/80.
Amy and I have had an equal partnership in our marriage from the beginning. However, as any married couple knows, that ebbs and flows and at times doesn't feel equal. The two of us talk about it often, and when we get out of balance on any dimension, we both own what is going on, discuss what we need to do to get back in balance, and then move forward.
Once you start deconstructing this, many traditional relationship tools fit nicely in the 80/80 Marriage construct. Amy and I are big fans of the Five Love Languages. I like receiving acts of service, she likes receiving praise, and both of our #1 is quality time. We also like giving what we like receiving, and fortunately, we both like receiving acts of service and being together all the time.
But what if instead of each person being at 50% of the relationship, the goal was to exceed expectations? That's where the 80% comes from. An example would be from this morning. Amy is a huge knitter and has been wrestling with a giant yarn tangle. Rather than throw it away, she spent some time last night unsuccessfully trying to untangle it. Today, while she was on a board call and I was upstairs, I spend 10 minutes and untangled it. When she came upstairs, she was delighted with the minor act of service that she didn't ask for.
There are hundreds of things like this we do for each other each month. Some are significant. Some are trivial. But they are all unexpected and unrequested. That's what pushes the 50% up to 80%.
Kaley and Nate cover all aspects of a relationship, including roles, priorities, boundaries, power, and sex. And, they finish with the 5 essential habits of the 80/80 marriage:
Create Space for Connection
The Call-and-Response of Radical Generosity
Reveal Issues, Misunderstandings, and Resentments as They Arise
The Shared-Success Check-in
Create Space from Digital Distractions
This felt great to me, as Amy and I have regular approaches for each of these. Our Qx vacation approach is highlighted in the book as an example of #1. My yarn story above is an example of #2. Our Life Dinner is how we practice #3, although we do it in real-time also. Morning coffee and Life Dinner is #4, along with shared meals (typically lunch in the time of Covid.) And our Qx vacations and Digital Sabbaths are #5. Of course, what we do is more than just labeling the activity, but if you read our book or follow along on this blog, you can probably related to some of the examples I've given in the past.
Kaley and Nate Klemp have made a significant contribution with The 80/80 Marriage: A New Model for a Happier, Stronger Relationship and written something that is not-YARG.
---
I'm continuing my weekend reading goal of a book on racial equity. Last week was Kingonomics: Twelve Innovative Currencies for Transforming Your Business and Life Inspired by Dr. Martin Luther King Jr. by Rodney Sampson who I'm partnering with on the #RacialEquityEcosystemPledge.
Yesterday I read Ijeoma Oluo's So you want to talk about race. It was excellent.
My goal with reading these books is to bring a beginners mind to racial equity, allow myself to feel uncomfortable while reading, and let the impact of what I read over the summer accumulate, with a hope that I can personally eliminate many of my unconscious biases, unhelpful behavior, while unlearning (or challenging my own) perspectives that I've built up over my 54 years as a White person in America.
Several of my Black friends recommended Ijeoma's book as one that I should read early on. As book #3 on my weekend reading, I'm glad I put this at the front of the list. It has 17 chapters – each which answers a very specific question about race. Following is the list.
Is it really about race?
What is racism?
What if I talk about race wrong?
Why am I always being told to "check my privilege?"
What is intersectionality and why do I need it?
Is police brutality really about race?
How can I talk about affirmative action?
What is the school-to-prison pipeline?
What can't I say the "N" word?
What is cultural appropriation?
Why can't I touch your hair?
What are microaggressions?
Why are our students so angry?
What is the model minority myth?
But what if I hate Al Sharpton?
I just got called racist, what do I do now?
Talking is great, but what else can I do?
A day after George Floyd was murdered, I called a Black friend and asked, "what are two things you are involved in that I can immediately support with time and money."
He had a response that I then heard echoed in slightly different ways in several conversations. The composite is below:
Thank you so much for approaching things this way. I'm so tired of explaining to White people what I'm going through, what I go through every day, and why so many things in America are horrible when you aren't White. It's not my responsibility to do that anymore, and I'm glad you are trying to get involved, rather than ask me to explain what's going on.
Ijeoma's book was extremely clear and enlightening on all of these questions. Near the end, there was a paragraph in the chapter "Talking is great, but what else can I do?" that really hit home.
"Talk. Please talk and talk and talk some more. But also act. Act now, because people are dying now in this unjust system. How many lives have been ground by racial prejudice and hate? How many opportunities have we already lost? Act and talk and learn and fuck up and learn some more and act again and do better. We have to do this all at once. We have to learn and fight at the same time. Because people have been waiting far too long for their chance to live as equals in this society."
I strongly recommend Ijeoma Oluo's So you want to talk about race.
---
I took a digital sabbath yesterday. I ended up doing three things.
Read The End of October by Lawrence Wright
Took a nap
Watched three episodes of Breaking Bad
I feel so much better than I did at the end of the day Friday. After I finish this blog post, I'm going to participate in the Emerge Family Virtual 5k.
The End of October was intense. It's the story of a modern day pandemic. It's fiction, but deeply researched. I have no idea how much was modified to suit the actual reality, but given the time frame for publishing most books, my guess is "not that much."
I was shocked by how close the ramp-up was to what has actually happened during the Covid crisis. The pandemic movies have similar ramp-ups, but other than Contagion have happy Hollywood endings. In contrast, many books do not. There is no happy ending in The End of October.
Wright did an amazing job of showing the collision of politics and science, economics and health, and top-down control vs. distributed collaboration. Some authors spend too much time "telling." Wright just used his story to show, and show, and show.
We are still early on in the Covid-19 pandemic – probably 25% of the way through Wright's book. The darkness in the last 75% is a fundamental warning for us in one way this can go. While I'm ultimately optimistic, I'm not at all comfortable with or confident in much of anything right now.
The End of October is a dose of heavy medicine for anyone who thinks "this is no big deal" or "this is all over" or "this is heading on a good path that can't be derailed." I'm not suggesting any of these things are true or false, but rather recommending the book as perspective on the bad path that might be in front of us.
It's a beautiful day in Colorado. The animals are everywhere, enjoying spring. Amy and I are in our pajamas, experiencing a typical Sunday morning. But, we are aware that the overall context we are living in is very different than what we are used to.
My next book is The Great Influenza: The Story of the Deadliest Pandemic in History
---
Jason Mendelson and I recently published the 4th Edition of Venture Deals: Be Smarter Than Your Lawyer and Venture Capitalist.
The book now has three forewords – one by each of Fred Wilson (USV), James Park (Fitbit), and Dick Costolo (now 01 Advisors, then Twitter).
The 1st edition had 13 chapters. We are now up to 19.
The Players
Preparing for Fundraising
How to Raise Money
Overview of the Term Sheet
Economic Terms of the Term Sheet
Control Terms
Other Terms of the Term Sheet
Convertible Debt
The Capitalization Table
Crowdfunding
Venture Debt
How Venture Capital Funds Work
Negotiation Tactics
Raising Money the Right Way
Issues at Different Financing Stages
Letters of Intent: The Other Term Sheet
How to Engage an Investment Banker
Why Do Term Sheets Even Exist?
Legal Things Every Entrepreneur Should Know
The new chapters in this edition are 11. Venture Debt (with help from SVB), and 17. How to Engage an Investment Banker (with help from Golding Partners).
We also significantly updated Chapter 2: Preparing for Fundraising and Chapter 19: Legal Things Every Entrepreneur Should Know (with help from Cooley).
As with each edition, we cleaned up stuff throughout the book.
Finally, we updated the website which is now at VentureDeals.com.
For everyone who has read the book, given us feedback, used it in a course, or recommended it to someone, thank you!
---